Free butterfly cut and paste craft activities
Here are some more fun free printables for craft lessons. These butterfly cut and paste activities are great for kids and have different difficulty levels. They are great for primary school aged children.
To assemble and complete these paper craft projects you will need a few basic things –
Coloured pencils or crayons
Scissors
Glue
A blank piece of paper or card.
The printables are all fairly self-explanatory. All you need to do is color them in, cut out the pieces, and stick them to a blank piece of paper in the correct fashion.
This first cut and glue butterfly is very easy. There are only a few parts and a guide to follow has been provided in the top righthand corner.
If you wanted to, you could put this butterfly together with some tape or a stapler and avoid sticking it to a seperate piece od paper all together.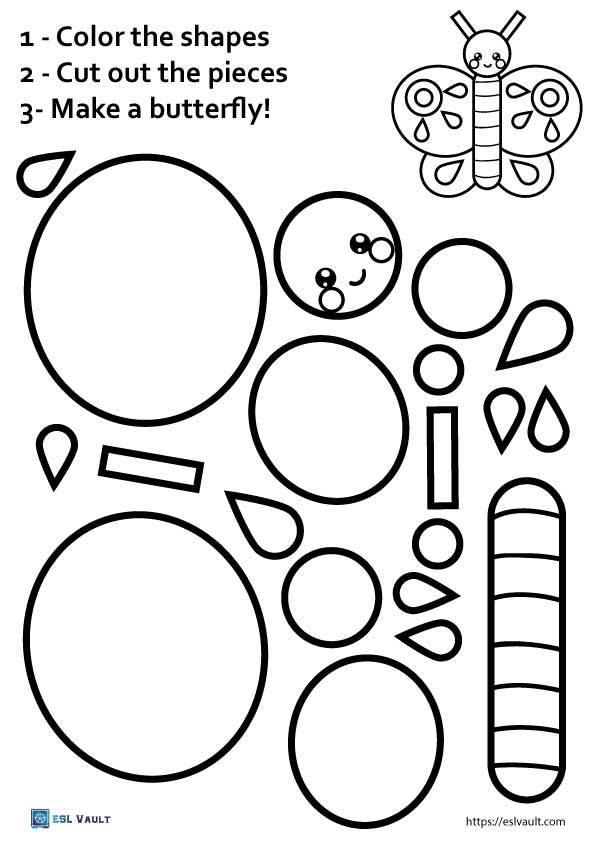 The second butterfly is much more challenging than the first. There are many more small pieces that can be a bit fiddly for younger learners to cut and paste.
Again this printable has a guide but you don't need to follow it. You can cut the guide off and let students try to figure it out by themselves. This allows for some fun creativity.
Butterfly cut and paste worksheet 3 is similar to the 2 above but has no guide at all. You will get some fun and interesting variations from each student.
Ideally, once all the bits are coloured cut out and put together, you should see a butterfly hovering over a flower and some grass.
This is a simple cut and glue picture puzzle. It is very easy with only 9 pieces. Once it is assembled and your glue is dry you can of course also color it in!
If you like this printable and are looking for more similar resources, check out the picture mix up puzzle printables.
Butterfly cut and paste printable number 5 is a little different to the others. In this activity, students must identify matching pairs. They should color them accordingly before cutting them out and joining the correct set of wings to each butterfly.
More butterfly activities
You might also like these