Free printable counting worksheets 1 10
Here are some young learner worksheets that make counting fun! These printable counting worksheets 1  10 are in a variety of themes and you are bound to find one topic your students are interested in.
While colour is best these worksheets work printed in black and white as all the shapes to be counted are different.
The first handout above has 4 fruits with 8 apples, 6 bunches of grapes, 4 bananas, and 5 peaches. There is also a writing practice task underneath where children can write/spell the fruits involved.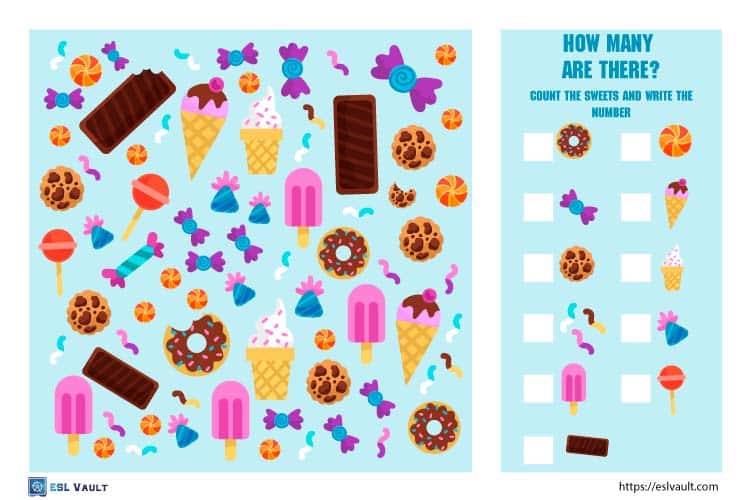 Sweets and candy counting worksheet
Counting sweets and candy is guaranteed to work in nearly all classes. Although, this is a quite hard counting worksheet because it has 11 different objects to count – donuts or doughnuts, various kinds of candy,  biscuits or cookies, ice creams, chocolate bars, lollipops, and ice blocks.
The string type candy counts to over 20 but in any case, you can always skip that if it is too hard for the students.
Countryside plants and animals counting
On this handout, there are plants, animals, and clouds for students to count up to ten. It is both easy and beautiful.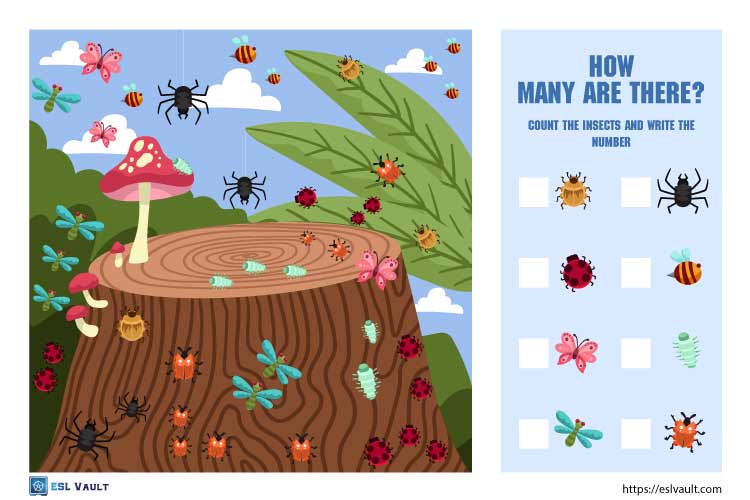 Insects counting worksheet 1 10
A counting houdout with 3 kinds of beetles, dragonflies, butterflies, bees, spiders, and grubs.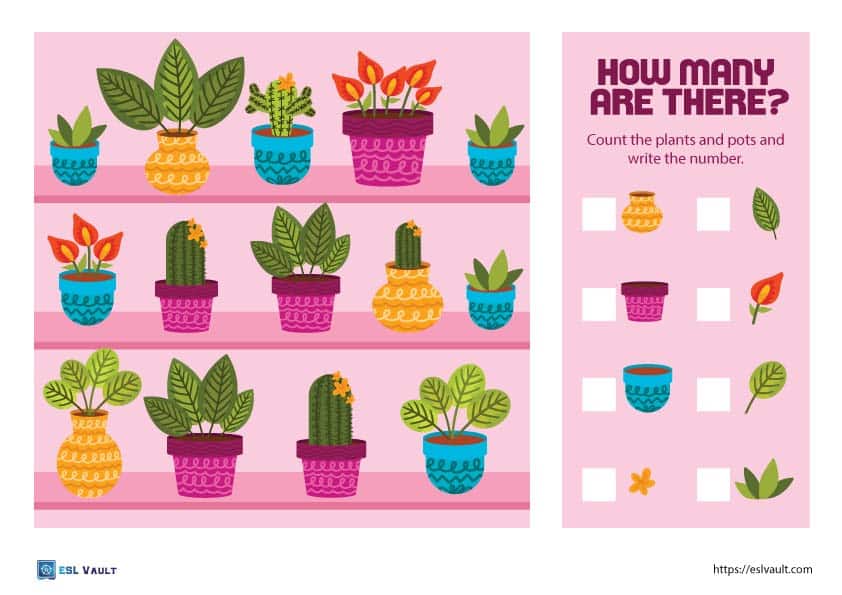 Plants counting worksheet
Another easy counting activity that uses plants. There are several leaves, flowers and pots to tally. Printing this worksheet in black and white is fine as the objects to count are all different shapes.
School objects counting worksheet
This handout has typical classroom and school objects.  It is a very easy counting worksheet where children only need to count to 9. There are 5 staplers, 4, rulers, 6 pencils, 3 erasers or rubbers, 7 pens, and 9 books.
You might also like these