Forest animals flashcards
Here are some delightful flashcards of forest animals with real pictures. They feature photographs of animals in their natural habitats around the world. The majority of the animals live in North America but can also be found in other countries. There are also some animals native to the UK and other parts of Europe.
The photographs on the forest animals flashcards are very engaging for learners which helps them as they learn new vocabulary about the animal world. If you are looking for more pictures and word cards of animals, don't forget to check the flashcard section here at ESL Vault where you will find them. There are pages such as the jungle animals flashcards, the ocean animals flashcards, and more!
The creatures included in this set of woodland and forest animals flashcards are –
The badger, bald eagle, beaver, bee, boar, bear,  cougar, deer, dragonfly, elk, fox, garter snake, hare, hedgehog, lynx, marmot, marten, mole, monarch butterfly, moose, moth, mouse, otter, owl, porcupine, raccoon, reindeer, skunk, squirrel, toad, turtle, wasp, wolf, wolverine, woodpecker, and goldfinch.
Ideas for using the forest animals flashcards
You no doubt have your own arsenal of flashcards games that these picture and word cards can be used for. Here are a few other ideas that you might find helpful.
One of the best ways to engage learners and get them thinking about these animals is to have them arrange the cards in different ways. There are many ways that they can do this, for example  – 
By animal size, smallest to biggest.
In alphabetical order
In groups of where they live such as in trees, on the ground, and underground.
In groups of body parts like the number of legs.
From friendliest to most dangerous.
From fastest to slowest.
Animals they have seen and have not.
Another idea is to create food chains. Place the cards of animals that are prey and predator in the natural world next to each other to create different food chains.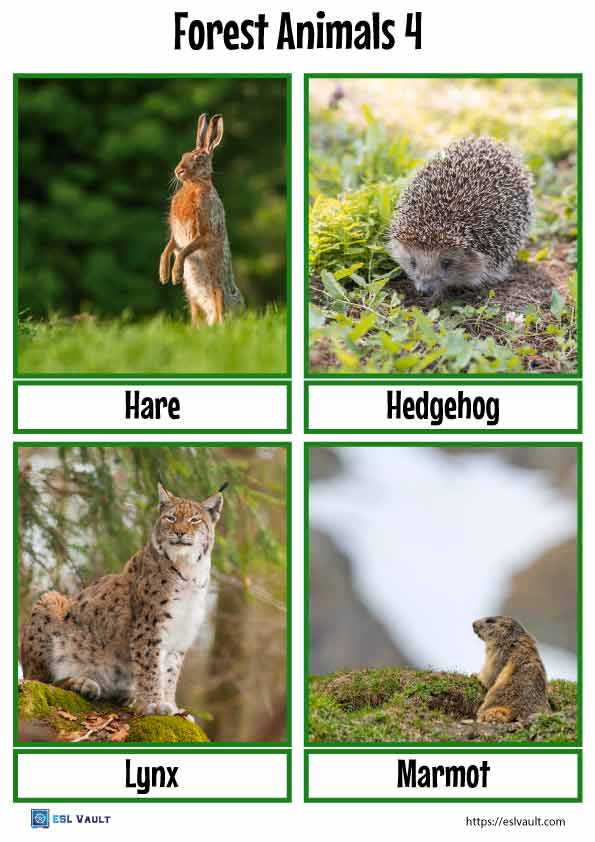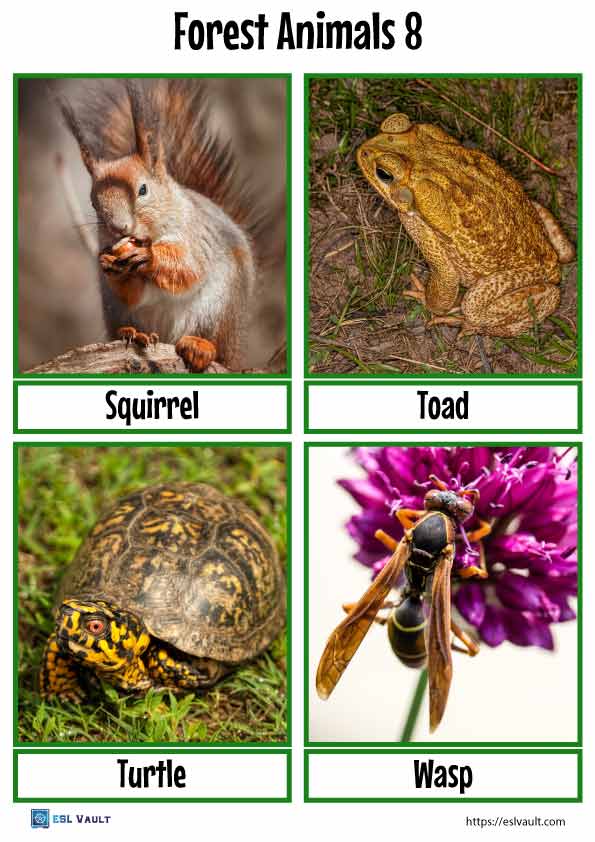 More fun related activities
There are a lot of interesting animal activities on this site free for you to use, don't be afraid to use the search bar! Some activities you should have a look at include the – 
The animal tracks matching game
The animals and  their homes cards
The easy origami animals instructions
These are just a few of the free teaching and learning resources about animals available on ESL Vault.
You might also like these