Tree outline templates
Here are some simple tree outline templates that can be used for all sorts of arts and crafts activities. There are a variety of different styles and kinds of trees to choose from. Simply scroll down the page to find what you like!
The first pages (above and below) are of tropical palm trees. You can use them to create beautiful island and beach-themed projects.
Some of the things that you can do with these free templates include –
Making wall murals. Create scenes on a wall by either coloring the trees and cutting them out or by using them as stencils to paint over.
Stencils. You can cut out the shapes and use them as stencils for embroidery and stitching, or to draw trees wherever you like.
Coloring. For young children, they can be used as simple coloring pages.
Drawing. Learners can add to the trees by sketching things in and around them. They can even draw details in the trees or surround them with the vocabulary that they are studying. What that is depends completely on what they are learning. There are many topics about nature in which they can come in handy.
Patterns. You can use the pages to make patterns. Remember that when you print the PDFs you can resize them to the scale you prefer.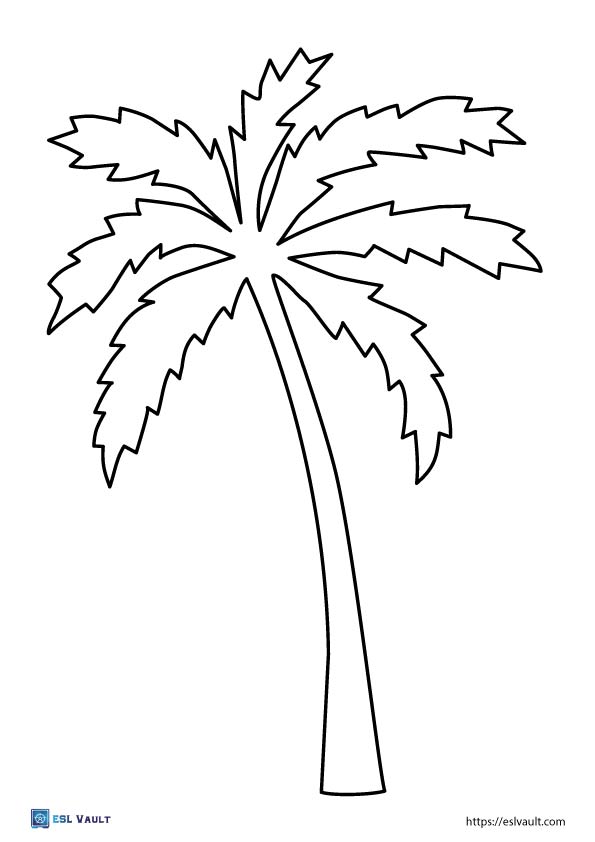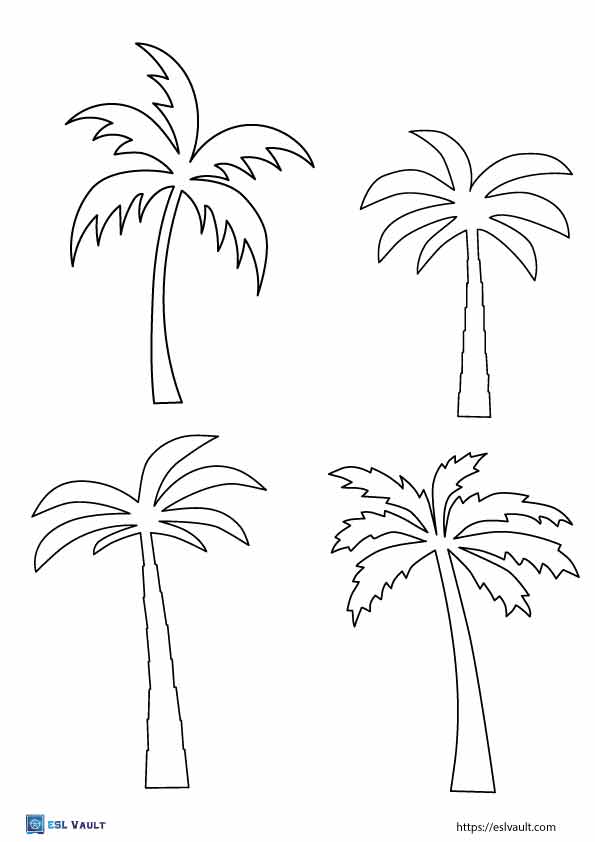 The next printables are of xmas trees. They are very useful during this festive period. There are 4 different styles of this popular pine and conifer to choose from. One of the things that you can do with the Christmas tree outlines is decorate them.
Some ideas include asking learners to decorate the trees with baubles by hand and even draw presents underneath of perhaps the things they hope to receive. They can draw fairy lights with colored pencils or even Santa Claus placing things around the trees!
Simple tree outline templates
Below are some simple drawings of trees that can be used as templates for your art projects. There are 5 different styles to choose from.
The next PDF pages are bare tree templates. There are no leaves at all on these forest plants so it can be good fun for kids to draw them in. Another way they can be used is to create family trees. Students can write family names along the trees and even draw simple pictures that can be cut and pasted on them.
Templates of trees with leaves
The next pages are a couple of trees with leaves. They can be used as drawing activities. Ask learners to add birds as well as other animals and plants. They can even draw a swing or someone climbing the tree.
Finally, here are a couple of different tree outlines. Below left is a bonsai tree with a twisted trunk and typically bunched foilage. To the right of it is a drawing of a baobab, one of Africa's most iconic plants.
You might also like these