Free vegetable vocabulary worksheets
Here are some beautiful vegetable vocabulary matching worksheets. They are useful for any classes related to the topics of food, eating, or cooking. The first 2 handouts are quite difficult and together have 32 different vegetables.
I've not stuck to the botanical definition of vegetables so there are tomatoes, eggplant, and others that are technically a fruit. Generally speaking, they are commonly referred to as vegetables. Also, note that the handouts use a mixture of both British English and American English so you may want to give your students alternative words for some of the vegetables. With British English first and American English second, these are – courgette and zucchini, aubergine and eggplant, spring onion and scallion, capsicum and bell pepper, chilli and pepper or hot pepper, beetroot and beet.
The answers for the first worksheet above are –
asparagus – potato – bok choy – zucchini
onion – broccoli – capsicum – cabbage
eggplant – pumpkin – artichoke – radish
lettuce – corn – cauliflower – chilli
Vegetable vocabulary worksheet 2
The second worksheet is also challenging. If it is too hard for your class consider assigning it a research project using a dictionary or the internet, it can also be used as homework.
The answers for this handout are –
spinach – white cabbage – peas – red cabbage
carrot – leek – squash – tomato
garlic – cherry tomato – beetroot – Brussel sprouts
celery – white radish – radish – spring onion.
Note that some people refer to the white cabbage and white radish as Chinese cabbage and Chinese radish.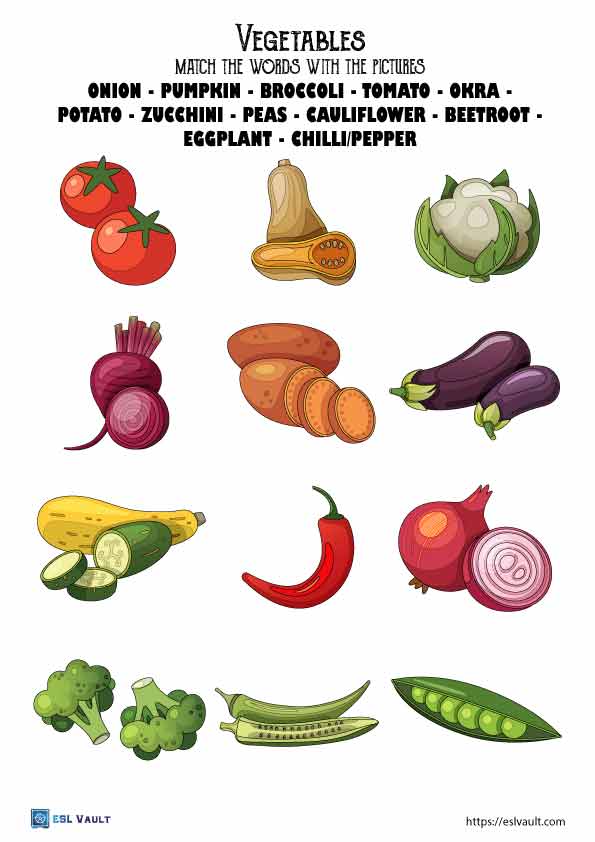 Intermediate vegetable matching worksheet
An easier handout with only 12 vegetables. Here the answers are –
tomato – pumpkin – cauliflower
beetroot – potato – eggplant
zucchini – chilli – eggplant
broccoli – okra – peas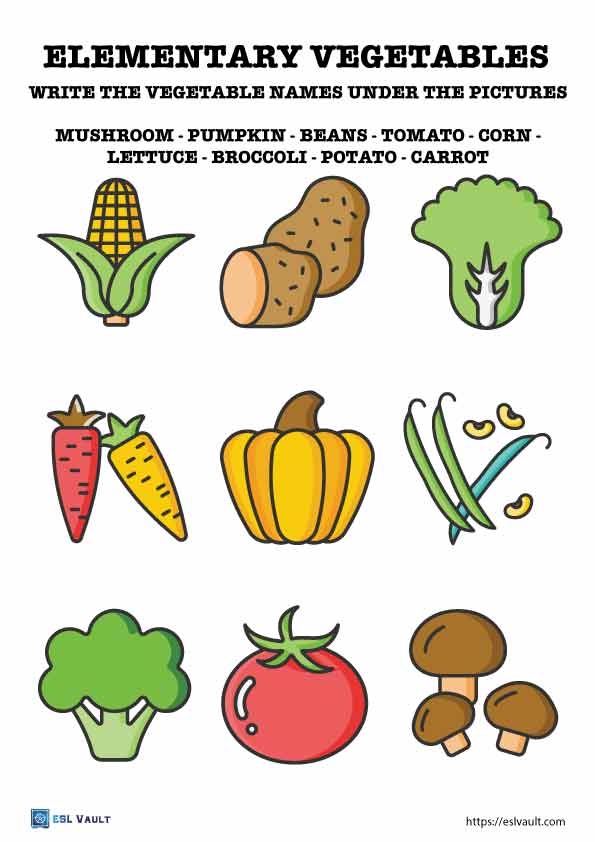 elementary vegetables worksheet
An easy handout for beginners with 9 of the most common vegetables. If you use it in a class with young learners who can't yet write, just get them to draw lines from the words to the pictures. The answers are –
corn – potato – lettuce
carrot – pumpkin – beans
broccoli – tomato – mushroom
Another easy vegetable worksheet for kids. The answers are –
carrot – tomato – onion
potato – peas – lettuce
corn –  broccoli – mushroom
Other related vegetable activities