agamograph templates
Agamograph art is a wonderfully fun activity for all ages. They combine 2 separate pictures that can only be seen clearly when you look at them from different angles. You can use the agamograph templates for art classes, general fun or classes related to the pictured themes.
This kind of visual art is the brainchild of one Yaacov Agam, an Israeli artist. He creates pictures that change as you move past them. Here were are creating agamograms that are also small enough that you can also hold them in your hands and twist to see the visual changes.
So far on ESL Vault, we have a variety of agamograpgh art templates for the seasons of spring and summer. , an American flag and bald eagle, Halloween, the butterfly life cycle, day and night, and a turtle and a crab.
All the agamograph templates are the same size so you can easily print and use any 2 of the pictures on this page. There is also a blank agamograph template where you can draw your own pictures.
How to make an agamograph
Making an agamograph is very simple. You will need 1 printout of a picture sheet and 1 copy of the agamograph template B above for each piece of art you wish to create.
You will also need –
colored pencils or crayons
scissors
glue or sticky tape (glue is best)
Steps on how to make the agamographs –
First, color in your picture worksheet. The pictures work best if you also color in the background.
Next, cut out the picture strips along the dotted lines.
Glue the strips to agamograph template B in alternate order. Starting from the left, take the leftmost piece from picture 1, then the leftmost piece from picture 2, then the second leftmost piece from picture 1, and so on.
Once you have your pieces all glues to template B, cut out the big rectangle of the 2 mixed pictures.
 (Optional) Glue the big rectangle of the mixed pictures to some card.
Fold the picture inwards along the lines to form triangular shapes like an accordion.
Finished! Hold the agamograph in your hands and turn it left and right to watch the picture magically change!
Spring agamograph printable 2
This can be a very colorful picture with the rainbow and fruit trees and the duck in the reeds. Make sure to color all the background around the circles for the best agamograph possible.
American flag agamograph template
This is a nice one for patriotic holidays such as Labor Day, Independence Day, Memorial Day, Flag Day and Patriots Day to name a few. It can also be used in any ESL classes related to the USA.
Halloween agamograph template
A Halloween themed sheet with a pumpkin and a bat and the moon. Don't forget you can mix and match all the agamograph pictures on this page to make different combinations!
Butterfly life cycle agamograph
This page has the 4 stages of the life cycle of the butterfly – egg, larva or caterpillar, pupa or chrysalis, and butterfly. This is a great piece for related science classes.
Night and day agamograph
These pictures are very similar and only differ in the sun and the moon. To make them contrast, color picture 1 with bright greens for the hills and a light blue sky. Color picture 2 with dark blues, purples and grey clouds to make the agamograph's transformation more dramatic.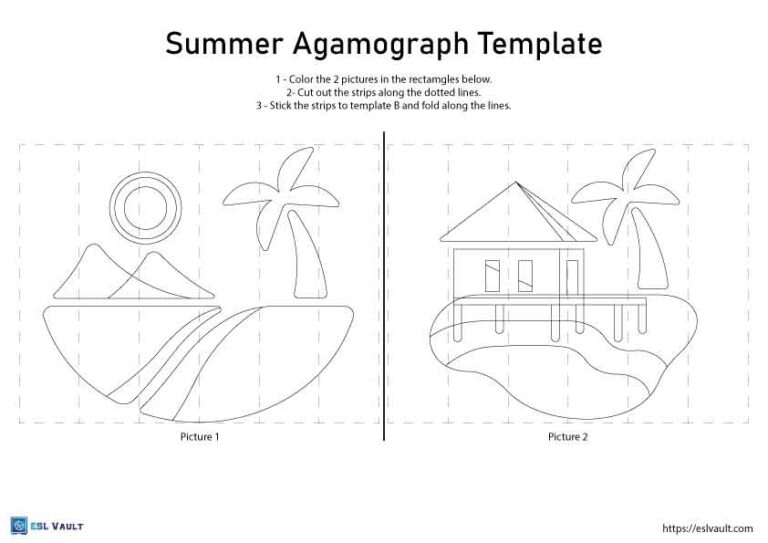 Summer agamograph
Here we have a nice beach scene with mountains in the distance. Picture 2 has a hut over a river with the same palm tree in place.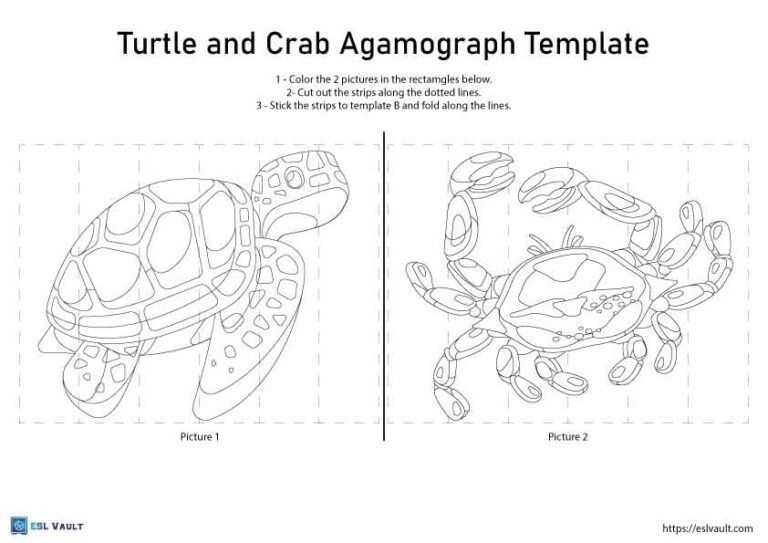 Turtle and crab agamograph printable
An underwater themed template for ocean related classes. Make this one stand out with a green turtle in blue water and a colorful crab on yellow sand.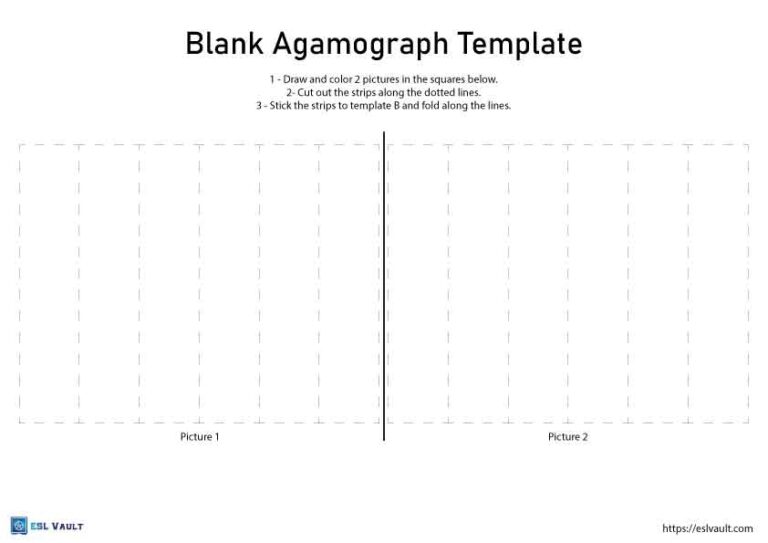 Blank agamograph template
Here is a blank template where you can draw whatever it is you like. Color it in, cut it out and stick it to template B for your very own creation!
You might also like these