Free feather templates
Feathers or plumes are the clothing of our flying friends, birds. They come in an amazing array of colors as well as many different shapes and sizes. They can be used to decorate all kinds of craft projects, from simple ones to more complex activities.
Here we have 81 feather templates that you can print, color, and cut out for fun, artistic designs. There are large and small feather outlines, basic and detailed designs, as well as some pre-colored templates to use.
Some ideas for using these templates to create paper feather crafts are –
Collages
Hanging mobiles
Decorating pictures of birds
Native American headbands
Use them as fun coloring pages
Turn them into feather stencils
These can be creative activities for students who are learning about nature and birds. Feathers are great for coloring because there is no way of doing it incorrectly and they always turn out looking fantastic.
The first 4 paper feathers below are basic shapes that are easy to cut out. Note that you don't always have to cut out the smaller details on the edges of the outlines. They turn out just fine with a quick cut around the basic shapes.
Below are some large feather outlines that are designed to be printed on A4 paper. If you want to cut out the finer details of these pictures, you should find it very easy!
Remember you can also make small cuts in the sides of to feathers. This makes them more realistic and gives them a nice 3-dimensional effect. For younger children, this can be some good extra scissor practice as they develop their coordination and motor skills.
Here are 8 turkey feather templates in a couple of different sizes and styles. These outlines of feathers are perfect for craft activities related to Thanksgiving or fall/autumn.
You can print, color and cut out these outlines of feathers to make paper turkeys. Draw a turkey on a piece of paper before decorating it with these easy feathers.
Peacock feather templates
These printable feather outlines are of a peacock's plumage. These birds are wonderfully colorful, you can break out your pencils and crayons to decorate these feathers with lots of bright colors.
For those who want to color in more pictures of these beautiful animals, check out the free peacock coloring pages.
Native American feather templates
The next pages of printable feathers below have interesting indigenous American designs on them. They have interesting patterns and pictures of things associated with Native American Indians and even Aztec culture.
Once you have colored in and cut out these feathers, they are great for making Indian headbands. All you need to do is make a circular headband out of paper and stick them to it. This is most easily and effectively done with a stapler.
For more ideas on this craft activity, have a look at the printable headbands page here at ESL Vault.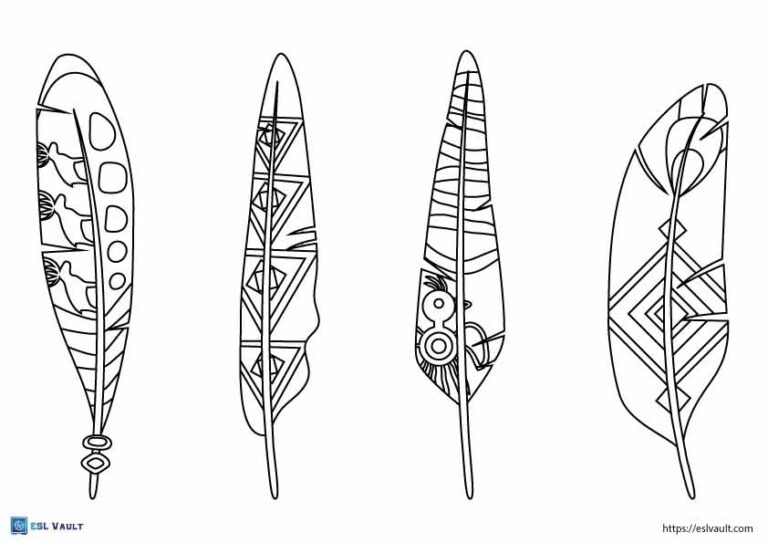 The printable feather outlines below feature a range of different styles. There are feathers that already have color for people looking to speed up their craft activities and remove the task of coloring the designs.
The colored feathers can also serve as a guide and help you decide what colors look best for your projects. Beside them are the black and white outlines if that is what you prefer.
There are also some little feather template printables that can come in handy for craft activities that are being done on a smaller scale.
Finally, we have some pictures of large fancy feathers with lots of small details. These feathers make for interesting coloring pages or could be useful for those looking for something a bit different.
You might also like these