Breakfast vocabulary worksheets
Picture and word matching handouts on the topic of breakfast foods and drinks. There are a few different sheets of varying difficulty. When students are done don't forget to ask which breakfast foods they like most and what they usaully eat and drink in the morning.
The correct answers for the breakfast vocabulary worksheet above should be as follows –
Noodles – Milk and Cookies – Pancakes
Bacon and Boiled Eggs – Cereal – Fried Eggs and Sausage
Omelet – Cup of Tea – Toast with Butter
Croissants – Sandwiches – Cup of Coffee
Breakfast worksheet printable 2
This worksheet is a little challenging and has 20 different foodstuffs. Take note that this worksheet uses the traditional and pretty much worldwide accepted spelling of doughnut –  donut is only really used in the United States of America.
The solution is –
Avocado – Jam – Cookie – Tea – Honey
Coffee – Scrambled Eggs – Peanut Butter – Boiled Egg – Yogurt
Milk – Toast – Steak – Rice – Cereal
Taco – Bacon – Omelette – Croissant – Doughnut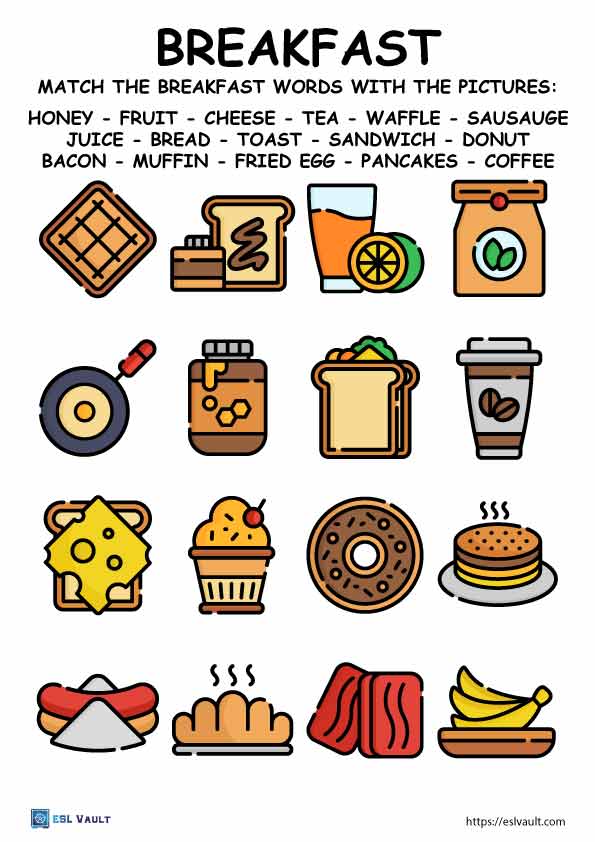 Breakfast food ESL worksheet 3
A rather simple activity with just 16 basic morning commons. This worksheet is suitable for beginners and younger students. The answers are –
Waffle – Toast – Juice – Tea
Fried Egg – Honey – Sandwich – Coffee
Cheese – Muffin – Donut – Pancakes
Sausage – Bread – Bacon – Fruit
Further breakfast activities
For younger students, you may want to try out the printable paper food craft activity. Here student colour cut out and create a meal to present to the class.
For speaking and discussion on this topic check out the breakfast conversation questions.
If you have higher-level students consider watching the video below on breakfasts around the world. Afterward, you can quiz your students on what kinds of food people eat for breakfast in different countries. Ask which looks most appetizing and which foods do not.
You might also like these