Free vegetables flashcards
Here are some lovely free vegetables flashcards that have both detailed pictures and words. These printable PDF cards are excellent for teaching vegetables to children and ESL learners.
The flashcards can be used to introduce vegetable vocabulary in any lessons about food, gardens, health, cooking, or nature.
The vegetables provided on the flashcards are – pumpkin, cabbage, lettuce, carrot, potato, cauliflower, beetroot, corn, eggplant, onion, zucchini, radish, tomato, broccoli, asparagus, squash, bell pepper, bok choy, spinach, chili pepper, leek, cherry tomato, garlic, cucumber, brussel sprout, peas, artichoke, and beans.
Notes on the free vegetables flashcards
Some of the vegetables here are scientifically fruits. The aim of the free vegetables flashcards cards is to provide resources of what are generally regarded as vegetables. Please don't write in to say that a tomato is not a vegetable!
Furthermore, some of the vegetables here have different names around the world. In particular, there are quite a few instances where British and North American English differ. If the vegetable names do not suit your location you can easily cut them off the cards or use masking tape and rename them.
For the most part, US English has been used on the vegetables flashcards. Here are some of the notable differences and other names they can have –
Eggplant is commonly used in the USA and Australia, in British English and English speakers in Europe it is usually called aubergine.
Similarly, zucchini is Used in Australia and North America while the name courgette is used in the UK, South Africa, and New Zealand.
Bell pepper is primarily US Engish, other native English-speaking countries tend to call it sweet pepper or capsicum.
In the US chili pepper or hot pepper is the favored vegetable name. In the UK it is spelled with an extra L and often pepper is omitted and it is just called chilli.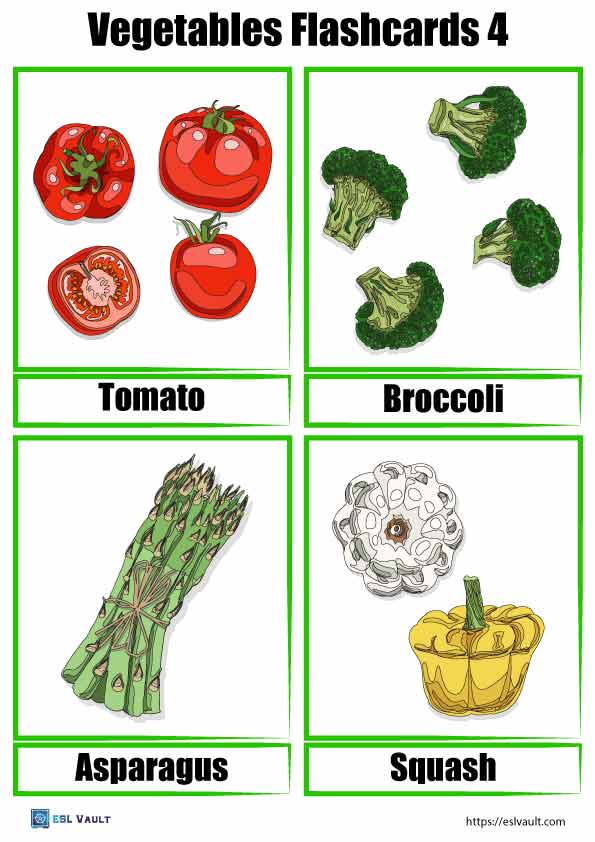 Using the vegetables flashcards
There are plenty of flashcard games that you can play with these cards. They have been designed so the vegetable names can be cut off for pelmanism and matching activities. Here are some further ideas –
Speaking. You can ask students about the vegetable cards to elicit full-sentence responses. Things you could ask students can include – What is your favorite vegetable? Which vegetables did you eat yesterday? What vegetables are red? Which vegetables are big? And so on.
Arranging. You can ask learners to arrange the cards in all kinds of ways such as from biggest to smallest, likes and dislikes, in color groups, by shapes, and which ones are peeled and which are not,.
Create anchor charts. Once you have printed the PDF pages, you can get students to cut them out and stick them on a large piece of paper or cardboard to make vegetable reference charts and posters.
You might also like these