Stone age worksheet – vocabulary matching
Here are some prehistoric man or caveman-themed free worksheets that are useful for classes related to the Stone age.
In the first worksheet above, students simply need to write the correct words below each picture.
The answers from left to right going down the page are – fire, rock painting, cave, torch, idol, animal skin, spears, flint, bones, sabre tooth tiger, necklace, drum. stone axe, mammoth, club, and bow.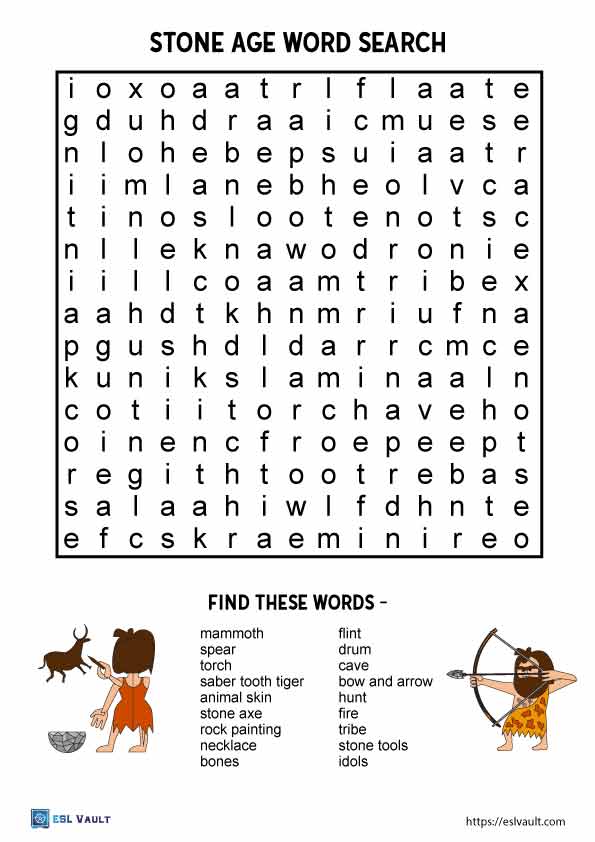 Stone Age word search
A Stone Age themed word search with 18 words to find. The words can be found in all directions and even backwards.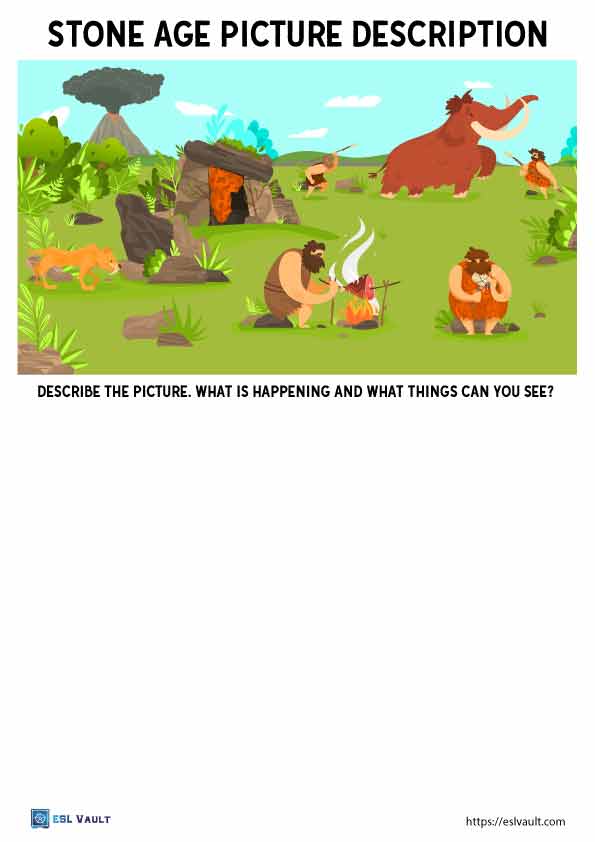 Stone Age picture description
This Stone Age worksheet is a writing activity where students must describe the picture. Descriptions can be quite simple or detailed, it all depends on the ability of your students.
There is a lot going on in the picture so there is plenty to write about. It also provides a good chance to introduce new vocabulary to the class. Write the target words on the board and get your students to use them in their writing.
Stone Age writing activity
A simple writing page with a picture prompt of a Stone Age man hunting a mammoth. Students are to use the picture as a base but can pretty much write whatever they like.
No vocabulary or word bank has been included so that it can be used for a variety of ages and language levels.
Some words you may want to provide your class are – bow and arrow, hunt, tusk, shoot, field.
Stone age things – picture and word matching
For this activity you will need both the Stone Age worksheets below. The idea is to cut the picture and word cards out and use them for matching and memory games. This activity helps to reinforce Stone Age vocabulary in an enjoyable way.
Stone Age coloring page
A simple coloring page of a Stone Age man making a wheel with stone tools. It is useful as a kid's cooler activity after learning about pre-historic times.
You might also like these