Synonym matching game printables
Synonyms are simply words that have the same or similar meaning. Learning and practicing synonyms is a fantastic way for students to learn and retain new vocabulary.  Here we have 6 different synonym matching game printables that can be used in a multitude of ways.
These free PDF pages begin with easy words for kids and gradually become more challenging and more suitable for middle school and higher-level ESL students. Sheet 1 is the easiest as the vocabulary slowly increases in difficulty to sheet number 6.
The words have been placed randomly on each printable. You can scroll down and check at the bottom of this page for the correct synonym matching answers.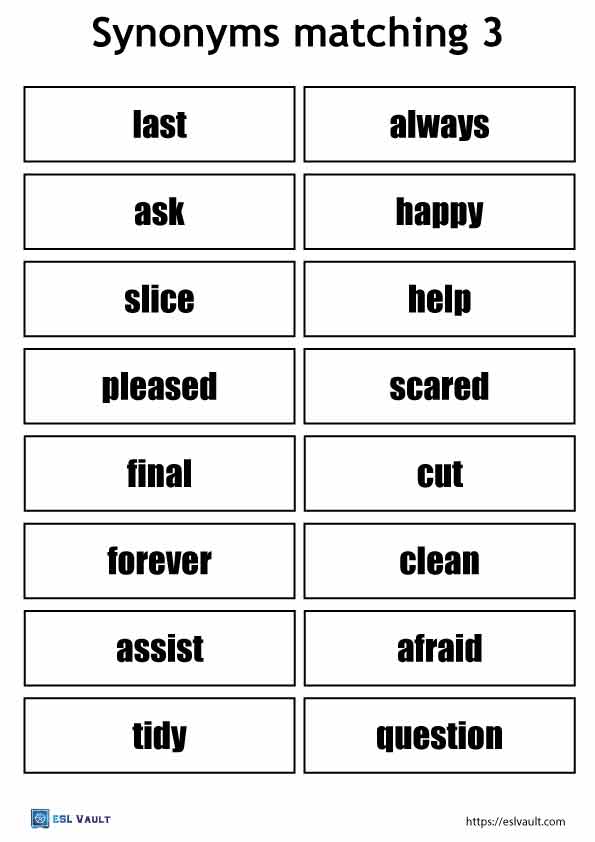 How to use the synonym matching game printables
Here are some great ideas on how to use these synonym matching game printables in fun and engaging ways.
1- Cut the words out as cards to make a word matching puzzle. Once the words have been cut out, give each student, pair of students, or small teams a set and get them to match the pairs correctly. You can use only 1 page, several, or the entire set depending on your class's ability.
Note that each page contains 16 words so the entire set will be 96 words. This can really take quite a lot of time to complete. Also, a good way of storing the synonym word cards is by keeping them in small envelopes. This way they can be easily collected and stored for future use.
2 – Project the worksheet on a screen and get students to write down the correct pairs. This can also be done in teams and made into a race with 6 rounds. If you don't have a projector you can just write the words on the board or give each student one word to write on the board each in a random place.
3 – You can also print the worksheets and give them out to your class. Younger students will enjoy this as a cut-and-paste activity!
4 – Make it a dictionary activity. If you think there are a lot of new words that your class is not familiar with, let them use dictionaries. Hopefully, they will pick up a few new words along the way. Again making this a race with teams is always a successful fun learning game.
5 – Arrange the words into groups of parts of speech as an extra activity. Once your students have completed one of the matching games, see if they can arrange them into groups of adjectives, verbs, and nouns. This can be tricky as there are some words that can fit into 2 groups and there is also an adverb (loudly) and a preposition (close). This is a good exercise for more advanced classes.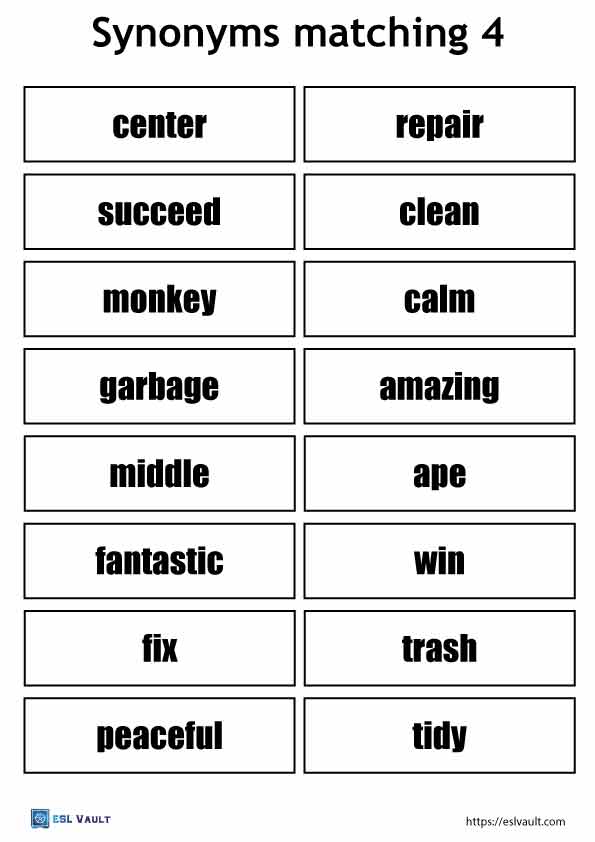 Synonyms matching game answers
In case you have any doubts about the correct matching pairs, the answers have been provided below.
Sheet 1
begin – start
look – see
speak – talk
quick- fast
sad – unhappy
home – house
hear – listen
small – little
Sheet 2
near – close
big – large
job – work
smart – clever
beautiful – pretty
correct – right
sea – ocean
kid – child
Sheet 3
last – final
ask – question
slice – cut
pleased – happy
forever – always
assist – help
tidy – clean
scared – afraid
Sheet 4
center – middle
succeed – win
monkey – ape
garbage – trash
fantastic – amazing
fix – repair
peaceful – calm
tidy – clean
Sheet 5
story – tale
awful – terrible
trust – believe
select – choose
damage – break
wealthy – rich
stone – rock
fool – idiot
Sheet 6
dark – gloomy
strange – weird
disaster – catastrophe
joy – delight
humorous – funny
region – location
law – rule
mix – combine
You might also like these