Things that are hot
There are many things that we associate with heat, such as a flame, a steaming hot cup of coffee, and the pavement on a hot Summer's day. Heat is really a transfer of energy from one thing to another, from a hotter system to a colder one.
The concept is something we all consider and talk about each day whether it be the temperature outside or the food we are eating. Here is an interesting list of things that are hot, some interesting information, and an easy game just about anyone can play.
List of things that are hot
This list of hot things has been broken up into two sections and arranged in alphabetical order to make navigation of it easier.
Ashes
Asphalt
Barbecues
Beaches
Boilers
Bonfire
Campfire
Candle
Car dashboard
Cauldron
Charcoal
Chili
Chimney
Clothing Dryer
Clothing iron
Coals
Coffee
Comet
Deserts
Earth's core
Electric blanket
Engines
Exhaust fumes
Exhaust pipes
Explosions
Fire
Fireplace
Fireworks
Flame thrower
Flames
Flue
French Fries
Frying pan
Furnace
Geyser
Greenhouse
Griddle
Grill
Hair dryer
Hand dryer
Hand warmers
Heat press
Heaters
Heating pad
Heatwave
Hot plate
Hot springs
Hot-air balloon
Hot-glue gun
Hot-water bottle
Jacuzzi
Kettle
Kiln
Hot-tub
Lamp
Lantern
Lasers
Lava
Lightning
Lights
Magma
Matches
Mercury
Microwave
Midday
Molten metal
Molten rock
Oil
Oven
Pavement
Plasma
Popcorn
Pot
Racing car tires
Radiator
Range
Roads
Roofs
Sand
Sandwich press
Sauna
Shower
Smoke
Smoke stack
Solar panel
Soldering iron
Soup
Sparklers
Stars
Steam
Steam room
Summer
Supernova
Tea
The Sahara
The Sun
Toaster
Torch
Venus
Volcanoes
Water
Welding arc
Welding rod
Wok
Temperatures of things that are hot
Here is some information on how high the  temperatures ofsome hot things can get to.
Hair dryer – An electric hairdryer can generally reach a temperature of up to 140 degrees Fahrenheit (60 Celsius).
Solar panels – A solar panel on a house can get to 150 degrees Fahrenheit (65 Celsius) on a hot summer's day. This is well above their usual temperature and actually prevents them from working efficiently.
Toaster – It depends on the model but the average toaster can cook your sliced bread at 350 degrees Fahrenheit (176 Celsius).
A clothing iron – If you want to dial up your household iron to max for a pair of jeans some models can reach a temperature of 450 degrees Fahrenheit (232 Celsius).
Hot glue gun – A hot melt glue gun that can be used to make things like furniture can get as hot as 400 degrees Fahrenheit (204 Celsius).
Gas grill/BBQ – Some of these gas cooking devices can reach temperatures of 600 degrees Fahrenheit (315 Celsius). If you are using coal for your fuel instead of gas it can get much hotter.
Venus – This is known to be the hottest planet in our solar system. Because of its thick atmosphere, it is thought to have temperatures of up to 900 degrees Fahrenheit (482 Celsius).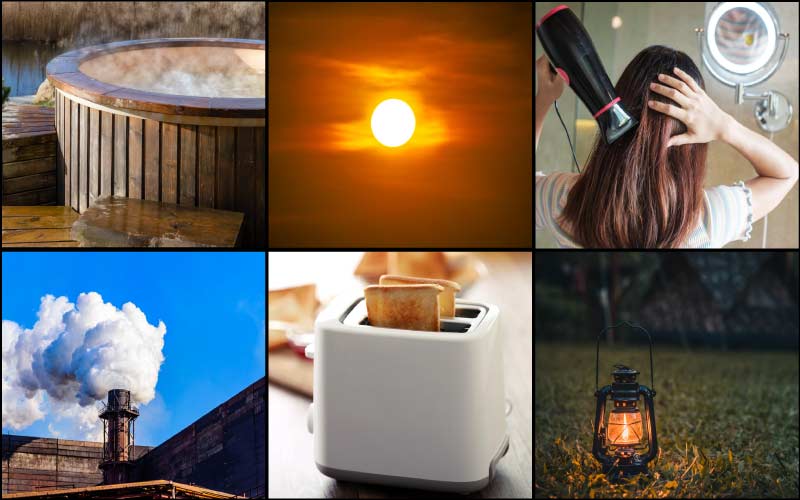 Fireplace – Fire is one of the most obvious things that are hot. Logs in a typical home fireplace can get as hot as 1100 degrees Fahrenheit (600 degrees Celsius). Note that a big bonfire outside can reach almost double this.
Sparklers – These fun fireworks burn an extremely hot 2000 degrees Fahrenheit (1093 Celsius). They can be quite dangerous, there were said to be 600 sparkler-related injuries treated in the USA in 2022!
Lava – Molten rock can get to a temperature of 2200 degrees Fahrenheit (1200 Celsius). How hot lava gets depends on the type of rock that has formed it.
Candles – These can get surprisingly hot. The heat of a staggering 2550 degrees Fahrenheit (1400 Celsius) can be found at the hottest part of a candle flame.
Earth's core – The center of our planet is another extremely hot thing. It has a temperature that is constantly changing but it is believed that it gets to some 10 800 degrees Fahrenheit (6000 Celsius).
Lightning – Lightning can produce an astounding amount of heat. While the lightning itself isn't hot as it is electricity, it can make the air around it get to a whopping 50 000 degrees (nearly 28 000 Celsius).
The Sun – The Sun is probably one of the first things we think about when we hear the word heat. This burning sphere in the sky is said to be almost 28 million degrees hot (15 million Celsius) at its core.
This is a very easy activity that you can do with friends, family and students. It involves ranking things that are hot in the correct way. Here is how to play –
Firstly, print out the free PDF below and hand it out to players, alternatively you can also cut each of the word and picture cards out separately.
Once players have copies of the hot things pictures and words, they are to put them in order from coldest to hottest. This can be done with pen and paper, or by arranging the cards if you have cut them out.
The aim of the game is to try to guess the correct order of the things. You can award a point for each word place in it's correct position. The player with the most points is of course the winner.
The answers have been given below.
From coldest to hottest the things should be ordered as such – 
1 – Hair dryer
2 – Iron
3 – Grill
4 – Sparkler
5 – Lava
6 – Candle 
7 – Lightning
8 – The Sun
Note that if you want the exact temperatures of all the 8 hot things you can find them in the article above.
There are some moreinteresting activities that are related to heat here at ESL Vault. If you are looking for discussion activities there are the fire conversation questions and the questions about summer.
For a look at some interesting expressions in the English language, have a look at the 25 hot idioms.
You might also like these