Free colors flashcards
Our world is full of colors and their names are importantly some of the first vocabulary for new language learners to grasp. These flashcards can make this process fun by using them in different games and engaging activities where students can acquire knowledge of colors.
The first 3 colors flashcards pdf pages have 12 basic colors that are best suited to younger learners and beginner ESL students. The colors featured on them are – red, blue, yellow, green, orange, purple, gray, brown, pink, black, white, and indigo.
Pages 4 to 7 of the colors flashcards have more advanced vocabulary which is great for engaging higher-level learners and adult ESL students. These flashcards have the colors – light blue, light green, dark blue, dark green, maroon, cyan, tan, olive, teal, magenta, silver, lime green, violet, sienna, crimson, and khaki.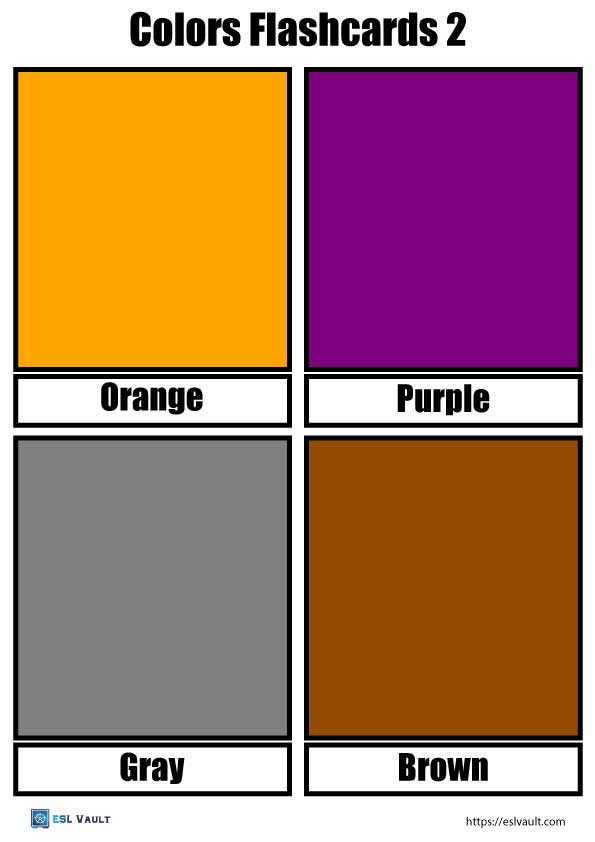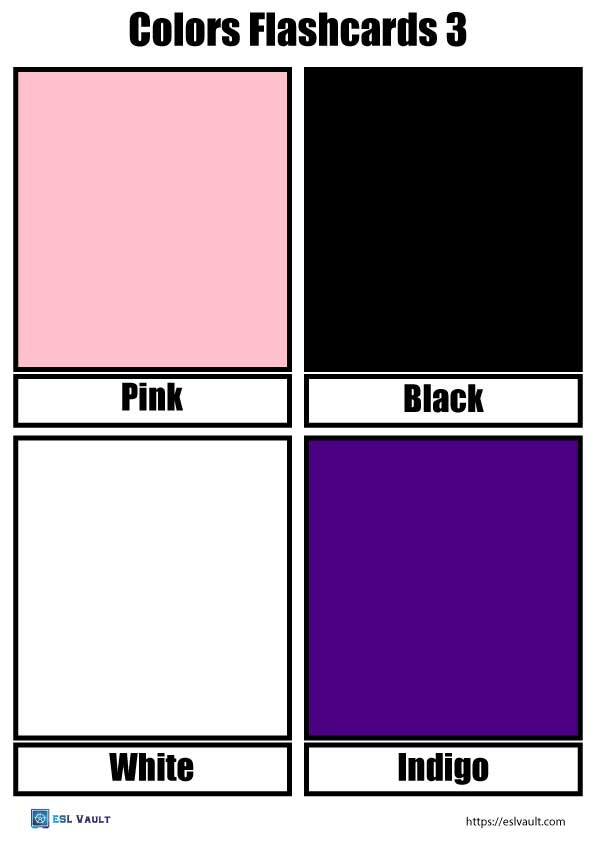 Notes on the colors flashcards
Upon starting to make these resources I looked into and learned a lot about colors. There are just so many of them, it is even possible that the number of colors is an infinite amount. It is estimated that the human eye can see around 10 million colors, shades, and hues. This of course isn't taking into account colors that we cannot perceive!
To make the flashcards generally accepted color HEX codes were used although even these don't seem to have official rules. The most commonly agreed-on HEX codes were used in all colors except for brown because the commonly given color seemed too close to maroon.
For the more advanced colors flashcards, colors that seemed to be the most different were used. Some may prefer other names for the colors and if that is the case you can simply change them. For example, cyan is very close to aqua,  and magenta is very similar to pink.
On a few cards light and dark have been used to introduce further vocabulary. You may want to also teach the terms pale and bright to higher-level learners.
Using the colors flashcards
There are plenty of flashcards games and other activities that these flashcards can be used for. Here are some extra ideas that you might find useful!
Matching. Cut the words from the bottom of the cards so that they can be matched with the correct colors. You can even turn these pieces upside down to play memory games.
Treasure hunt. This is great for kids in classrooms and schools. See if they can find or collect objects that match the color cards that you give them or are teaching. This can also work as a game of Ï spy".
Sorting. You can bring a bag of colored items such as pencils, crayons, balloons, pretty much anything….and let young learners sort them into groups corresponding with the colors flashcards. You can also match them with the shapes flashcards.
Color dash. Think of this as like musical chairs. Play music and let learners roam around. When the music stops show a flashcard and shout the color. Students are to run to a designated part of the room that has the same flashcard. Alternatively, they can touch something that is the same color.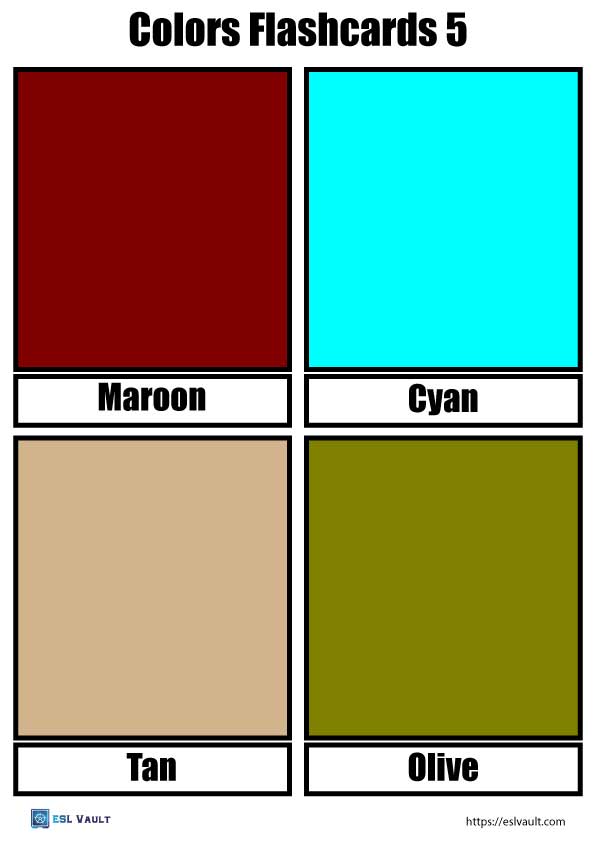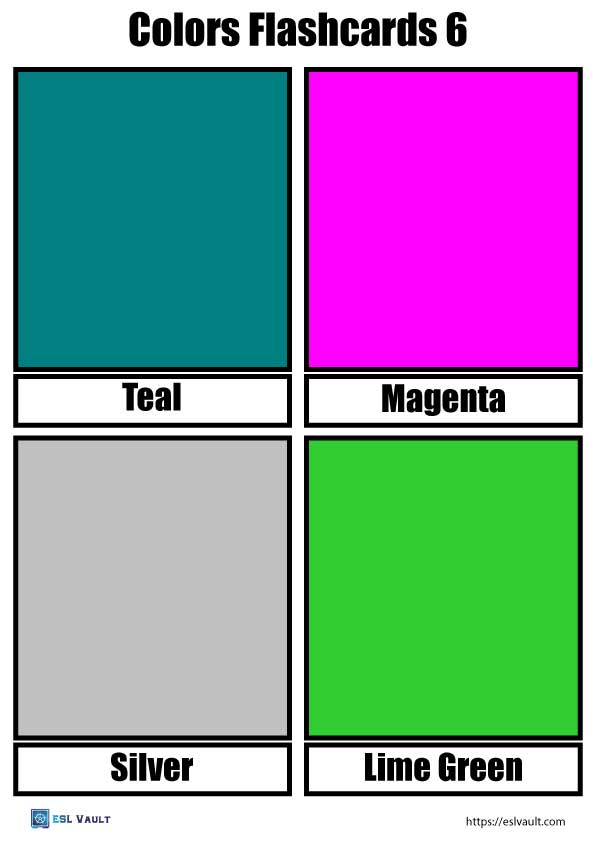 Here are a couple more ideas that you might like to use in tandem with the printable colors flashcards.
For kids, there are many coloring pages here at ESL Vault that can be used. In particular, the color by number printables are very good for learning colors in English. You can even stick the flashcards to the board to give young students a guide to follow.
Older and more advanced students who have learned some more complex color names will benefit from the colors conversation questions. This speaking activity will let them talk and use any new color vocabulary they have gained.
You might also like these