Birds flashcards
Birds are magical creatures that come in all sorts of colors, shapes, sizes, and appearances. They are fascinating for anyone who has even a mild interest in nature.
These bird flashcard PDFs have been limited to only 64 of the most common from all over the world. There are just too many to include them all. Furthermore, there are so many different kinds of the same bird that making printable flashcards of them all would be an epic task.
There are said to be around 5000 different kinds of birds on the planet. The number of variating species is estimated to be from 10 000 to 18 000 depending on how their diversity is evaluated!
It should be noted that some of the flashcards contain birds from the same species. For example parakeets, and macaws are both parrots (lovebirds are not). A kookaburra is a kind of kingfisher, doves and pigeons are from the same family, and so on. In any case, an effort has been made to include some of the most well-known birds from all over the globe.
These free printable birds flashcards include –
Sheet 1 – albatross, bald eagle, bee-eater, blackbird, blue heron, blue jay, blue wren, and goose.
Sheet 2 – canary, cassowary, cockatoo, condor, cormorant, crow, crowned crane, and curlew.
Sheet 3 – dove, duck, egret, emu, falcon, flamingo, goldfinch, and hawk.
Sheet 4 – hen, hoopoe, hornbill, hummingbird, kingfisher, kiwi, kookaburra, and lovebird.
Sheet 5 – macaw, magpie, mockingbird, myna or mynah, nightingale, cardinal or northern cardinal, osprey, and ostrich.
Sheet 6 – owl, parakeet, partridge, peacock, pelican, penguin, pigeon, and puffin.
Sheet 7 – quail, robin or red robin, rooster, sandpiper, seagull, sparrow, spoonbill, and starlight.
Sheet 8 – stork, swan, tern, toucan, turkey, vulture, warbler, and woodpecker.
How to use the free printable birds flashcards PDFs
Once you have printed and cut out the printable birds flashcards there are plenty of ways you can use them for teaching other than rote learning. It is better to print these resources in color but you can still get away with black and white.
You might want to try one or more of these ideas –
Arranging the cards. For elementary and young learners this can be as basic as putting them in alphabetical order or putting them in color groups. For more advanced students the cards can be grouped by bird size, habitat, what they eat, where they live, or most commonly seen in your area or country.
Picture descriptions. Students can describe each bird and their habits. You may need to help by providing vocabulary such as bird anatomy words as well as other suitable verbs and adjectives.
Guessing game. Ask one student to describe a bird and see which student can name the bird correctly first. It can be a team game with points awarded and a winner.
Bird wars. Give two students a flashcard each and ask them to detail why which one would win in a battle. This can be a fun and silly exercise.
Research activity project. Give a student or small group a random bird flashcard and ask them to research facts and make a presentation about this feathered friend.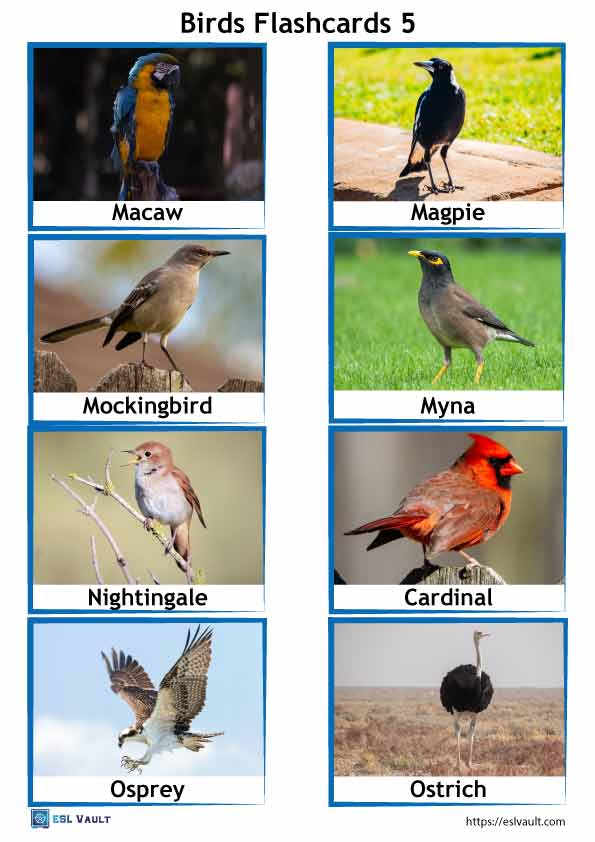 Interesting facts related to the birds flashcards
Here are some facts that you might find handy to know and share when you use the free flashcards. These can be particularly useful for teaching superlatives and comparatives.
The tallest bird is the ostrich which can reach over 2.7 meters or 9 feet in height.
The Albatross has the largest wingspan of a whopping 3.3 meters or just under 11 feet.
The fastest bird is the Peregrine falcon which can move at a lightning-fast speed of over 240 mph or nearly 390 km/h.
The smallest bird on the planet is the hummingbird. The bee hummingbird species is a tiny 5 to 6 cm in length.
The most common bird in the world is of course the chicken or hen. This is due to it being bred for human consumption.
The bird with the longest bill is the Australian pelican. Its bill extends almost 2 feet or half a meter.
The bird with the most feathers is the swan. The whistling swan can have 25 000 of them on its body.
If you enjoyed these free printable birds flashcards there are some more related activities about birds here at ESL Vault.
For learning the names of birds you can also use the birds worksheets that involve vocabulary matching with pictures.
For conversation classes check out the discussion questions about birds.
You might also like these