Tangram puzzles
Here are some wonderful visual puzzles that can be used for relaxation, filler, and supplement activities, as well as educational exercises. The tangram puzzles here feature an array of animals, buildings, and general objects.
You can choose some puzzles that complement a lesson theme such as nature or seasons and use them to keep students interested in the subject at hand. They can also be used to help teach things like colors, body parts, and prepositions of place. It is up to you how you want to utilize them, there are so many options!
The puzzles help learners with logic, problem-solving, and developing general creativity. For younger students, they also assist in developing fine motor skills, spatial awareness, and general perception.
Printable tangram puzzle pieces
There are four different sets of tangram puzzle pieces available on this page. If you want some really big pieces you can download the cover picture above. Below there are 3 more smaller options. All you need to do is download the free PDF files, print them out, and cut out the pieces.
Below left there is another colored version with 2 sets of pieces. They have 7 different colors and are great for teaching this vocabulary to beginners. The middle page has simply black tangram pieces which some people may prefer as they can be less distracting.
Finally, there is a plain tangram piece set that you can color in yourself in any way you like. This can also be done once you have completed a tangram shape and glued it to a separate piece of paper. Doing so will make your shapes look more realistic!
Tangram puzzles game rules and further ideas
The traditional rules of these tangram puzzles are quite simple. The puzzles provided here are intended to be used in this way.  You must use all the pieces when you make a shape. And, all the pieces must touch and not overlap in any way. Rotation and flipping of the pieces are allowed.
You can of course disregard all the rules and this can be a fun activity for young learners. Let them make their own objects and animals in any fashion that they choose! You may even find it best to give younger children the answer keys to follow.
Another thing you can do is provide students with several sets of the tangram puzzle pieces so that they can compose larger and more complex pictures. Students can also create shapes and see if classmates are able to replicate the designs.
If you want to prolong the longevity of your tangram puzzle pieces after you have printed them, think about printing them on card or having them laminated. Other things you can do is stick them to cardboard or foam, or even just cover them with clear sticky tape!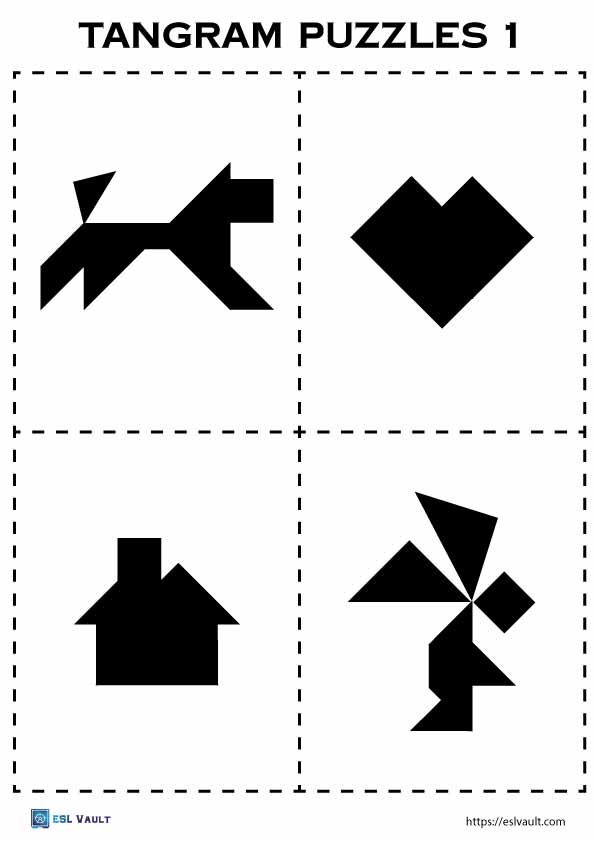 These free printable PDF pages have a range of different tangram pictures for students to try to reconstruct. The images on each worksheet, in a clockwise fashion, are as follows –
PDF 1 – dog, heart, house, and angel.
PDF 2 – horse, kangaroo, cow, and camel.
PDF 3 – rhino, giraffe, turtle, and crab.
PDF 4 – eagle, rooster, turkey, and swan.
PDF 5 – windmill, castle, barn, and bridge.
PDF 6 – fir tree, fish, boy with cup, and boat.
PDF 7 – lamp, candy, camera, and pinwheel.
PDF 8 – shirt, sword, watering can, and teapot.
Tangram puzzles answers and solutions
Here are the answers for the above puzzles in diagram form. The first page of answers is color-coded to make it super easy. The other solutions are still quite simple to follow with the shape outlines in the designs.
You will notice that the tangram puzzles solutions on page 6 are also colored. They are a good example of what you can do by using the blank pieces and shading them in later.
You might also like these