Free printable ESL mazes for kids
Here are some maze activities that make learning fun!
The first worksheet above is an enjoyable way for students to learn animal vocabulary. You need to follow the letters out of the maze to create the sentence – "I like cats and elephants".
The students then write the sentence below the maze and draw the lines to the correct animals. They can also label the animal pictures surrounding the maze.
It is good for practicing spelling, vocabulary, and motor skills for young learners.
Fishing ESL maze for kids
In this handout the students must count the catch of a fisherman as they find their way through the maze from start to finish.
After completing the task they must write what the fisherman caught at the bottom of the page.
The correct answer should be – The fisherman caught six fish, four crabs, and five squid.
ESL clothing maze worksheet
Goats eat anything and this one got to the washing line! In this silly activity students find their path through the maze, whatever clothing they pass, the goat eats it. This activity great way to reinforce clothing words.
At the end, they write what the goat ate and what the goat didn't eat.
The answer should be that the goat ate a t-shirt, a tie, some jeans, a dress and, a hat. It didn't eat shoes, socks, a jacket, a skirt, or gloves.
ESL maze worksheet about food
This is similar to the goat and clothing handout except that it is a pig and food. Trace the pig's route through the puzzle to find out what it ate.
The correct answer is that the pig ate an apple, a carrot, a sandwich, chicken, corn, grapes, cheese, and fish.
Afterwards, you can also ask what things didn't the pig eat.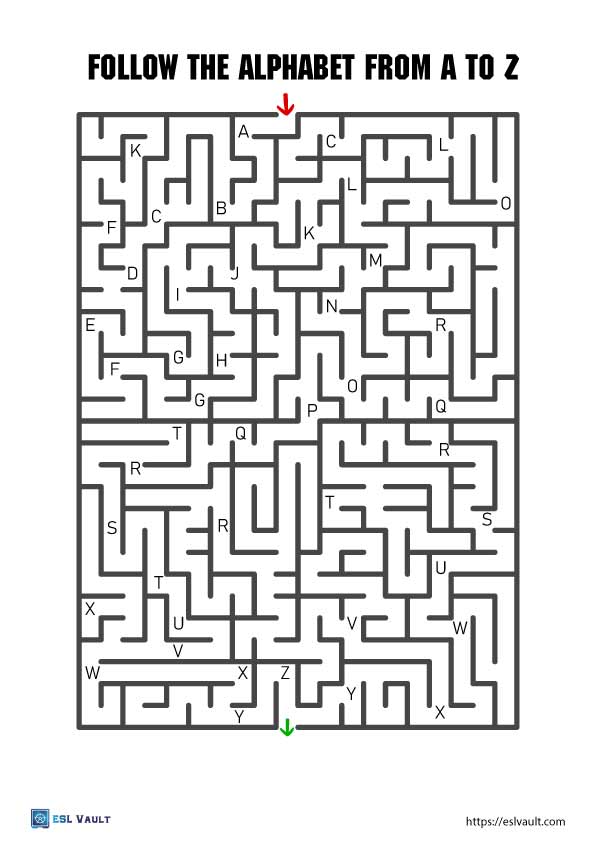 Printable alphabet maze worksheet
This is a very easy worksheet for kids and beginners to practice the alphabet. They must follow the alphabet in order from A to Z from the entrance to the exit.
You might also like these