Free weather flashcards
Here are 44 free weather flashcards that have both pictures and words. The weather is one of the most commonly talked about subjects around the globe so it is an important subject for English learners to know about. These PDF printables are great for teaching kids and ESL students of all ages.
The first free printable PDF pages (above and below) are cute weather flashcards for kids. The vocabulary is very basic but again useful.
The words on these picture and word cards are – sunny rainy, windy, stormy, snowy, cloudy, partly cloudy, rainbow, hot, cold, lightning, and tornado.
Free weather flashcards part 2
Part 2 of this set of weather flashcards has a more complex vocabulary that can be introduced to learners who already know basic weather terms. These flashcards have seasons, moon, phases, natural disasters, and more.
The pictures and words on these PDF cards are of – 
autumn, winter, spring, summer, sunshower, hail, sleet, blizzard, full moon, half moon, crescent, eclipse, hurricane, typhoon, celsius, Fahrenheit, tsunami, earthquake, flood, drought, dust storm, snowstorm, landslide, avalanche, sunrise, sunset, tide, visibility, wind speed, wind direction, weather station, and meteorologist.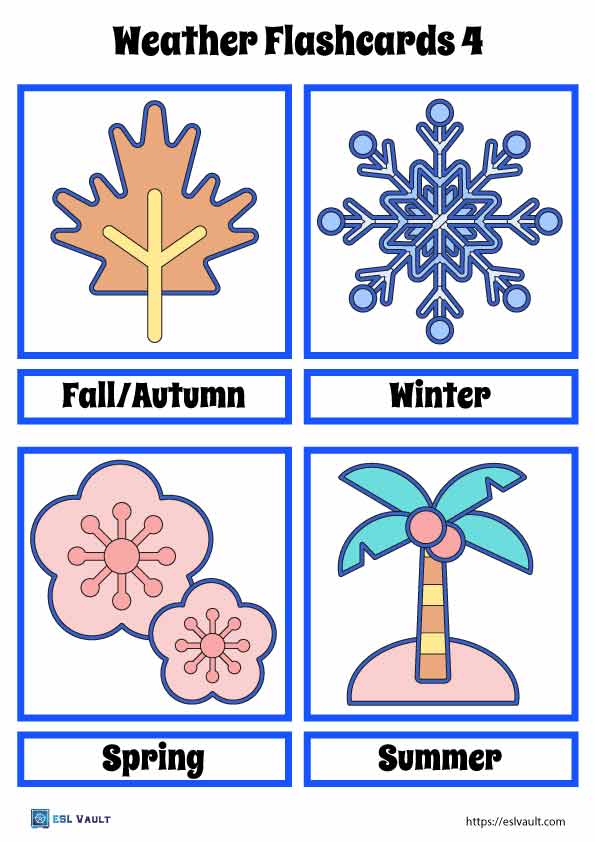 Notes on the free weather flashcards
It should be noted that in North America the term fall is used while the UK and most other native English-speaking countries call this season Autumn.
The difference between a hurricane and a typhoon is simply where they occur on the planet, they are both types of cyclones.
Hurricanes occur over the East Pacific and Atlantic oceans and hit places like the USA. A typhoon occurs over the West Pacific Ocean and hits countries in Asia.
Finally, the term cyclone is used for these weather phenomena when they are near Australia.
How to use the free weather flashcards
You can use these picture and word cards to play flashcard games such as matching/pelmanism.  The pictures and the words can be cut out separately just for this activity.
Another way to use them is for speaking activities. Give a student 2 or more cards and see if they can construct a sentence using the words. Advanced students can be asked more in-depth questions about each card. There are many seasons and weather conversation questions here on ESL Vault to help with this.
You can also follow up with one of the weather vocabulary matching worksheets.
You might also like these