Gnome coloring pages
Here we have a lovely collection of cute gnome coloring pages for kids and adults. These sheets range from easy to detailed and feature gnomes in gardens, with animals, mushrooms, and funny shaped houses.
Scroll down and check out the different styles and difficulty levels of the pages and you will be sure to find something that you like!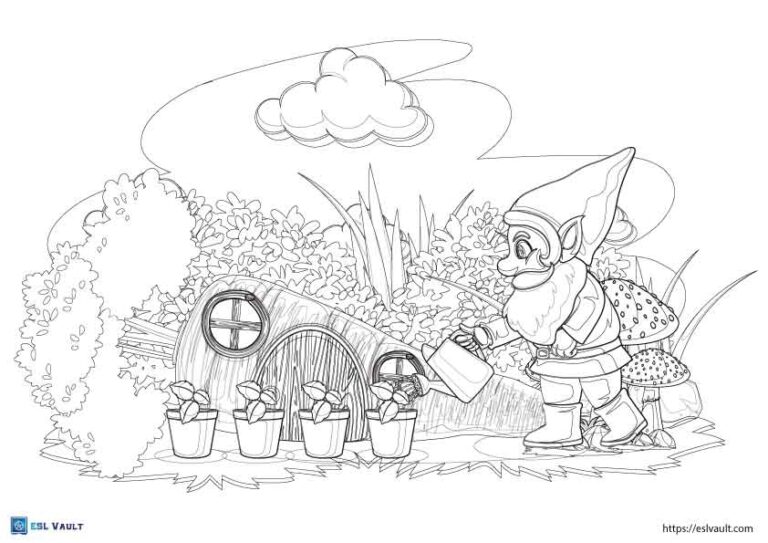 Carrot house gnome coloring page
This drawing is quite detailed with a gnome watering plants, in front of a house made out of a carrot.
Gnome history and information
These mythical creatures seem to have been invented in Europe sometime during the 16th century. Gnomes were said to be small humanlike creatures that lived underground, sometimes guarding treasures.
Gnomes were said to be good-hearted but mischievous and spoke their own language – Gnomish. Gnomes wore different colored clothing but most commonly they are pictured with a red hat and a white beard.
Manmade garden gnomes were produced in Germany as far back as the early 1800s and also became popular in England in the 1940s. They were also often associated with good luck by farmers.
Cute gnome coloring page
Here is an easier coloring sheet for children of a gnome in a garden holding a flower.
Easy gnome coloring sheet
This one is super simple and great for younger kids. You can color the mushroom bright reds and the gnome's clothing green.
Garden gnome
Another easy coloring page with big shapes to fill in. You can use lots of different colors here with the sun, butterfly mushroom, and plants.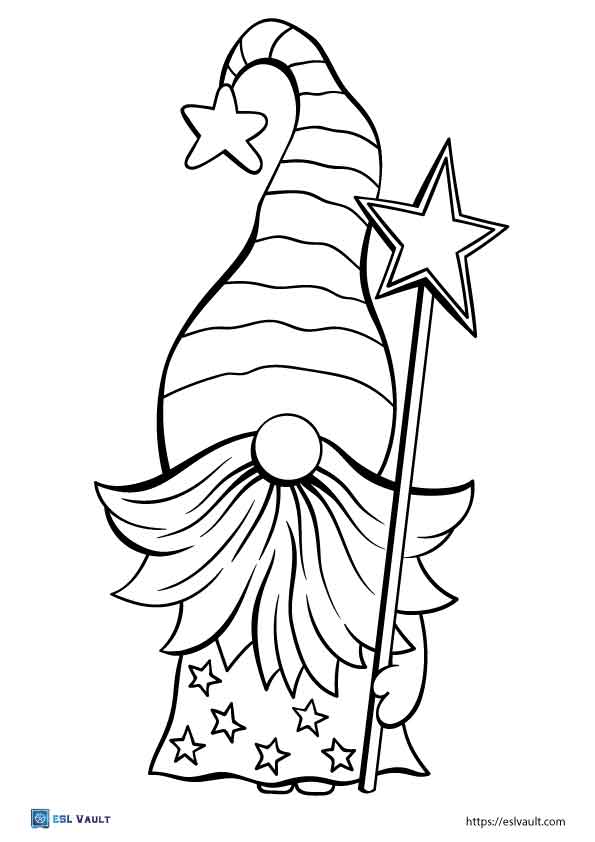 Wizard gnome
A wizard gnome for children who are interested in magic and fairy tales.
Fishing gnome
Another simple yet cute gnome sitting by the water fishing.
Garden gnome coloring page 2
This garden gnome is pushing a wheelbarrow with a pea plant inside it. There is a lot of detail here to make a very nice colored picture.
Girl gnome
A female gnome with a mushroom house.
For some reason, gnomes are often pictured with the poisonous fly agaric mushroom (it is really a toadstool). Maybe this is because of its brilliant red color.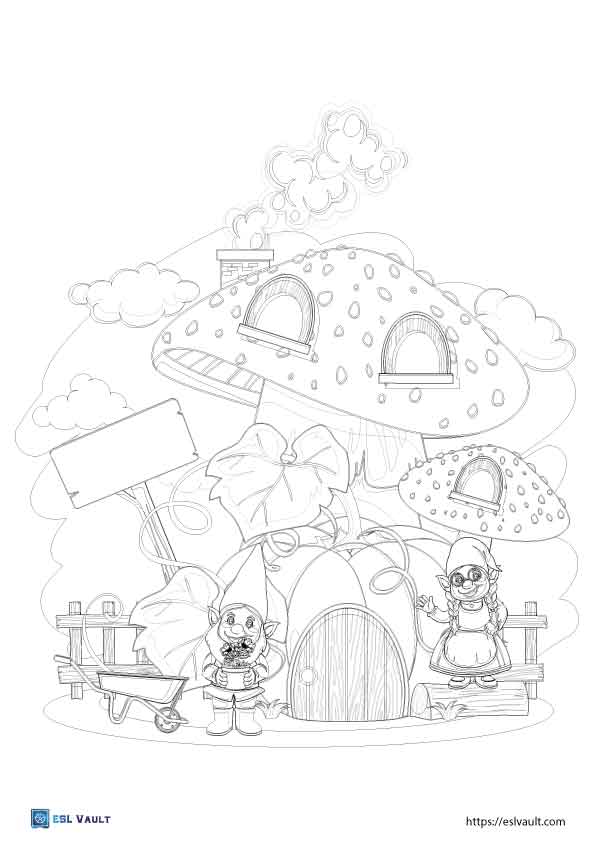 Mushroom house gnome coloring page
This is a quite complex picture that is best for teens and adults.
There are 2 gnomes in front of a typical fly agaric mushroom house with a pumpkin entrance.
There are lots of smaller things to color in such as plants, a fence, clouds, and even a signpost you can write on.
2 gnomes and a mushroom
A simple yet fairly challenging coloring page with gnomes around a mushroom.
Pumkin house gnome coloring page
There are lots of little shapes to color on this page with the garden and the pumpkin house.
One gnome is also holding a sign that you can write a message on.
Gnome riding a rabbit coloring page
A happy gnome waving as he rides a rabbit in a garden.
When you color the leaves and garden remember to use different shades of green. You can also ass some yellows and browns for good effect.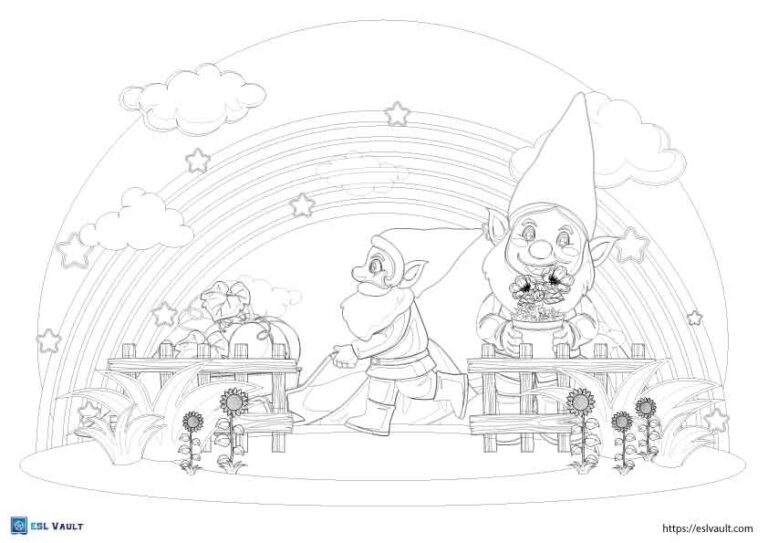 Rainbow and gnomes in a garden
Here is a coloring page that you can make very colorful with the rainbow and stars in the background.
Valentine gnome
A nice Valentine's day themed page with a gnome holding a heart and some presents nearby.
You could also use it as a Mother's or Father's day activity.
You might also like these