11 printable activity dice for the ESL classroom
Dice can be used in all sorts of activities and games. These craft printables are decorated with pictures on the themes of numbers, body parts, clothing, food, fruit, pets, school things, vegetables, weather, zoo animals, and a blank template to add your own theme.
Color then cut out and assemble the dice in class.
Making the activity dice
The printable activity dice are much more easily assembled if printed on card, not paper. You can always stick the paper printout to some card but paper is all you have they still work fine. In this case, it is just a little more fiddly and younger students may need some help.
Firstly get them to add color with crayons or pencils. The teacher can dictate or write instructions on how to color the vocab such as "the jeans are blue", "the strawberry is red", "the bird is blue" and so on. The colors don't need to be accurate and it can be more fun having pink cheese, yellow zebras, and blue carrots.
Remember to tell your students to cut around the outside line of the templates. If a student cuts out an entire section (it happens!) it can easily be put back in place with sticky tape.
Once the outside line has been cut all the remaining lines must be folded.  The final step is to stick it all together. It is better to use sticky tape and a stapler, not glue. It is also a lot less messy!
Body parts dice
The body parts are nose, ear, mouth, eye, hand and foot.
Clothing dice
This dice has the clothing pictures of t-shirt, scarf, gloves, jeans or trousers, skirt and hat.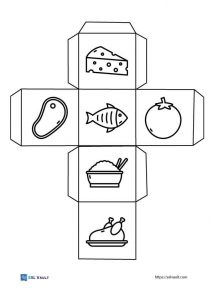 Food dice
The food on this printable is cheese, meat, fish, tomato, rice and chicken.
Fruit dice
This dice contain the words – cherries, pineapple, strawberry, watermelon, grapes, and pear.
Pets dice
This printable activity dice has images of common household pets – dog, bird, cat, fish, rabbit and mouse.
School things dice
Here you have 6 typical things in the classroom – pencil, sharpener, ruler, pen, rubber or eraser and scissors.
Vegetables dice
The vegetables are carrot, onion, spinach or lettuce, broccoli, potato and peas.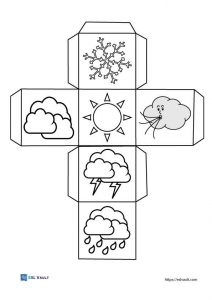 Weather dice
The pictures on this printable represent snowy, cloudy, sunny, windy, stormy and rainy.
Zoo animals dice
This printable contains a tiger, monkey, zebra, elephant, giraffe and panda.
Blank dice template
With this blank template you can create a dice of any theme you like. You can get students to draw any 6 objects that they are currently studying. If your students struggle with drawing you can print out images for them to stick on the dice. Alternatively you could just write the words of the desired vocabulary.
You might also like these