Ship coloring pages
Here are 21 free printable ship coloring pages for kids and adults. These coloring sheets have a variety of styles and difficulty levels so there should be at least one for everybody. There are cruise ships, pirate ships, trawlers, sailing ships, and more!
Scroll down the page to see them all and download all the pages individually using the blue button. Note that these PDF printables can be colored in with pencils, crayons, felt pens, or even paints such as acrylic and watercolors.
If you are looking for more coloring sheets, check out the beautiful aboriginal art colouring pages.
A small ship in rough seas
This PDF page has a very small ship that appears to be struggling in the ocean's waves.
Steam or smoke it billowing out of the top of the craft and there are two large snow-capped mountains towering behind it in the background.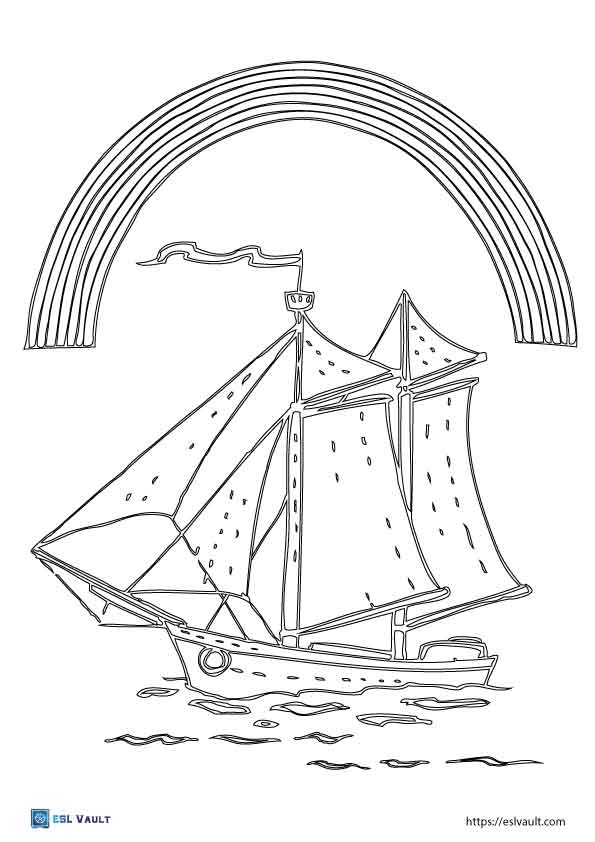 Rainbow and ship coloring sheet
This is an easy coloring printable where you can add some vibrant colors to the rainbow in the background.
Small ship coloring page
There is quite a lot of detail in this ship coloring picture. The best way to color it is to use pencils.
Ancient lighthouse and ship
This one appears to be an ancient lighthouse, probably in Alexandria. There are plenty of details to color with the 2 ships and the wharf as well.
Wooden ship coloring page
This is a grand old wooden ship or galleon with detailed masts and cannons in the ships hull.
It appears to be flying the English flag.
Viking ship 1
Here is a cool coloring page for kids with a viking on a ship holding an axe. The objects either side of the ship are icebergs but you could color them as rocks.
Viking ship coloring pages 2
Another viking coloring page similar to the one above. In this one the viking is holding a sword and the ship is creating a splash as it is moving.
Cruise ship coloring page
This big cruise ship is easy to color in and can be filled with lots of color. It is another good activity for children.
Cruise ship 2
A cruise ship or ice breaker that is sailing somewhere in the Arctic or Antarctic. It is sailing amongst some small sheets of ice and is even breaking through one.
Cruise ship 3
This third coloring page of a cruise ship has a nice cartoon style with rounded shapes. The bow is making a splash as at breaks through water and there is a big mountain ominously standing behind it.
Cruise ship coloring sheet 4
This cruise ship is more detailed than the first and includes clouds the sun, and a palm tree on an island. You can put lots of different colors into this activity.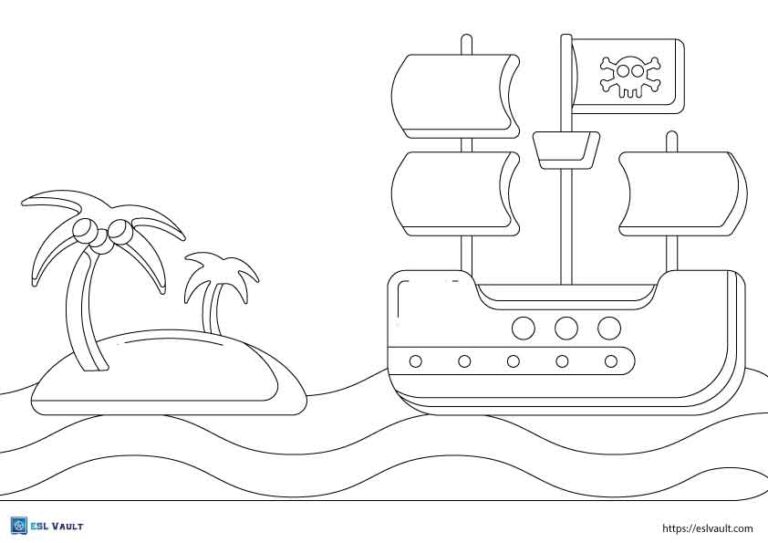 Kids pirate ship coloring
A simple pirate ship at sea with an island for children to color.
Pirate ship 2
Next, we have a much more complex picture of a pirate ship for coloring. The drawing is from the perspective of somebody looking at the ship from a jungle cove on the shore.
There are lots of leaves and folaige to be filled in with vibrant green hues.
Pirate ship 3
This is another hard coloring activity with plenty of small details on the wooden ship.
The vessel has a small boy at the ship's wheel and there is a parrot perched on one of the sails.
Fishing trawler
A simple and clean drawing of a fishing trawler in the ocean. There is a huge sunset behind the ship, or is it a sunrise?
Fishing trawler 2
This next fishing ship coloring page is a bit harder than the previous one. The ocean is calm and clear so that the hull of the ship can be seen below the water.
There are some lovely clouds sitting in the sky with birds swarming around them.
Lighthouse and ship
A relaxing beach scene with a lighthouse and ship in the distance. Make sure to make the beach sand different shades of color.
Old ship leaving a port
This is from an old lino print showing a ship leaving a port. With the heavy black lines it it a good one to use bright colors to create contrast.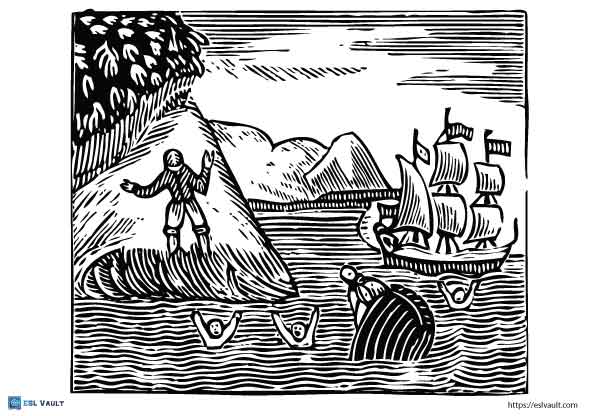 Ship and sinking boat
Here is another old lino print, this time of a ship and a boat sinking with people in the water. Again, use vibrant colors on this page and it will come alive!
Sailing ship coloring page
A simple sailing ship at sea with dolphins underneath. This one works really well with water color paints.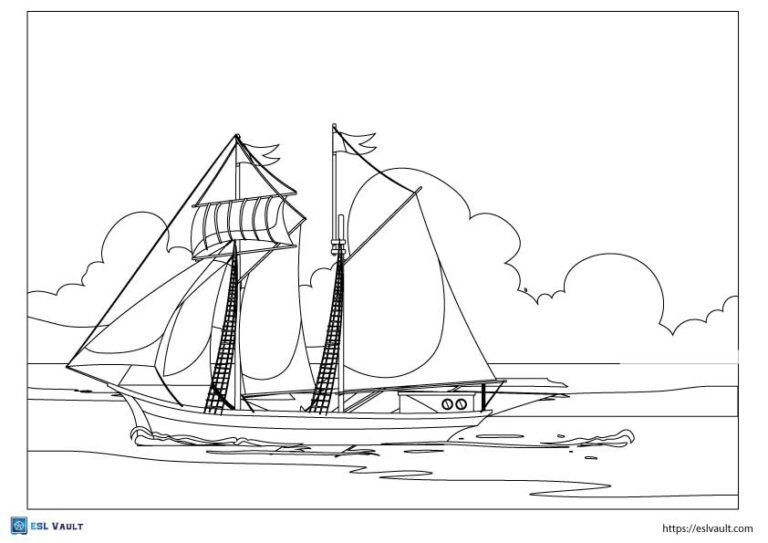 Colonial ship
This nice black and white drawing has a colonial ship with sails that is floating upon a calm ocean.
There are some big clouds forming on the horizon that could be the beginnings of a large storm.
You might also like these