Printable dinosaur headband templates
Here are 7 free printable dinosaur headband templates for kids' craft fun. They are very simple to create and feature cute dinosaurs that children love.
Once you have printed the PDF pages all you will need are some pencils or crayons, scissors, and sticky tape or a stapler. The headbands have 2 pieces that need to be joined together, one that is attached to the dinosaurs, with the second part below it. You can easily make them fit all sizes of children's heads to wear like a crown.
Note that a large circle has been drawn around the dinosaurs to make it easy for young learners to cut out. Students with better cutting ability can ignore the circle and cut around the dinosaurs more precisely.
For a bit of extra fun/knowledge, some simple facts have been added beside each free download.
If you are looking for more headbands, there are also more free printable headbands here at ESL Vault that feature animals and mythical creatures.
Interestingly, there is no such dinosaur as a pterodactyl. Scientists never use this word. They are really a breed of pterosaurs. To keep it simple the common (yet incorrect) name has been put on this dinosaur headband template.
The name of this dinosaur comes from the 3 horns that are attached to its face. It had a huge skull that made up one-third of its entire body length.
The T-Rex is probably the most famous and well-known of all dinosaurs. This cute picture isn't entirely accurate as it has plates on its back. Nevertheless, it's still a fun headband for kids to color, cut out, and construct.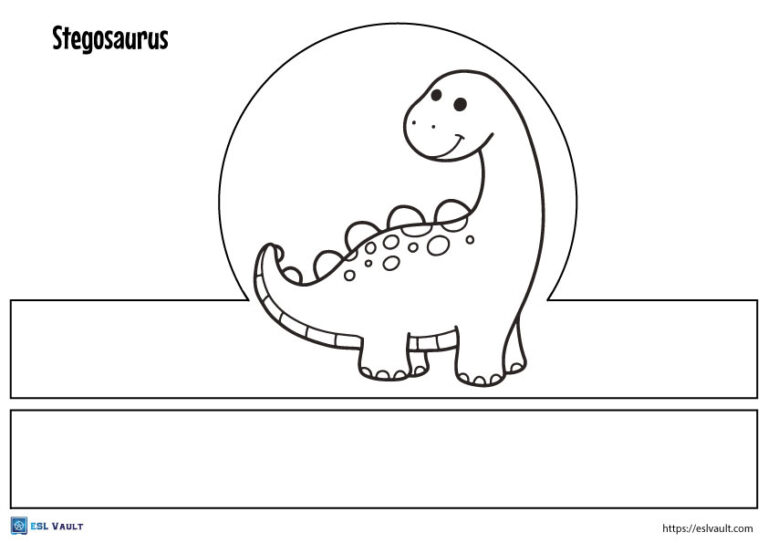 The stegosaurus is known for the jagged plates along its back. These are thought to have been used to regulate body temperature.
It is speculated that this dinosaur's peculiar-shaped head was actually used to communicate. By pushing air through this part of its body it could make unique sounds.
A cute brontosaurus that can be colored in kinds of ways.
Did you know that this now extinct beast weighed in at over 30 tons?
This dinosaur was a giant armored lizard and is a great dinosaur headband template for boys in your class.
If you enjoyed the free printable dinosaur headband templates, there are some more related resources on ESL Vault that you may find of interest.
Firstly there are the dinosaur flashcards which you can use for teaching dinosaur names and playing games. For younger learners, there are also the dinosaur dot-to-dot pages.
You might also like these