Silly sentence worksheets
These delightfully fun writing activities are great for kids and teens. The silly sentence worksheets make writing a whole lot of fun. The more absurd the sentence the better, students get a lot of laughs while learning to create grammatically correct sentences.
The first roll a silly sentence worksheet above requires the class to have some dice. With a roll of the dice, they will get a random part of a sentence. Students are to write down each part as they go. After 5 rolls they will have a complete sentence that while may be a bit whacky, will still be grammatically sound.
Using these activities also offers a good opportunity to teach parts of speech. Can your class identify what are adjectives, nouns, verbs, pronouns, etc?
You can break down sentences into individual parts to show how they are formed correctly. It is also a good time to provide ESL learners with some grammar formulas to help them understand better.
Easy roll a silly sentence worksheet
This worksheet is the same as the one above but just a bit easier and suitable for younger children.
If you want to use different words or targetted vocabulary, you can easily create similar grids on the board.
Draw your grid, add your chosen words, hand out some dice and blank paper to write sentences on, and you are good to go!
You can also omit articles on your board grid to make it a little more difficult.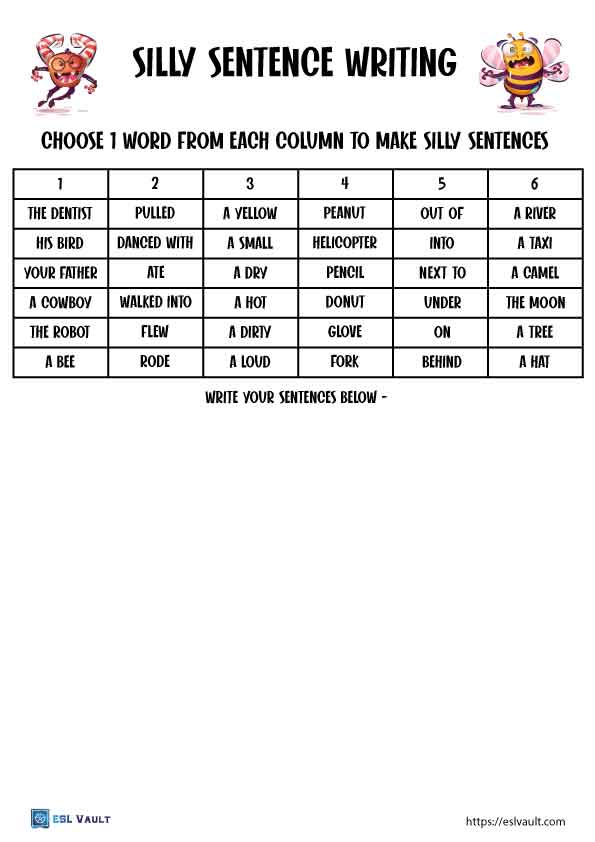 Silly sentence writing worksheet
For this handout, students do not need dice. They are to choose the words themselves, taking a word/words from each of the 6 columns to complete a sentence.
There is plenty of blank space on the sheet for writing down the silly sentences. Ask your students to read out some of their creations once they are done for some good class laughter.
Write and draw silly sentences worksheet
For this handout students are to write 3 silly sentences and then draw pictures to illustrate them.
You can let the class be creative entirely on their own but you will want to at least provide some fun examples first. You might also want to give them a list of words to choose from to help.
This worksheet can also be used with one of the activities above.Students can choose the 3 funniest sentences that they made and draw  them.
Related activity
For another fun creative writing task, check out the animal alliteration worksheets. With these handouts you can create more wacky sentences about animals using the same sounds and letters.
You might also like these