Football vocabulary worksheets
Here is a range of football vocabulary worksheets for ESL classes on the sport. There is a huge amount of vocabulary related to football or soccer, and the first 3 handouts consist of completely different words and pictures. You may want to use 2 or more of them in your class if you think your students are up to the challenge or are avid football fans. If you think the worksheets are too challenging, let your pupils use a dictionary or simply assign the task as homework.
Afterward, if you want to get your students to practice speaking, think about using the football conversation questions for a discussion activity.
The correct answers for the first handout above should be as follows –
Corner Flag – World Cup – Captain – Tournament – Corner Kick
Volley – Referee – Half-Time – Short Pass – Manager
Pitch/Field – Assist – Header – Football Club – Long Pass
Boots – Air Horn – Penalty Kick – Scoreboard – Whistle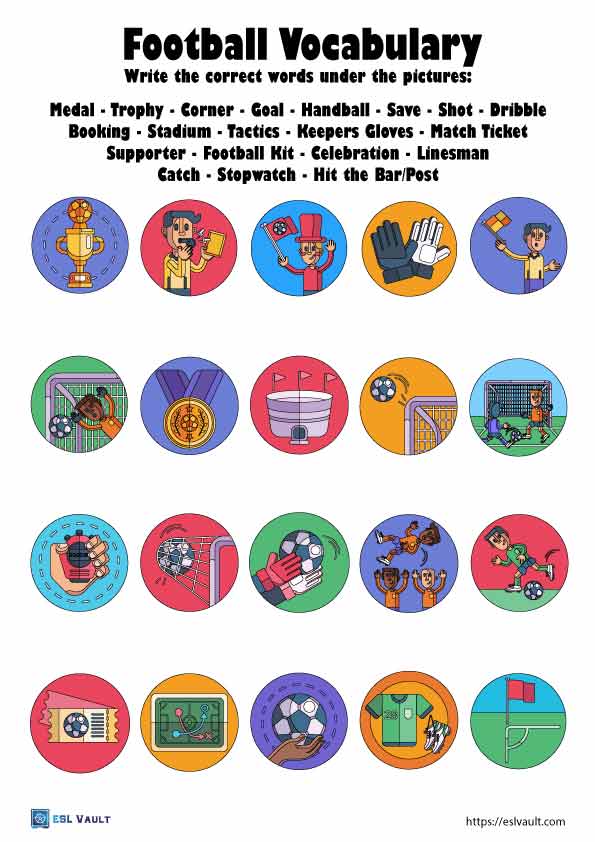 Football vocabulary worksheet 2
The answers for this handout are –
Trophy – Booking – Supporter – Keepers Gloves – Linesman
Save – Medal – Stadium – Hit the bar – Shot
Stopwatch – Goal – Catch – Celebration – Dribble
Match ticket – Tactics – Handball – Football Kit – Corner
Football words and phrases worksheet 3
The correct answers here are –
Scout – First-Aid – Centre Circle – Kick-Off – Extra Time
Home Game – Dressing Room – Bench – Foul – Coin Toss
Live Stream – Away Game – Throw In – Commentator – Wall
Tranfer – Slide Tackle – Miss – Substitution – Offside
Basic football vocabulary
Here is an easy worksheet with 16 of the most common footballing terms. It is useful for beginners and elementary students.
The answers here are –
Pitch/Field – Manager – Football Kit – Goalkeeper
Header – Trophy – Flags – Goal
Whistle – Kick – Referee – Stadium
Boots – Corner KIck – Half-Time – Penalty Box
You might also like these