Water sports vocabulary worksheets
Another set of worksheets related to sports and the outdoors.
The first watersports vocabulary worksheet above has 20 pictures to match with the correct words.
The answers are –
Spearfishing – Water Skiing – Water Polo – Windsurfing – Snorkelling
Boating – Swimming – Kite Surfing – Fishing – Sailing
Flyboarding – Diving – Surfing – Jet Skiing – Scuba Diving
Rafting – Water Aerobics – Canoeing – Kayaking – Dragon Boat Racing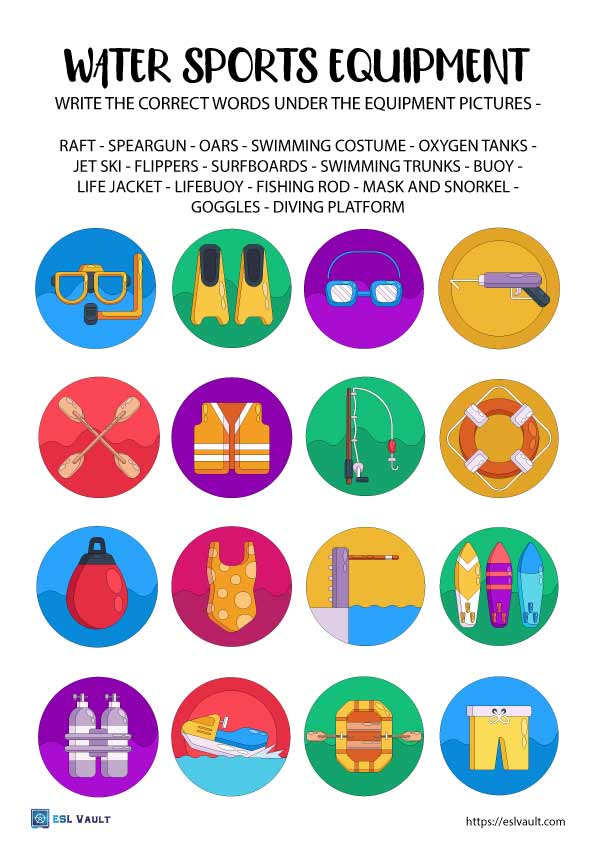 Water sports equipment vocabulary
This handout has equipment and things used for water sports. There are a few different words that can be used for some of these objects. For example, a fishing rod is usually called a fishing pole in the USA. A life buoy has several names such as ring buoy, life preserver, lifesaver, life belt, or Kisbee ring. Oars are often called paddles, life jackets can be life vests or buoyancy aids amongst other names. Swimming trunks are often just called shorts and a swimming costume can be a swimsuit or bathers.
The answers are –
Mask and Snorkel – Flippers – Goggles – Speargun
Oars – Life Jacket – Fishing Rod – Lifebuoy
Buoy – Swimming Costume – Diving Platform – Surfboards
Oxygen Tanks – Jet Ski – Raft – Swimming Trunks
Further activities on Water Sports
For discussion classes have a look at the water sports conversation questions. It is a useful activity to do after these worksheets so that your class can practice using the vocab.
You might also like these