10 free printable boggle word puzzles
Updated 11/8/2021 with more challenging word puzzles.
These puzzle worksheets are similar to boggle but with a twist. In addition to the word puzzle, there are 6 special words to find with picture clues. At the bottom of the page, new 5 x 5 printable boggle word puzzles have been added.
These are useful 5-minute classroom games that can be played by students individually, in pairs or in small teams. Whoever can make the most words is the winner.
In this first puzzle, the picture clue words are – earth, shield, scared, chart, field, and maths.
The 6 pictures are clues for  – Tiger, Beard, Moped, Port, Opera, and Trader. Don't forget to award extra points for the picture words!
Another way to use these puzzles is to use a projector or a large tv if you have one in your classroom. Simply project the images for the whole class to see. No need for printing and you get to save paper!
You could also just draw the puzzles on your whiteboard or blackboard. The pictures may be hard to draw but you could find another way to give clues. Perhaps sentence clues like in a crossword or even anagrams could work.
The secret picture words are – theatre, crab, pier, pirate, carp, and hearts.
The picture clues on this puzzle are for the words – wallet, island, laser, chain, castle, and waiter.
The picture words on this worksheet are – flag, fireman, marlin, rifle, grain and motel.
The picture answers here should be – sling, silver, anger, anvil, singer, and target.
The picture words on this handout are – heater, stew, artery, Easter, three, and seams.
Here the illustrations represent lantern, dead, ladder, tube, burn, and bread.
On this free boggle game printable the images are for genie or genies, hose, tears, seeing, sewer, and siren.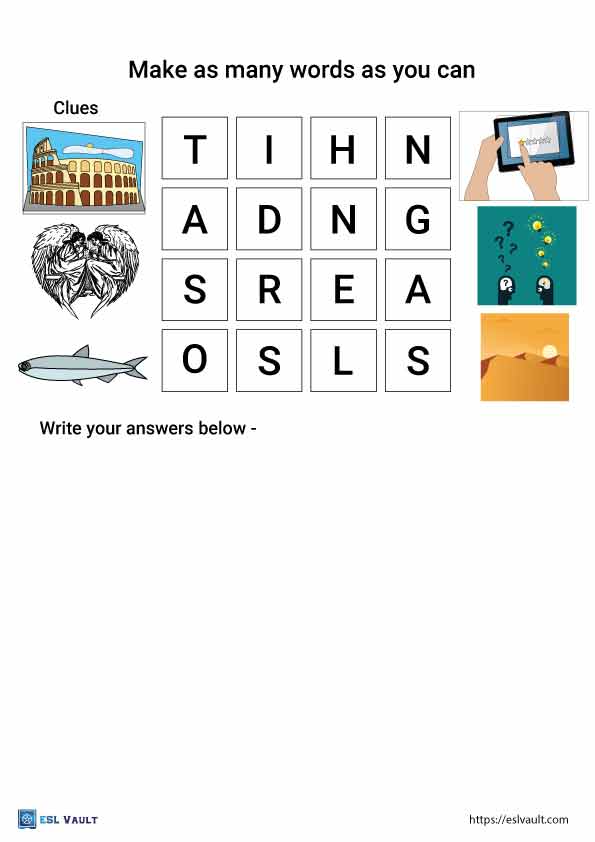 The pictures here stand for the words – arena, angels, sardine, rating, ideas, and sands.
How to play the free printable boggle word puzzles
Simply start with any letter and create words with adjoining letters in a horizontal, vertical, or diagonal manner. As long as the letters are next to each other they can be used in the word. It is really quite simple although if you are still confused check out this video below.
As far as scoring goes you can use any system you like. I tend to just award 1 point per word. You can give 2 points for 6 letter words, 3 points for 7 letter words, and so on. You can also consider giving bonus points for the picture clue words and also for the longest word found. Just decide what works best for your own classes!
If you enjoyed these activities you will also like the word wheel puzzles.
Free printable boggle word puzzles that are 5 x 5 squares
Here is a new addition of 5 x 5 square word puzzles. They are the the same as the previous puzzles except there are more letters. More letters means there are more words to be found in each puzzle!
In the 5 x 5 puzzle above the 6 picture clues are for the words – Uranus, Spearing, Hearing, fanned, Sparring, and nausea.
The longest word to be found in this puzzle is rehearsing.
In  5 x 5 boggle word puzzle 2 the longest word to be found is allergies. The picture clues are for – tarot, roller, teapot, purse, gallop, and toilet.
In 5 by 5 boggle word puzzle 3 the longest word is disarranged.  The pictures are for the words – braids, berries, agent, rodent, eraser, and rioters.
You might also like these