South America word search puzzles
Here are some fun South America word search puzzles for fun learning activities. These puzzles all feature things about the continent such as cultural objects, plants, animals, geographical landmarks, and countries.
The first word search PDF above has 15 words to find. This puzzle has picture clues. If your students are having trouble identifying the words, you can always just provide them on the board to help.
The words to find are – football – guitar – llama – church – dancing
cactus – waterfall – mask – pineapple – mountain
flamingo – jaguar – poncho – wine – cow.
Note that in these puzzles the words can be found in all directions – horizontally, vertically, diagonally, and even written backwards.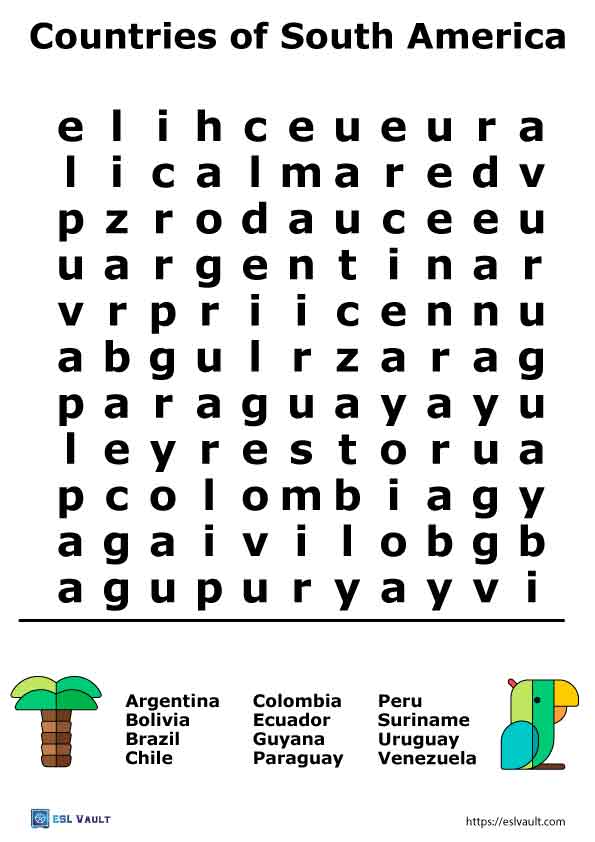 Countries of South America word search puzzle
This puzzle contains the 12 nations that are in South America. The dependent territories of The Falkland Islands, Bouvet Island, French Guiana, The South Sandwich Islands, and South Georgia have not been included.
This activity goes perfectly with some of the South America Coloring pages that have country labelling activities.
South America Word Search Puzzle 3
This one again uses picture clues although they are different to the first puzzle. There are also spaces below the pictures where students can write the words and practise further spelling.
The words to be found are –
banana- coffee – corn – frog – cigar
orchid – parrot – rainforest – bracelet – palm tree
bull – mask – maracas – butterfly – cowboy
You might also like these