Initial k words
Here are some free printable initial k words picture cards, a word list, and some practice sentences. These are perfect resources for any learners having trouble pronouncing the h sound, especially in the initial or first position.
If you have come to this page and are not entirely sure what k initial words are, it is all very simple. They are just words that start with the /k/ sound. This also includes words that start with C, just note that this is a hard C, not a soft C.
To make the /k/  sound, you should first put the back of your tongue on the back of the roof of your mouth. Next, blow air forward behind your tongue. Quickly move your tongue away to release air as you do this. It is a voiceless sound so there should be no vibration in your throat at all.
First of all, there are 4 PDF pages of initial K words flashcards (above and below) they have the pictures and words of –
Sheet 1 – cage, cake, camel, candy, carrot, castle, caterpillar, and cobweb.
Sheet 2 – coconut, comb, core, corn, cow, cub, cup, and kangaroo.
Sheet 3 – kart, kayak, kebab, keg, kernel, ketchup, key, and kick.
Sheet 4 – kid, kimono, king, kite, kitten, koala, kookaburra, and kumquat.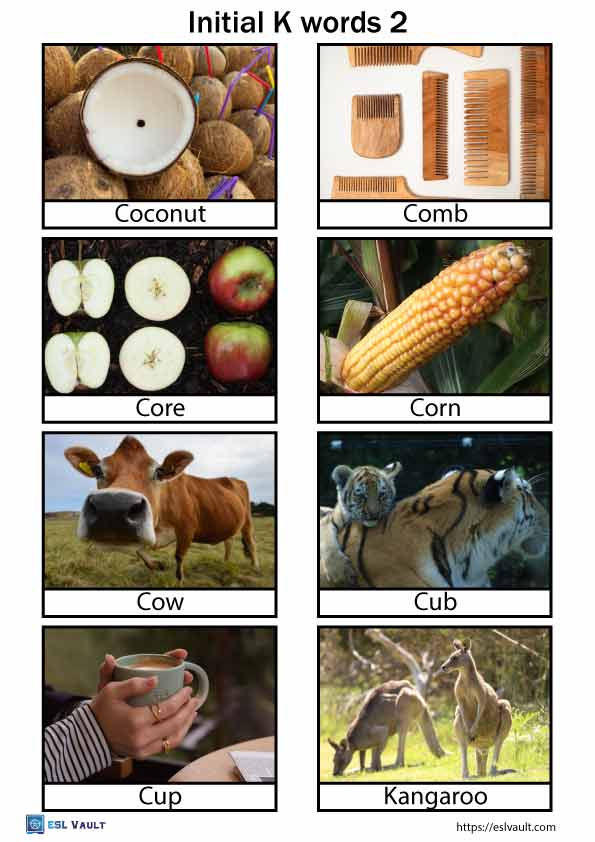 You can use these picture and word flashcards to play games with learners such as matching and memory games. You can also get students to arrange the cards in ways like alphabetical order.
In any case, giving learners nice visuals such as these for pronunciation practice makes lessons much more engaging than just a plain list of words.
There is a free PDF word list above for you to download and print out. If you just want to copy and paste some words they are listed below.
cab
cabbage
cactus
cabin
cage
cake
calf
call
calm
camel
camera
can
canary
candy
cane
cap
cape
capsule
captain
car
card
care
carpet
carrots
cartoon
castle
cat
catch
caterpillar
cattle
cave
coach
coat
cobra
cobweb
coconut
coffee
coin
cold
collar
color
comb
come
computer
cone
contest
cook
cookie
cool
cop
copy
core
corn
correct
cost
costume
cottage
couch
cough
count
counter
cousin
cow
cowboy
coyote
cub
cup
cut
cute
kale
kangaroo
kart
kayak
keel
keen
keep
keg
kelp
kernel
ketchup
kettle
key
keyhole
kick
kid
kiln
kilo
kimono
kind
kindergarten
king
kiss
kit
Katana
kitchen
kite
kitten
kiwi
koala
kookaburra
Initial K words practice sentences
Here are some fun practice sentences that use the initial K sound to help learners articulate further.
Corn in a canary cage.
Coffee in a cold cabin.
A cowboy called Coyote Kid.
Take care not to cut the carpet.
The captain kissed a kitten.
There are cookies and candy cane in the kitchen.
Cabbage, coconut, and ketchup in a cup.
Cooking kale and kangaroo.
What color can cute caterpillars be?
There's a cobra on the cabin counter.
There are some more free resources here at ESL Vault that also use the /k/ sound. Check out the K and G minimal pairs as well as the K and T minimal pairs.
On these pages, you will find more flashcards and wordlists that use not only initial K words but words that use the final K.
You might also like these