Free jobs flashcards
Here are some beautiful free printable jobs flashcards that you can use to teach occupations with. These flashcards have real pictures of people doing their jobs which makes them much more interesting than other jobs flashcards around the internet. Interesting images help engage your students, which in turn leads them to learn more effectively.
The cards can be used for young learners by slowly introducing the words you want them to know. 60 words at once are way too much! They are also great for older ESL students and even native-speaking teenagers, it all depends on how you go about using them.
Below you will find a list of the jobs in the picture and word cards, some useful teaching ideas on how to use them, and some more fun related resources.
Here is a list of the jobs featured on the free flashcards.
Actor
Archeologist
Artist
Astronaut
Athlete
Baker
Beautician
Blacksmith
Builder
Bus Driver
Butcher
Carpenter
Cashier
Chef
Cleaner
Clown
Cowboy
Dancer
Deliveryman
Dentist
Diver
Disc Jockey
Doctor
Electrician
Engineer
Factory Worker
Farmer
Firefighter
Fisherman
Flight Attendant
Florist
Gardener
Hairdresser
Hunter
Lawyer
Librarian
Lifeguard
Magician
Mechanic
Miner
Model
Musician
Painter
Pharmacist
Photographer
Pilot
Police Officer
Programmer
Sailor
Scientist
Singer
Soldier
Tailor
Teacher
Umpire
Veterinarian
Waiter
Waste Collector
Welder
Zookeeper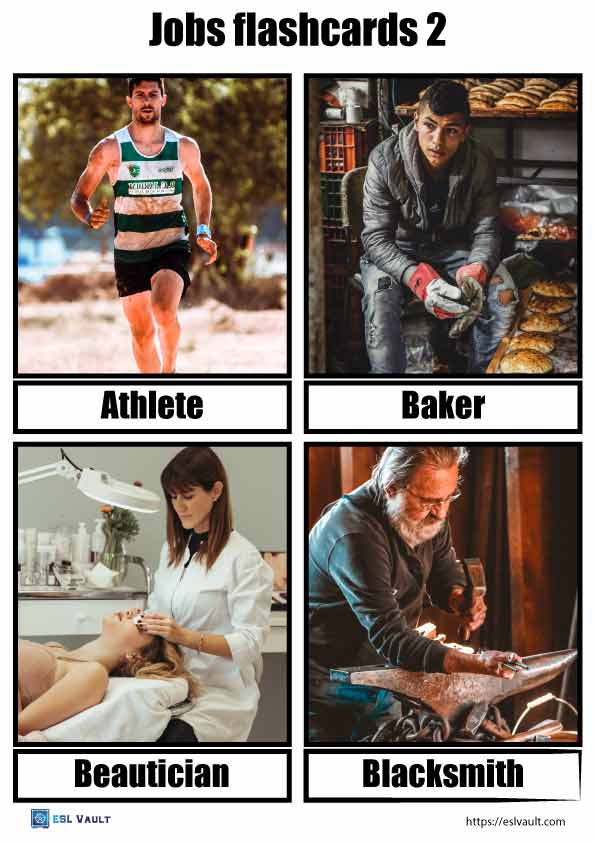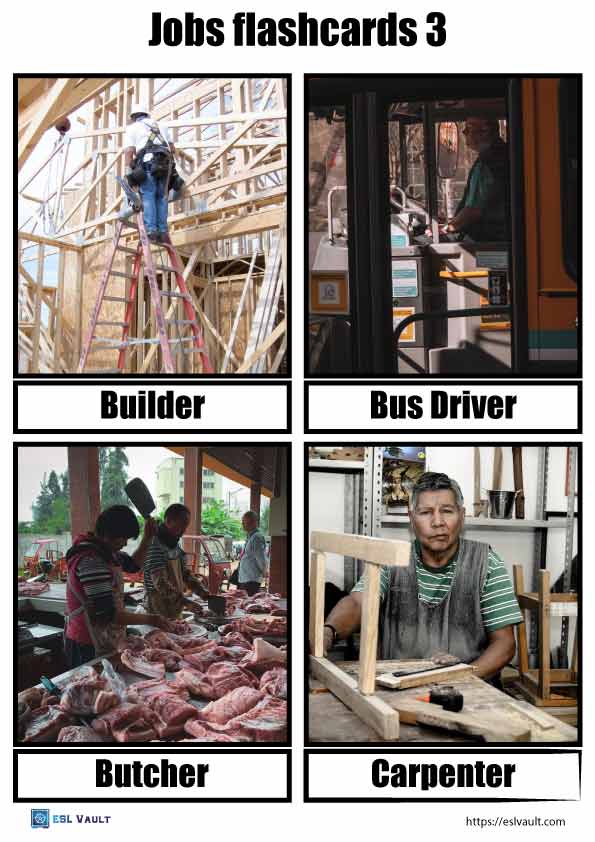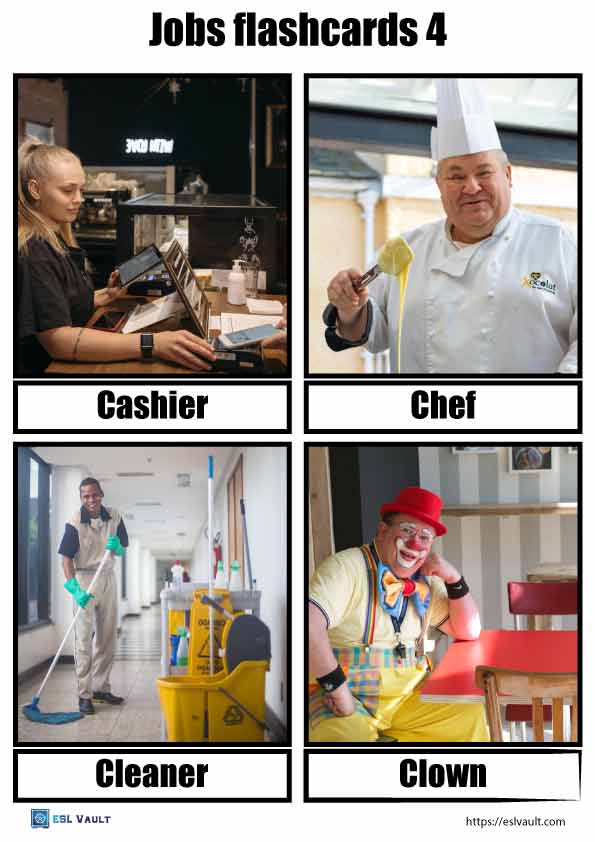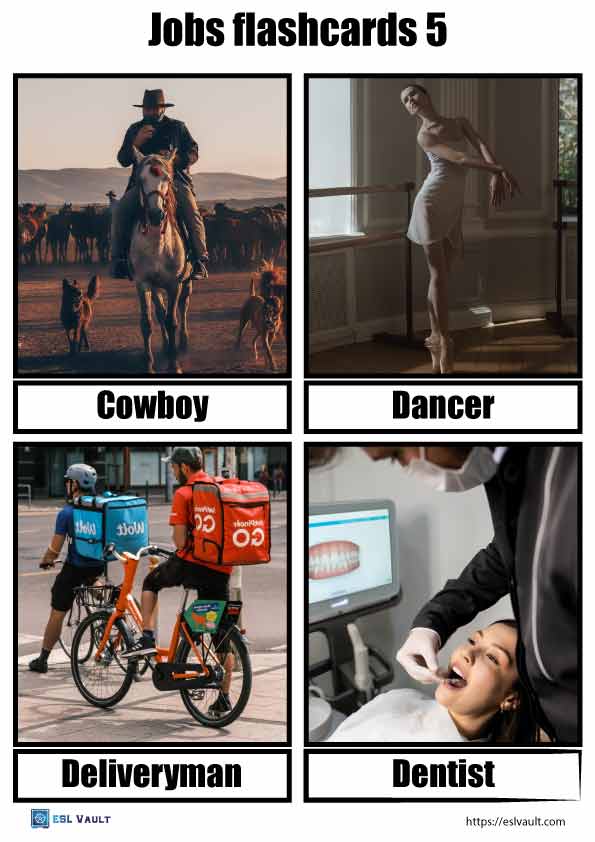 Ideas for using the free jobs flashcards
For teaching children, you can use the cards to play all your favorite flashcard games. They are also great for matching activities and the cards have been specifically designed so that the job names can be cut out separately just for this. Here are a few more teaching ideas that you might find both interesting and helpful for older students.
Arranging. You can ask your students to arrange the cards in all kinds of ways such as these –
In alphabetical order from A to Z.
Jobs that are inside, outside, or both.
Occupations students would like to do and would not like to do.
Clean jobs and dirty jobs
Easiest to most difficult.
Lowest wages to highest paid.
Safest to most dangerous
Some of these arrangements can be done in teams, as a competition if your class enjoys games.
Speaking. There are a ton of different ways that you can involve speaking with the jobs flashcards. You can ask just about anything related to these professions. One of my favorite uses is to ask "What do they do?".
Ask students to answer with the form –  A (job) + (Verb) +s/es + (noun). For example, A carpenter makes things out of wood, or A chef cooks food. The flashcards here show people at work doing their jobs which is very helpful for this.
Next, you can expand on this by asking about where they work, what tools or equipment they need to use, and so on.
Games. You can use the vocabulary on the flashcards to play games such as Pictionary and Charades. Ask 1 student to come to the front of the class, choose a random card, and either try to draw it on the board (pictionary) or physically act it out for others to guess (charades).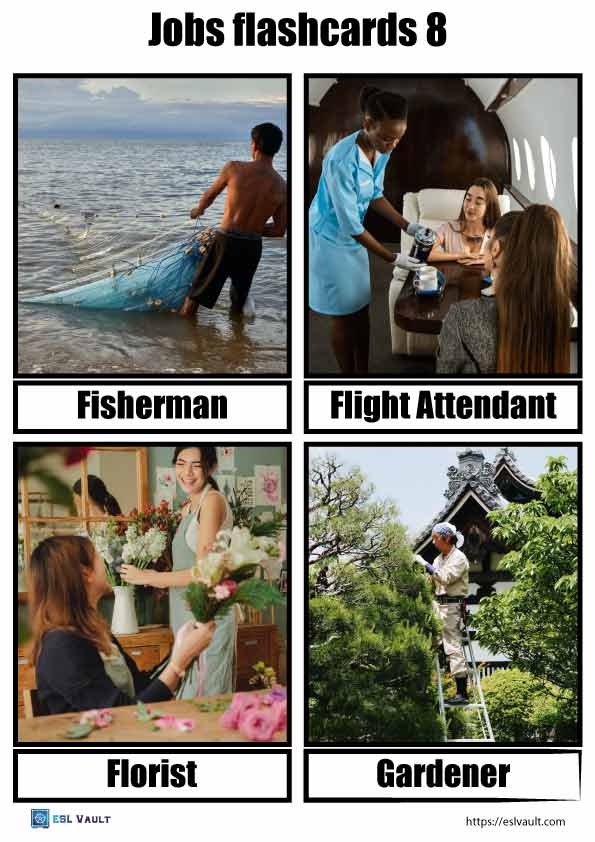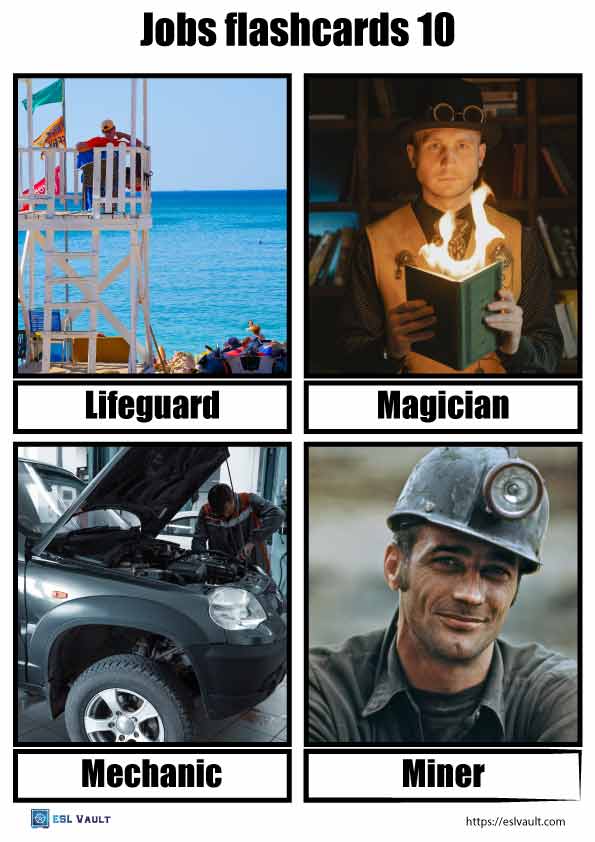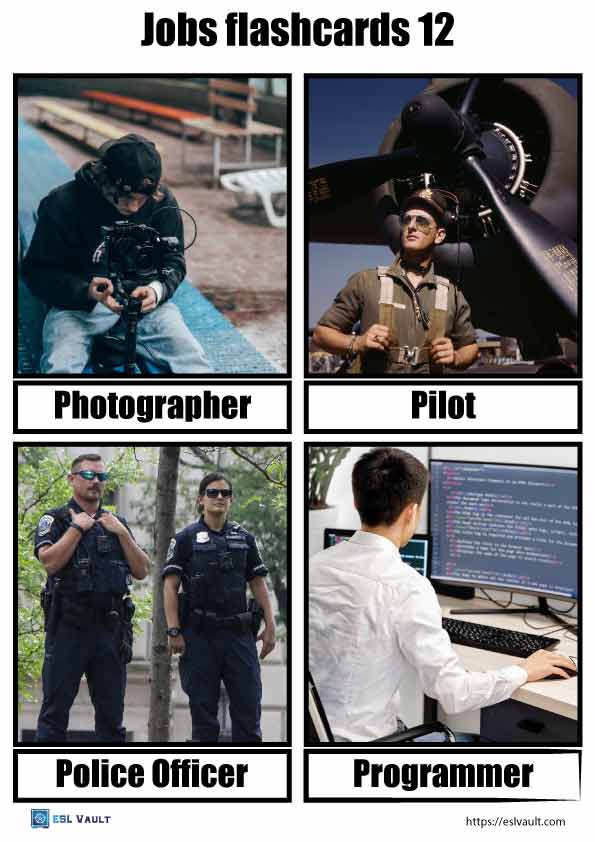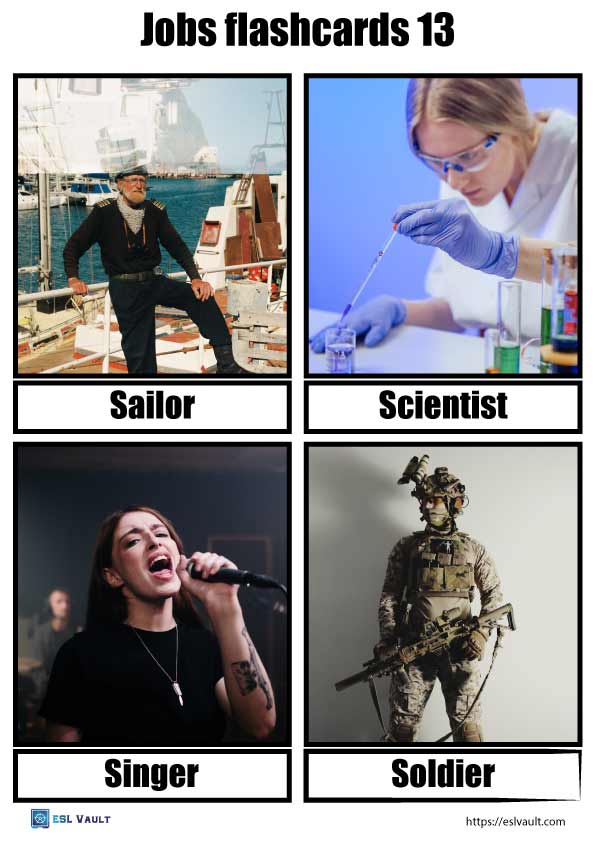 Further related activities
You might also like these