Peacock coloring pages
Here are some free printable peacock coloring pages for adults and kids. There are simple cartoon style peacocks, mandala peacocks, and lots of beautiful intricate pictures to color.
The beautiful feathers on a peacock belong to the male birds. The female peahens, don't have such colorful plumage. Peafowl as they are collectively known are native to Africa and Asia. The male peacock's feathers are known as a train and can grow to around 5 feet or 1.5 meters in length. The birds can also get to a hefty weight of up to 13lb or 6 kilograms.
Easy peacock coloring pages
Below are some simple pages that are great for kids coloring fun. There is a P is for peacock coloring page and some other basic drawings that suit children's art activities.
Mandala peacock coloring pages
These coloring sheets are more challenging with fine details to be colored in. They are best suited to teens and adults and take quite a bit of time to complete.
Peacocks and their feathers are usually vibrant blues and greens although there are even albino peacocks. Check out some photographs online if you need coloring inspiration.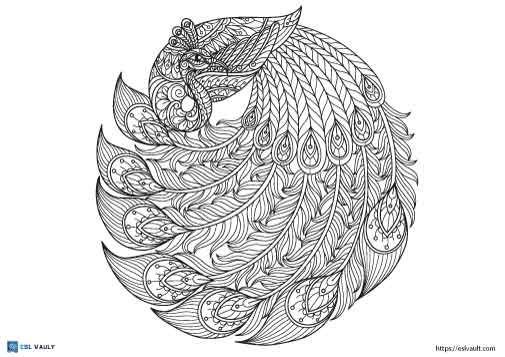 Did you know that the peacock's beautiful tail cant make up 60% of its entire body weight?
They don't start to grow these feathers until they are over 3 years of age.
Hard peacock coloring pages
Here are some more intricate and hard peacock coloring sheets. Along with detailed feathers they also include flowers and more mandala styles.
If you have easy access to a print shop you can get these printed out on large-sized paper to make amazing colored pictures. If not your regular A4 size on a home printer will still provides wonderful peacock coloring pages.
You might also like these