Corn coloring pages
Corn or maize is one of the main foods that are grown and eaten worldwide. It is recognized by all learners and is a great coloring topic that can be used to complement any lessons related to food, farming, or nature.
The free PDF corn coloring pages provided here have pictures of varying detail that are suitable for preschool, primary school, and teenagers. Browse the page to find some sheets that are suitable for your class's level.
You most likely want to break out different yellows, greens, and browns for a lot of these activities. This could be a mistake. Corn comes in all manner of colors and varieties such as glass gem corn have mixed kernels that can be every color in the rainbow on a single cob!
The first corn coloring sheet printable above has a cute corn cob that is sitting happily on stalks with the sky in the background. Just click on the blue download PDF button if you want to print it out and color it in.
Happy corn coloing page
Next, we have a smiling corn character with arms. Try shading the kernels of this corn with different colors to make it a beautiful picture.
Corn in a bucket
This corn has been harvested and sits in a wooden or cane bucket.
Corn for dinner
An interesting picture of corn on a table for a meal. You can use a lot of colors here to fill in the wine goblet and candles that are around the dish of corn.
Corn harvest
This corn coloring sheet would be perfect for Thanksgiving and fall/autumn classes. There is a bountiful harvest of corn, apples, and wheat.
Corn coloring pages for preschool and younger learners
The next few pages of coloring sheets are great for young learners. They feature very simple designs that are easy for kids to color in.
Below, there are 2 useful pages for kids learning the alphabet and how to spell. Learners can color in the word corn as well as the plant itself.
Next are a couple more cute, kawaii cobs of corn with their husks open. There is also a corn dot-to-dot coloring page for children learning numbers. This page requires students to count from 1 to thirty-five before filling the plant with color.
Corn fields and harvesting corn coloring pages
Finally, we have some more difficult coloring sheets for teenagers and older learners. These printables feature corn farms and farmers harvesting corn.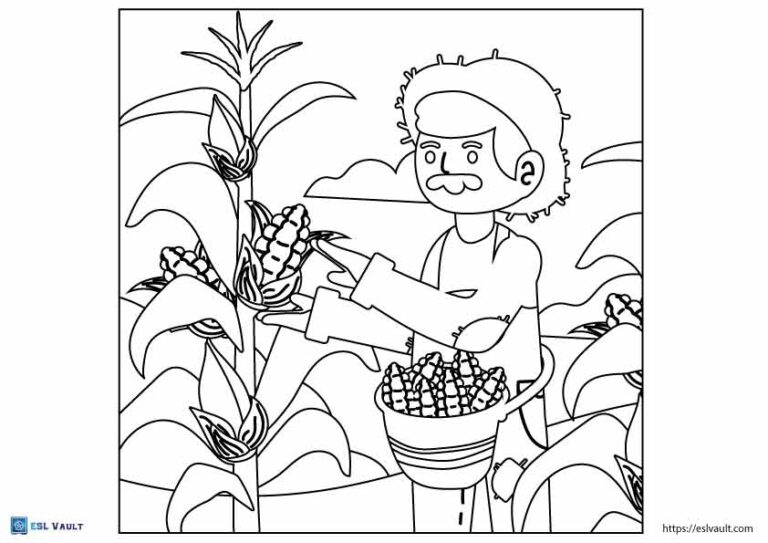 Old farmer picking corn coloring page
Here an older man with a mustache and had is picking corn from a stalk and putting it in a basket hung around his waist.
Farmer holding corn in a field
In this picture, a typically dressed farmer is standing in a field and holding a cob of corn. Beside him is a wooden crate full of corn that he has picked.
A field of corn
A picture of corn plants standing tall in a field. There are lots of cobs on the stalks and there are big clouds in the distance behind them.
Boy harvesting corn
This final page has a boy with a basket on his back harvesting corn. There are a lot of small details to color in this picture that will keep young artists busy for quite a bit of time.
You might also like these