Toys worksheets for kids
Here is an interesting collection of toys worksheets for kids. You can use them in a variety of ways to teach and reinforce toys vocabulary. The worksheets also help to practice reading, writing, and speaking.
The first printable worksheet above is a simple vocabulary matching exercise where children must write the toy names underneath the pictures.
The answers to this exercise are – 1 Train, 2 Robot, 3 Blocks, 4 DRum, 5 Car, 6 Teddy Bear, 7 Pinwheel, 8 Doll. 9 Duck, 10 Kite, 11 Ball, 12 Truck, 13 Plane, 14 Boat, 15 Rabbit, and 16 Rocket.
Toy writing worksheet
In this activity children are to look at the toy pictures and decide what they are. The aim of this exercise is to practice the "Yes, it is." and, "No, it isn't" responses.
Its designed to be a writing activity but you can also use it for just reading and speaking if your student's are not yet able to write.
Toys word search
This easy word search puzzle has 16 words to find. The words can be found horizontally, vertically, and diagonally. All the words are written in a forwards direction.
Toys word search with pictures
This is the same word search puzzle as above except that the toy words are picture clues. This makes it a little more difficult as students must remember the correct spelling of the toys to find the words.
The toys to be found are – teddy bear, robot, top, boat, car, truck, puzzle, gun, doll, plane, bike, duck, game, train, and ball.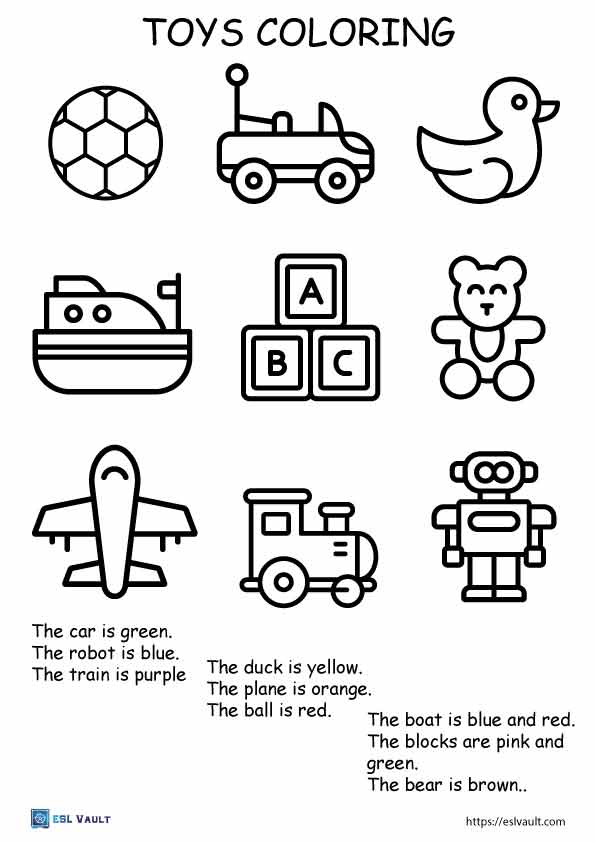 Toys coloring worksheet
This toys worksheet has 9 pictures to color in. There are instructions on how to color the pictures for students to read.
This activity helps teach both toys and colors vocabulary. If your students cannot yet read, simply give them verbal instructions on how to color the page.
Toys prepositions worksheet
This is a drawing activity where students must read and draw the toys in the correct places.
Students need to be familiar with the prepositions of place – behind, on, next to, under, in front of, and between.
It can also be colored in once completed.
For more worksheets on this topic, check out the prepositions of place worksheets.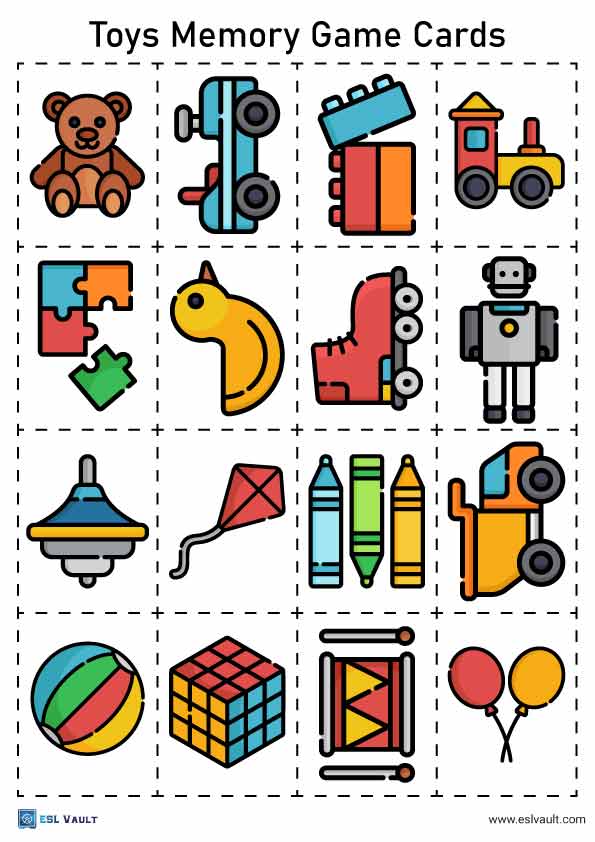 Toys memory game
This toys worksheet is meant to be cut up and used as a game. You will need two copies (2 sets of cards) for each group of students to play the game.
To play the game, turn the cards upside down so that students cannot see the pictures. Students are to take turns turning over 2 cards at a time to find a match. If they find 2 toys the same they get to keep the cards. The winner is the student with the most cards at the end.
Make sure students say the toy words when they turn over the cards for speaking practice.
You might also like these