Free pirate worksheets for preschool
Ahhhhrrrrrr. Here are some fun worksheets for young learners with a pirate theme. There are a few different styles of activities that are bound to keep kids engaged and enthusiastic about learning!
These free PDFs are intended for mainly preschool-aged students but they can also be used for slightly older kids and beginner ESL students. Not all kids learn at the same rate or have acquired the same abilities at the same age. Hopefully, you will find something useful for your young learners in this pirate worksheet collection.
Counting pirate worksheets for preschool
The first 4 pirate worksheets (above and below) are all about counting. Some are easy than others so you will be able to find something suitable for your learner's level.
The first worksheet involves counting gold coins and then matching them with a number and a corresponding pirate treasure chest in which the coins must be counted again. The second resource is an I Spy worksheet with a pirate theme. Students are to count the pirate objects and record their numbers.
Below left is a very easy counting activity that only requires kids to count to the number 5. The last worksheet asks students to search and find 10 gold coins in a picture of a pirate scene.
For some more similar free activities, have a look at the printable counting worksheets 1 – 10.
Shadow matching pirate worksheets for preschool
The next worksheets are shadow matching activities that require children to match objects with their shadows. These can be used for very young learners and don't require any English knowledge at all.
These activities are great for helping preschoolers recognize shapes and develop their visual discrimination. As students progress through these worksheets you can use them to also teach new vocabulary. Starting out with simple things such as colors is a good idea!
For more like this try the 84 shadow matching cards that come in a variety of different themes you can choose from. There is also another page here at ESL Vault that is completely devoted to shadow matching worksheets.
Kids pirate scavenger hunt activity
The next two PDFs below are for a scavenger hunt activity. If you aren't familiar with scavenger hunts, they ask learners to find a group of objects and either collect them or mark them as found on a checklist.
These pirate worksheets for preschool can also be used with older students. The activity can be as easy or as difficult as you like. It all depends on where you put or hide the object cards that are to be found!
For little learners, you will want to scatter them around a small area mostly in plain sight. Older kids will find it more enjoyable if you challenge them by putting the cards in harder-to-find places in a larger area.
You can either print several sets of the cards and have students collect them, or have them use the provided checklist and leave the cards lay where they are when they are found.
Another use for the cards is to print two copies and use them for a fun memory game. Once the sets are printed, cut the cards out, shuffle them then lay them upside down. Students are to take turns trying to find matching pairs by turning 2 cards over at a time.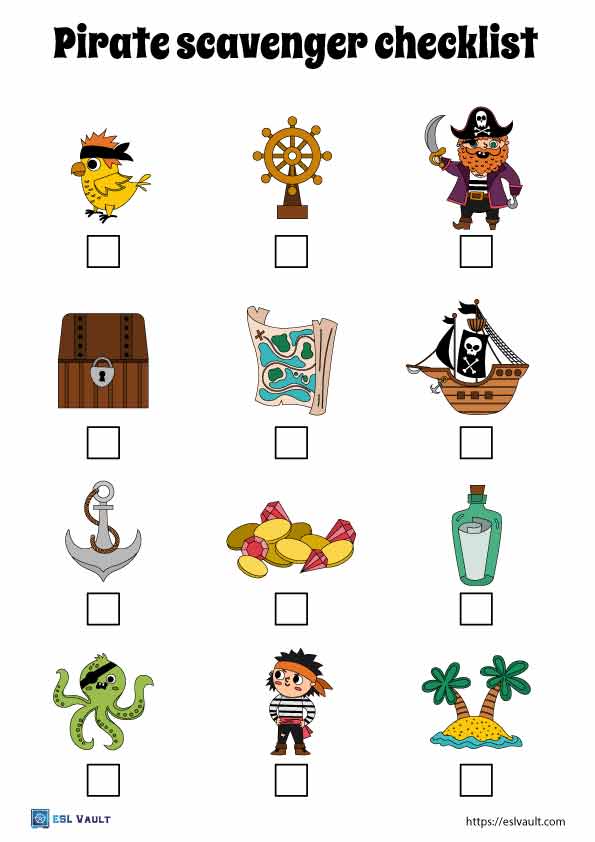 Pirates mix and match activity
This preschool pirates worksheet involves a bit of paper craft. There are 6 pirate characters to be cut out and reassembled in any way students like. The pieces can be put together and glued on a separate piece of paper, just kept as individual pieces to be joined again later, or assembled as a fun flipbook.
Very young learners will most likely need a bit of help with cutting out the pieces. If possible it is good to let them try themselves and develop their fine motor skills as they wield a set of safe children's scissors.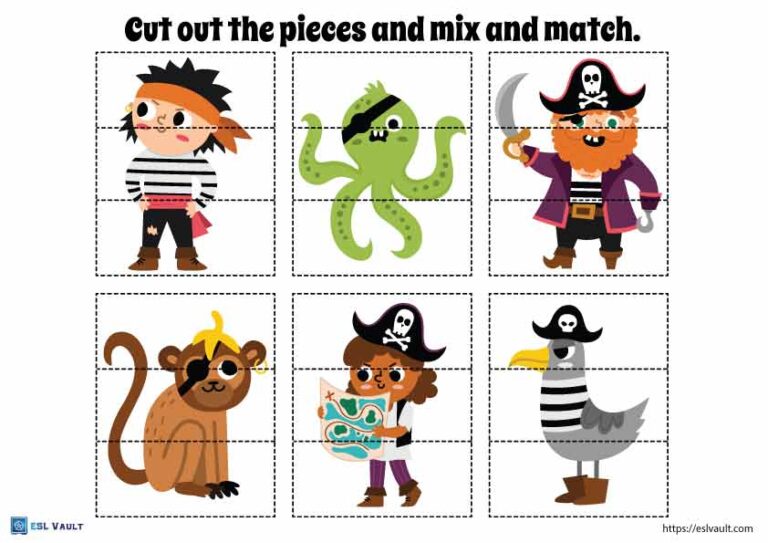 Missing things pirate worksheet
The final pirates worksheet for preschool is a simple object-matching activity. Children are to match two things that should be together and draw a corresponding line between them.
For another related activity, check out the things that go together cards. There are 54 picture cards to match in this activity. For younger students, you can omit some of the more advanced vocabularies that they are not familiar with. All in all, it is a very simple activity that again involves matching and visuals.
You might also like these