Camping worksheets for kids
Here is a nice assortment of camping worksheets for kids that involve a range of different learning activities. These resources can be used for lessons related to the outdoors, summer or spring, school camps, nature, and much more.
The camping printables here vary in difficulty and there are suitable pages that preschool and primary school-aged children will find pleasure in. There is a lot you can add to each worksheet to make them more than just handouts. Hopefully, you can use them to facilitate further learning beyond their basic, yet thoroughly enjoyable nature!
There are also camping vocabulary worksheets that you can use to target and supplement lessons on the topic of camping. These related worksheets focus on vocabulary matching with pictures and words.
Maze camping worksheets for preschool
Two camping maze printables for young learners. The first worksheet asks kids to follow 3 paths and find out where the hikers are going. There is plenty of detail in this picture and you can use it to teach the camping and landscape words that are on it. There are trees, mountains, a river, a waterfall, a lake, animals, and more.
The second maze has 3 children fishing. Students are to follow their fishing lines to see what each person is going to catch.
Seek and find camping printables
In the next two activities, learners need to find objects in pictures of camping scenes. The first worksheet requires finding children and animals in a summer camp scene. The second handout has 14 objects to find that include animals, plants, and general camping objects.
This I Spy camping worksheet requires learners to identify, find, count, and record the numbers of typical camping objects.
The vocabulary on this PDF includes a backpack, compass, teapot, traveling car, hat, lantern, flashlight, nut, and matches.
If you like these kinds of activities then you will most likely want to check out the free I Spy coloring worksheets as well!
Tic-Tac-Toe camping worksheets
Pretty much everyone is familiar with the game of Tic-Tac-Toe, it is also known as noughts and crosses or bingo to others. It is a 2 player or 2 team game that requires you to get three in a row to win. Here is a camping-themed version for the summer holidays.
This printable paper version of the game has both a game board and player's pieces to print. You can print it, cut out the required parts, and play it anywhere you like! No permanent markings on the paper mean that it can be used again and again without using more paper.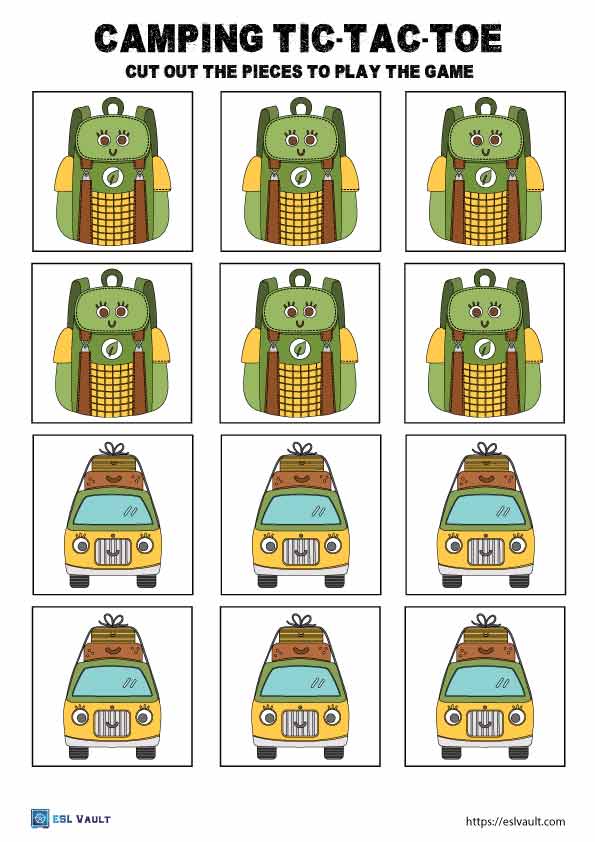 Spot the difference camping worksheet
This camping worksheet requires children to find 10 differences between 2 pictures. You can also turn this into a writing task by getting students to write down all the differences once they have found them. Another option is to ask learners to describe all the differences verbally.
There are more resources like this here at ESL Vault. Have a look at the colored spot the difference printable worksheets that are designed as writing activities. There are also the spot the difference coloring pages.
This is a simple paper camping craft printable for children to create a camping scene with a tent and a tree. An answer key is provided but you may want to exclude it and see what different pictures learners create by themselves.
Printable camping board game for kids
This page is a simple board game that is very similar to Snakes and Ladders. All students need to play are dice and some markers or token to move along the board.
When players land on numbers with arrows, they must follow them to move either forward or backward. The aim of this camping game is to be the first hiker to reach the waterfall and win.
You might also like these