Free Viking coloring pages
The Vikings or Norsemen were a famously fearsome people from what is now modern-day Scandinavia. They were excellent navigators of the ocean who colonized wide areas of Europe and even sailed as far as North Africa and North America. The Viking civilizations existed and flourished roughly between AD 700 and 1100.
Here is a collection of Viking coloring pages with scenes showing their beautiful boats, culture, outfits, and weaponry. These free printable coloring sheets are of varying difficulty so you are sure to find something useful for any age group.
It should be noted however that the Norsemen never wore helmets with horns on them. In fact, no such helmet has ever been discovered by archaeologists. This commonly mistaken myth features in many of these coloring sheets.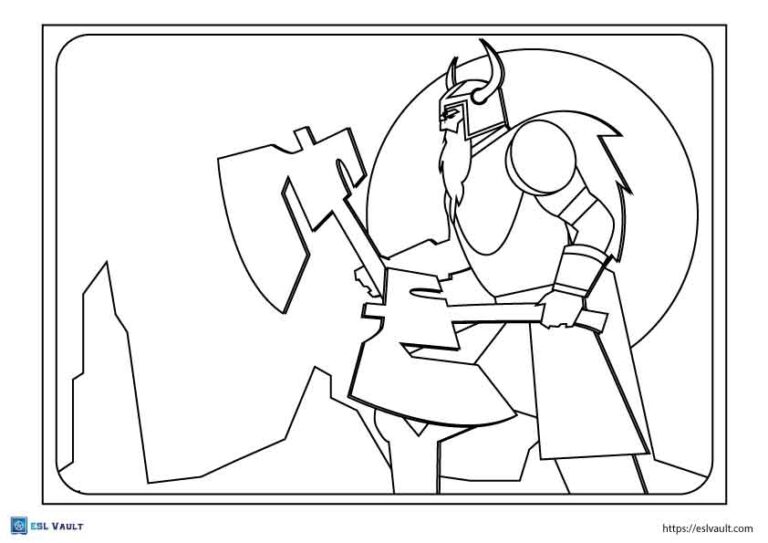 Viking warrior with axes
These two Viking coloring pages feature the same warrior at different angles in front of a large sun that you can color a bright yellow or red.
Viking warrior with a club
The same Viking as above but this time with a club and shield. You can color the rocky background different earthy colors.
Viking shaman coloring sheet
This picture has a shaman and a bird. Viking shamans prophesied the future and practiced magic. Color the forest background with some nice greens and blues.
Easy Viking coloring sheet
Here is a simple coloring sheet for children with a Viking kneeling by a beach. There isn't much detail so it is easy to color.
Warrior on a viking ship at sea
Here is a Viking warrior on a ship with a sword and shield. The Norse people didn't commonly use swords as they were too expensive. Axes and spears were what most warriors used.
Cultural objects Viking coloring pages
Below we have some things from Viking culture, a vase, and two symbols that were I believe used on ornaments, jewellery and as tattoos.
Viking people generally made their jewellery out of bones, pewter and bronze. Rich Vikings however did make theirs from gold and silver.
Viking meal coloring sheet
This Viking meal scene in a hall is quite detailed and is more suitable for advanced coloring activities.
Viking ships coloring pages
Coloring pages of the most iconic of the Viking sea vessels – the longship. Longships were not only sturdy enough to travel the high seas, but they were also narrow enough to row up streams, and yet light enough to be carried by men across land.
The (often dragon) heads of the boats were designed to ward off evil and scare the spirits of the lands they came to conquer and invade.
Viking carving a stone
A seaside scene of a man carving a stone with Viking boats in the distance. This is an old print that bright colors work well with.
Cute Viking coloring sheet
This is an interesting kind of scene you could put a lot of rainbow colors into.
Cartoon Viking coloring
An easy and beautiful design of a Norse sword warrior with stars and clouds to color. It should be noted that Vikings carried round shields, not like the one in this picture.
Weapons and Odin
The sheets below are again easy and good for beginners. There is some Viking weaponry and armour, the Viking god Odin, and a Norseman by the ocean.
Odin was one of the most important gods to Vikings. For the Norse, he was a god of war and had only 1 eye. Mythology says he pulled out his own eye as a sacrifice and exchange for higher knowledge.
Mixed Viking coloring pages
Finally we have a couple more warriors and another boat. You can also find more Viking boats in the free ship coloring pages.
You might also like these