25 airport conversation questions
A free discussion worksheet about airports with 3 pictures to describe. This is a handy resource for lessons related to travel and flying. Difficult words on this printable include – over-priced, strangers, pass time, first-class, tense (adj), scanner, carry-on, baggage, terminal, confident, and experience.
The airport conversation questions are –
How many times have you been to an airport? Do you like them?
How far is the closest airport to you? What is it called?
Do you think airports are over-priced? How much do you usually pay for a meal?
Have you ever missed a flight at an airport? What happened, and what did you do?
How early do you usually arrive at an airport before a flight?
What things do you dislike most about airports?
Do you like to talk to strangers at airports? How do you start a conversation?
What things are cheap to buy inside airports?
What is the best way to pass the time while waiting at airports?
Have you ever been in a first-class lounge? What was it like inside?
What is the first thing you do when you arrive at an airport?
Do you feel relaxed or tense when you are at airports to catch flights?
What things do people need to remove or take off at x-ray scanners?
Would you like to work at an airport? What job would you like to do?
What things do you need to provide at airline check-in desks?
What do you usually take in your carry-on baggage?
Have you ever had to remove something from your bags at an airport? Why?
What is the longest amount of time you have ever spent at an airport terminal?
Some people have lived in airports for months? Do you think you could do this?
What are the best and worst airports you have been to?
Are there any airport rules that you don't agree with? What are they?
Do you feel confident speaking English at airports?
What kinds of problems can people experience inside airports?
Have you ever had an interesting experience related to an airport? What was it?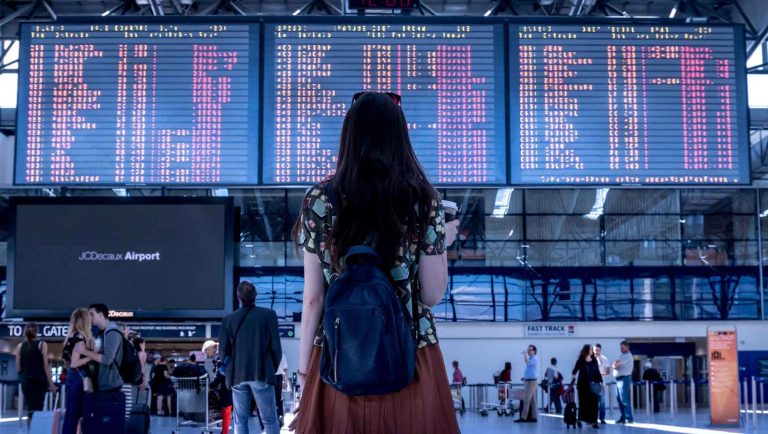 You might also like these