Camping vocabulary worksheets
These handouts are great for any outdoors-related English classes you may have. Students are to simply write the correct words under the pictures. If you feel one of these worksheets is too difficult, just let your class use a dictionary to help them.
Alternatively, you can give them sentence clues explaining what each object is used for. Each worksheet contains different pictures and words so be sure to browse them all in order to find the most suitable one for your lesson.
The answers for the first camping vocabulary worksheet above are as follows –
Flashlight – Matches – Shovel – Log
Mosquito – Grill – Frying Pan – Canoe
Raft – Tent – Deckchair – Campfire
Firewood – Gas Stove – Bedroll – Coals
Note that the American term flashlight has been used. British English uses the word torch.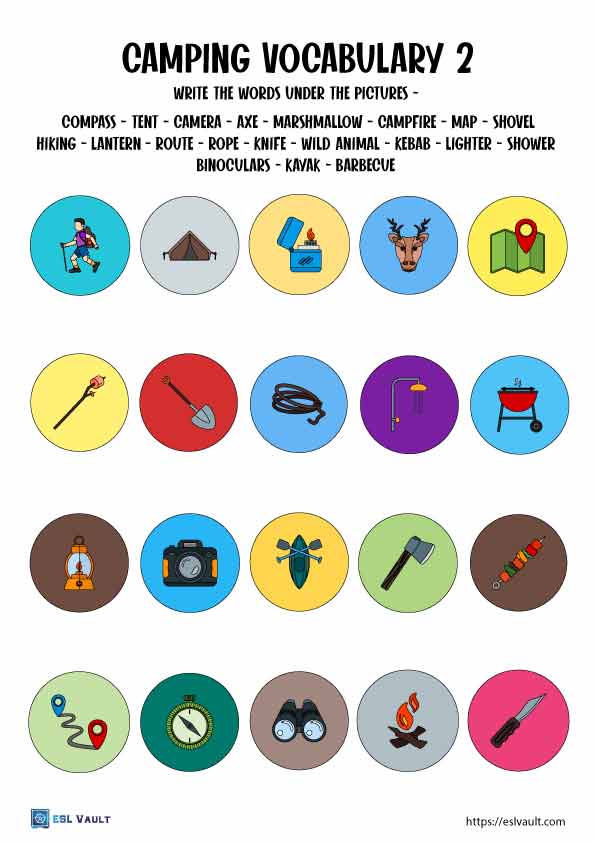 Camping vocabulary English worksheet 2
This handout has 20 pictures of things related to camping. The solution is –
Hiking – Tent – Lighter – Wild Animal – Map
Marshmallow – Shovel – Rope – Shower – Barbecue
Lantern – Camera – Kayak – Axe – Kebab
Route – Compass – Binoculars – Campfire – Knife
Camping vocabulary pictures worksheet 3
Here there are 20 more objects that are mostly different to the other handouts. The correct answers are –
Camping light – Camping Stove – Insect Repellent – Firewood – Toiletries
Sleeping Bag – Fuel – Matches – Sunscreen – Trash Bag
Mosquito Net – Hut – Folding Chair – Cooler – Cutlery
Headlamp – Cabin – Tent – First Aid Kit – Hammock
Further activities about camping
For speaking and discussion classes have a look at the camping conversation questions.
If your students are able, get them to describe the uses of these camping things. You can do this as a game similar to Taboo. Firstly divide your class into 3 or more teams, then get 1 student from each team to come to the front of the class. Have them sit in chairs with their backs facing the class with their backs to the board.
Next, write one of the camping vocabulary words on the boars and get the rest of the students to try to explain the word. The first person to guess the word wins a point for their team.
Give them 2 or 3 words then rotate the students so everyone can get a chance to both explain, as well as to listen and guess. This is always a fun activity in ESL classes.
You might also like these