Candy coloring pages
Candy and sweets are delicious, bright foods that are perfect for coloring in activities. These free printable candy coloring pages can be enjoyed by both kids and adults. There are simple pictures for young learners and detailed designs for teens and adults who are looking for a challenge.
Be warned, if you use these coloring pages with children or have a sweet tooth yourself, it will be practically impossible to color them in without giving out and eating some candy! Just looking at these delicious designs will probably bring pangs of hunger.
Candy jar printable
An easy coloring picture of a jar with a cork lid with candy inside it. There is a piece of candy cane and other wrapped sweets to color in.
Candy jar 2
Here is another candy jar that has been tipped on its side. There is a lot of candy and different kinds of sweets around the jar and even some muffins.
Cute candy coloring page
This page has a happy lollipop that is surrounded by candy and cute objects. There are many small things to be colored in here to make a beautiful and vibrant completed picture.
Easy candy coloring sheet
This picture is quite easy, there aren't to many sweets to color in. The designs on the candy wrappers and lollipop can be filled in with different colors.
Candy in the sky
A single wrapped candy in the sky. There are cute rainbows, clouds, and stars around the sweet.
Kawaii cake and candy
This candy coloring sheet has a smiling cake with candy standing up on the landscape around it. There are love hearts in the sky above it.
Valentines candy
A Valentine's day or love-themed coloring page. There are small hearts all over this picture and even heart-shaped lollipops.
This detailed picture is best suited to teenagers and adults.
Candy cane sheet
A simple picture of candy cane with a bow around it for kids and young learners.
Assorted candy
This sheet has a ton of sweets of varying shapes and sizes. Color each candy with different bright shades to create a kaliedescope for the eyes!
A candy world
A magical world made of candy with a path running through it. There are lollipops for trees, gumballs, and cakes to be colored in.
If you like this style of candy coloring page printable, you will find several more below.
A candy house
A house made of candy like in the story of Hansel and Gretel. A sweet, tasty, home that children would love to visit.
Cany house 2
This candy home has 2 stories with large pieces of candy cane on it. There is also a big lollipop standing at the front door.
Halloween candy coloring page
This picture is of a pumpkin that has been cut into a Jack-O'-lantern and has been filled with candy.
This is a great Halloween coloring activity for children.
Christmas candy coloring sheet
This is a nice coloring page for Christmas or winter-themed lessons.
A smiling snowman has its arms outstretched as snow and candy is falling all around it.
a simple lollipop
Another easy coloring activity for younger children to enjoy. The sections of the lollipop swirl can be colored differently if they are able.
A candy world with a river
This page has great detail is good for those who want a coloring challenge.
In this world of candy the landforms are made of sweet things, it is a picture that would bring a dentist to tears!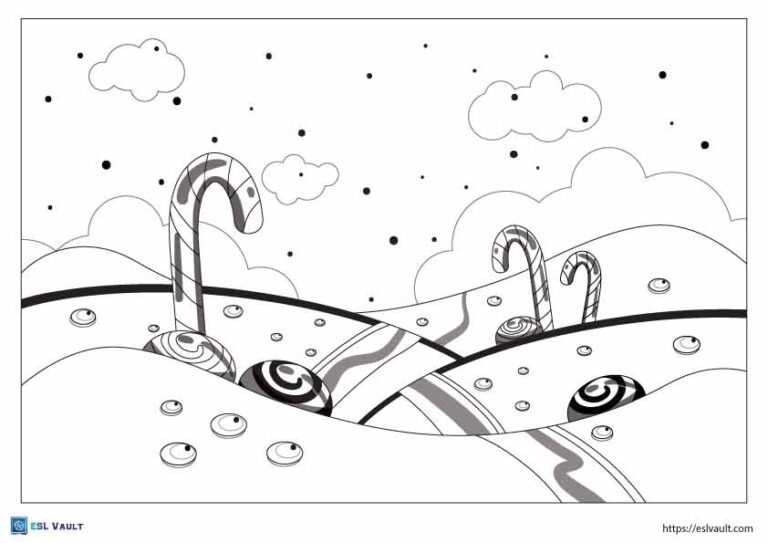 Candy cane landscape
This wintery landscape has candy cane standing on hills as a path winds along them.
A home in candy land
A home standing in a land of candy with a large rainbow in the sky.
Candy mountains
Some sweet mountains with a cherry on top! In front of the mountains there are lollipops standing in a candy marsh.
Candy waterfall
A large waterfall in another candy world. The cliffs around the waterfall are covered in sweet icing, as are the mountains behind it.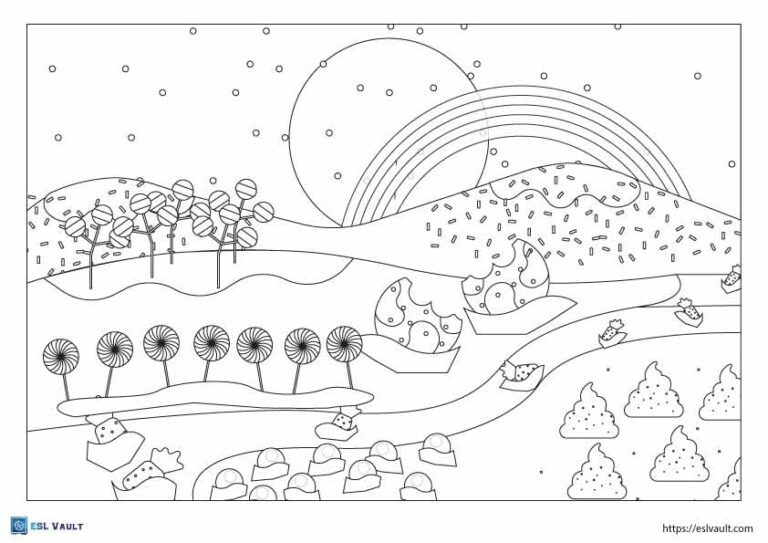 Candy landscape printable
This candy world has many kinds of sweet foods in its landscape. There are cakes, biscuits, icing, lollipops, gumballs, and more all shining under a big sun and a rainbow.
Snowy Candyland
This picture is of a snowy candy world. Are the layers of snow white in this world or are they bright pinks, greens, and yellows?
You might also like these