Africa map coloring pages
Africa is a continent rich in nature and culture. This huge landmass is an interesting coloring topic for all ages, both you and old. Here are some interesting Africa map coloring pages that you can use to supplement your lessons or just for enjoyment.
There are a range of coloring sheets to choose from with sheets of country outlines, maps with animals, and cultural patterns. The first coloring sheet above Has the outline of Africa filled with typical things found there such as a mask, a drum, a giraffe, and a baobab tree.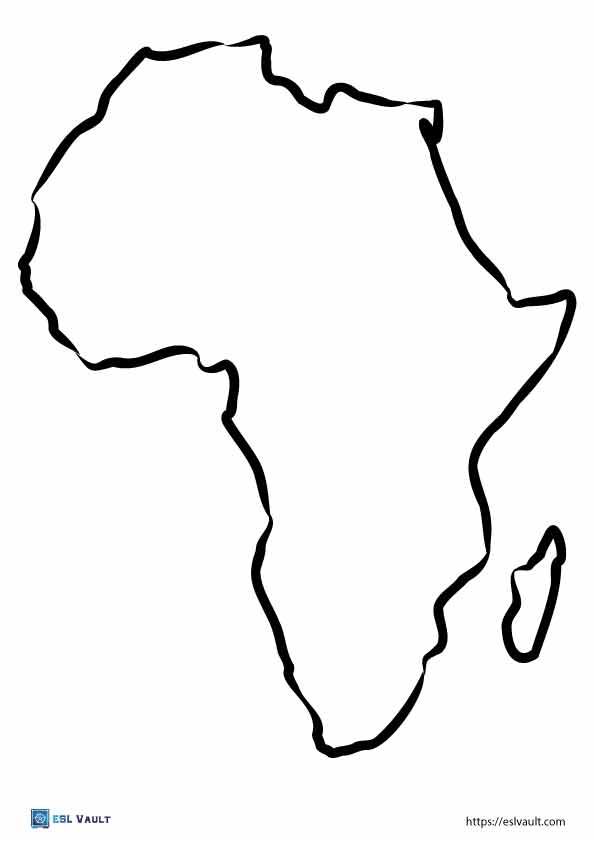 This simple outline of Africa can be used in a variety of ways. You can draw in some countries or rivers, trees, and animals to decorate it.
For young learners, it can be a basic coloring task where they can mix and match the colors that they like.
You could even turn this sheet into a stencil for other art and craft projects.
The 2 Africa map coloring pages below are political maps that show country borders. The second map is larger and more detailed. You can color each region on the map differently to create a love;y colorful picture. 
It is also handy for teaching country names. You can label them with arrows or just put a number inside each country's borders and write the country names elsewhere on the sheet. 
You may not want to label all the countries as it is quite a challenge. There are a whopping 54 countries in Africa, how many can you think of?
Next, we have some map of Africa coloring pages with interesting designs in them. There are some traditional tribal patterns used by indigenous African people as well as a picture with simple lines.
You can fill in the designs with whatever colors you like, but the earthy colors that are often associated with this continent give a nice effect. You could also try using the colors used on some African country flags.
Here we have a picture of Africa with the silhouette of a woman wearing a headdress on it. There is a large sun behind her and an elephant under a tree.
Another Africa map coloring page with silhouettes. There's a rhino, a lion, and a giraffe on savannah landscapes. Color the animal silhouettes dark and use lighter colors around them for the best effect.
This coloring sheet has a slightly warped shape of the continent. There is a tribal sun shining over a tree with a cheetah sprinting below it.
It has been estimated in 2023 that there are just over 7000 of these lightning-fast cats left in the wild.
Did you know that December the fourth is International Cheetah Day? It was created to raise awareness about the fastest animal on land which is now facing extinction.
A giraffe standing tall in front of the sun. A great way to color this page is with a dark color for the giraffe with a bright orange behind it. Fill the lines in with different yellows, browns, and oranges to complete the drawing.
Here is a very challenging Africa map coloring page that has a ton of small details. This is a good one for teens and adults, it takes quite a bit of time to completely color it in.
The map is filled with famous landmarks, animals, and vegetation.
A cute coloring page of Africa for kids. There are lots of safari animals on this sheet that are just waiting to be filled with colors.
This final page again features animals on a map of Africa. This time the ocean has been drawn around the continent. Fill in the waters with different shades of blue, especially along the coastline.
You might also like these