Diving vocabulary worksheets
A set of worksheets with terms about scuba diving and diving equipment. Each sheet has different words and pictures so be sure to check them all to find the most suitable one for your class.
After completing one or more of these exercises, a good follow-up activity is a discussion using the diving conversation questions worksheet.
The answers for diving vocabulary worksheet 1 above are as follows –
Visibility – Full-Face Mask – Dinghy – Wall Dive
Freediving – Drysuit – Shipwreck – Whale
Dive Instructor – Cave Diving – Ascent Rate – Dive Buddy
Air – Hand Signals – Shark Diving – Wetsuit
Diving vocabulary 2
Handout number 2 has more diving terms to compliment the first worksheet. The solution is –
Dive Knife – Dive Resort – Diving Location – Decompression Sickness
Compass – Descent – First-Aid Kit – Dry Bag
Coral – Tide – Ice Diving – Jellyfish
Water Temperature – Mask Cleaning – Ascent – Starfish
Scuba Diving Vocabulary
This free worksheet mainly focuses on dive equipment and has 20 words and pictures to match. The answers are –
Map – Wristwatch – Torch and Knife – Sailboat – Treasure
Underwater Camera – Air Tanks – Radar – Flippers – Submarine
Diving Slate – Speargun – Weight Belt – Buoy – Anchor
Life Vest – Gauges – Mask and Snorkel – Ring Buoy – Gloves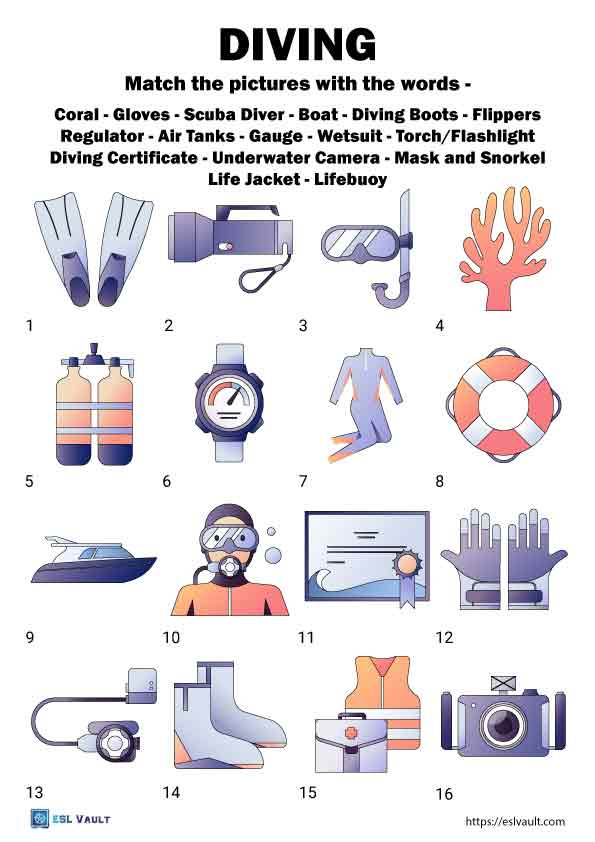 Diving Worksheet
This is the easiest of the diving worksheets with 16 of the most common diving terms. The answers should be –
Flippers – Torch/Flashlight – Mask and Snorkel – Coral
Air Tanks – Gauge – Wetsuit – Lifebuoy
Boat – Scuba Diver – Diving Certificate – Gloves
Regulator – Diving Boots – Life Jacket – Underwater Camera
Extra activity
Another excellent activity to do after these worksheets is to show your students some underwater photographs. The best way to do this is to download and project them for the class.
Display pictures of diving scenes, divers, equipment, and sea animals. Then ask your students to describe what they see in as much detail as possible. This really helps reinforce the vocabulary learnt and gives the class a chance to practise speaking and get their pronunciation correct.
You might also like these