Farm animals flashcards
Here are some flashcards of farm animals that have pictures of real animals along with their names. The beautiful photographs make them much more interesting than most other standard flashcards.
There are 24 different creatures on the free farm animals flashcards, they are –
Page 1 – sheep, pig, horse, and donkey.
Page 2 – duck, goose, hen, and rooster.
Page 3 – turkey, cow, bull, and bison.
Page 4 – rabbit, dog, goat, and deer.
Page 5 – ostrich, alpaca, bee, and quail.
Page 6 – swan, buffalo, cat, and ram.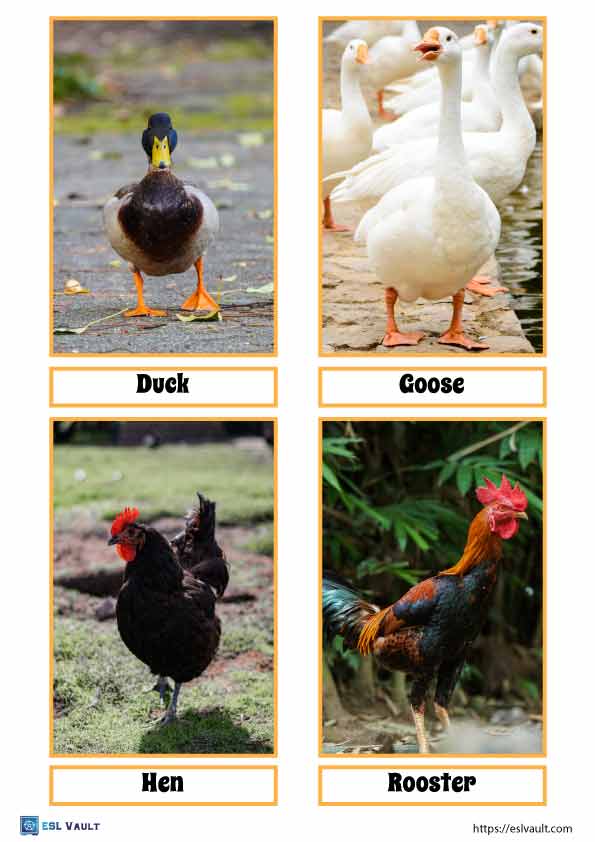 Notes on the free farm animals flashcards
Some of these creatures are not traditionally known as farm animals to all people. If you don't agree with one of the animals being in the set, you can simply omit it from your activities. The thinking behind including these animals is –
Bison are farmed for meat in the United States of America and Canada, so it seemed like an interesting inclusion to the set of flashcards.
Buffalo, and in particular water buffalo are essential working animals on many Asian farms. They are also sold for meat.
Quail are farmed all over the world for both their tasty eggs and their meat. Honey and bee farming is becoming increasingly popular and in any case bees are often seen naturally around farms.
Alpacas are farmed around the planet(even in Australia) for their fleece which can be used to make warm comfortable clothing.
You may notice that the animals sheep and ram are included in the farm animals flashcards pdf pages. This seemed like the best option to keep the cards simple but you may want to change the sheep card to ewe, the name of a female sheep. This can be easily done by either using masking tape and a pen or by just creating a new name card.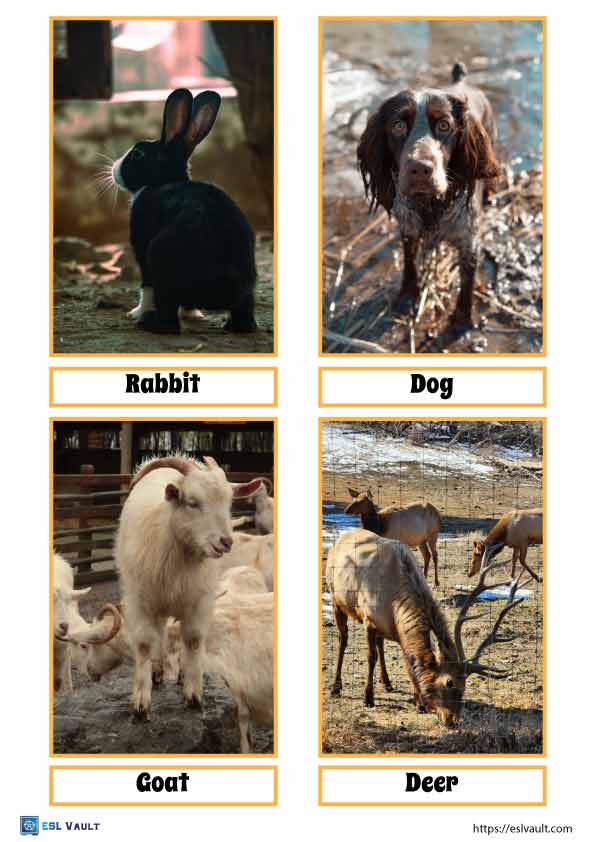 Using the free farm animals flashcards
You can use these farm animals picture and word cards to play games and do fun educational activities such as matching/pelmanism. The cards have been designed so that the words can be cut separately from the photos just for this!
Here are a few more ideas you might like to try –
Arranging. Ask students to arrange the cards from biggest to smallest or vice versa. They can also be arranged in ways such as alphabetical order, and friendliest to most dangerous.
Animal Sounds. This works great with young learners. Show a student a card and see if they can mimic the animal's sound.
Charades. Again this activity is good for kids. Ask a child to come to the front and show them a picture. They are to act like that farm animal moving around for the other students to guess what it is.
Speaking. Slightly older and more advanced students can be asked questions about the farm animals flashcards to elicit English responses.  You can ask questions about each animal's diet, body parts, where it sleeps, and so on.
Songs. For preschool and early primary school learners you can make your own farm animal song or show videos of ones that are already made such as "Old MacDonald Had a Farm".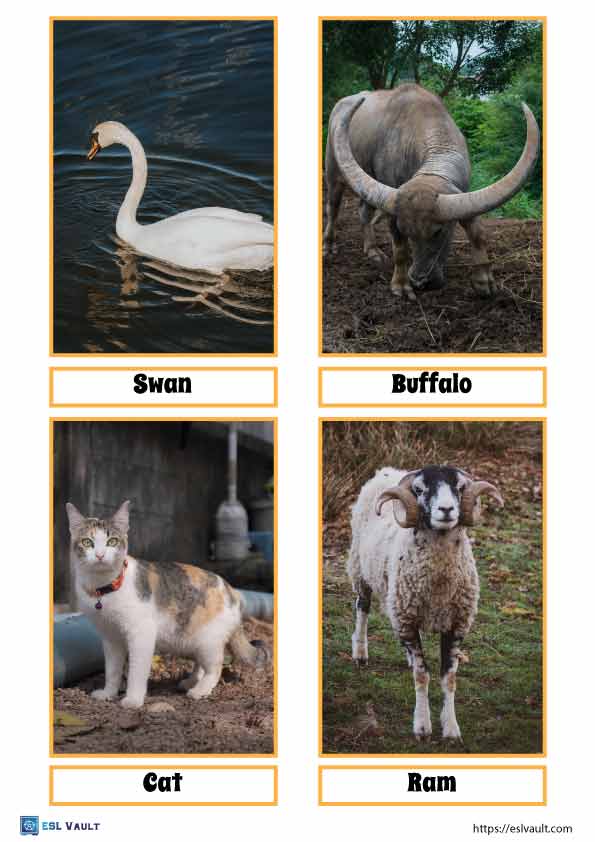 You might also like these