Frog craft templates
Here are some printable frog craft templates for kids and teens that can be used as a fun classroom activity. There are 6 different activities to choose from with a total of 16 PDF pages to download and print. Once completed they create lovely cute pictures of smiling frogs.
All you need to assemble these projects are paper or cardstock, scissors, and glue although you could get away with sticky tape or a stapler to assemble them. It is just a simple matter of cutting out the pieces and putting them together on a separate sheet of paper.
There are colored printables as well as plain outlines if you don't have a colored printer or if also want to include coloring as part of the exercises. In this case you will also need colored pencils, markers, or crayons.There are also picture guides or answer keys provided that show what the completed frogs should look like.
The guides don't necessarily need to be followed. Some children may find it more interesting to try to put the frogs together in their own way and enjoy the challenge of working this out.
The first printable frog craft templates below make a frog sitting on a lily pad. It has its tongue sticking out as if it is catching a fly. Once it is put together you can get learners to draw this fly or other insect on the page. If any children have difficulty cutting out the tongue shape they can just omit it and also draw it in later with a pen or crayon.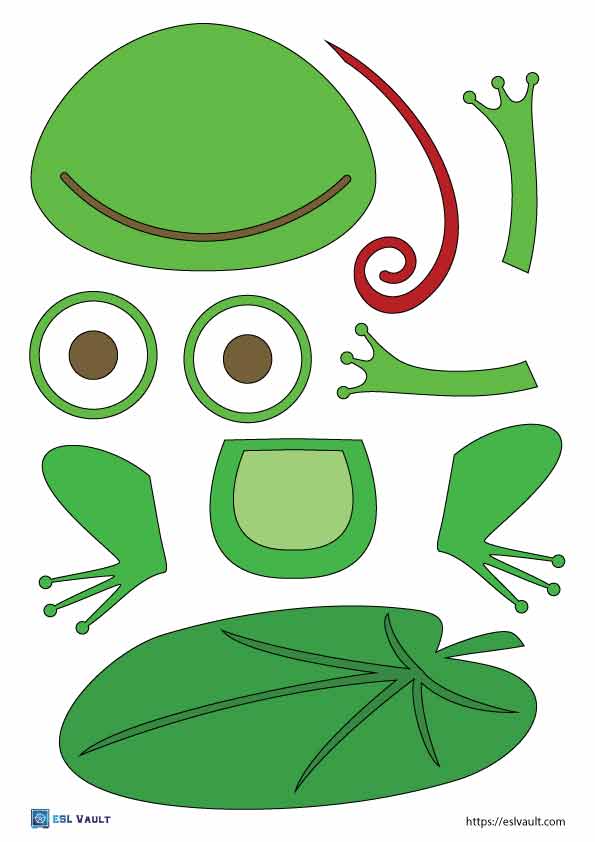 The next cut-and-glue frog craft printables also feature a lily pad. The style of the finished picture is a little different and it also has a flower.
Younger kids may struggle a little cutting out the small pieces like the frog toes. It is okay to make some mistakes, the frogs will still look good in the end and it is always great for children to get some scissor practice.
The next printables create a frog wearing a mask and snorkel. It is sitting in the water with a yellow duck buoy. Apart from the parts of the snorkel, this one is quite easy to cut out.
The craft templates below create a happy frog with a crown sitting inside a mushroom house. Again, both colored and black-and-white templates have been provided along with a picture guide.
The next paper frog craft activity is slightly different. Once the pieces are cut out they are to be glued inside the frog outline so you will need to print out 2 pages for this one.
You could of course not use the outline at all and let learners assemble the frog in their own way. Another way to use these printables is to join all the pieces together with tape or a stapler (not on a separate sheet of paper) and create cool hanging frog mobiles!
The final printable frog craft activity below is suitable for preschool and early primary school-aged children. It is a simple cut-and-paste puzzle with four pieces that make a smiling frog face.
All kids need to do is cut out the squares and place them correctly on the grid provided. They can be glued on to make a permanent picture if wanted.
If you like this kind of activity but are looking for something a bit harder with more pieces, check out the free picture mix up puzzle printables.
You might also like these