Number tracing worksheets
Here is an interesting assortment of number tracing worksheets for preschoolers and young learners. They are helpful for children who are learning to write and are learning numerals in the English language.
You will find tracing sheets for numbers of single digits, numbers 1-5, 1-10, and up to 20. There are a variety of different pages that can be used to make what can be a somewhat boring activity much more engaging.
The first set of number tracing pages above and below have interesting pictures that can be used for counting. There are also writing instructions that show the pen strokes. Note that kids don't always need to follow these directions as hard rules. There are other ways to write numbers that are also perfectly acceptable.
All kids need to do in these activities is trace the numbers inside the shapes that are given.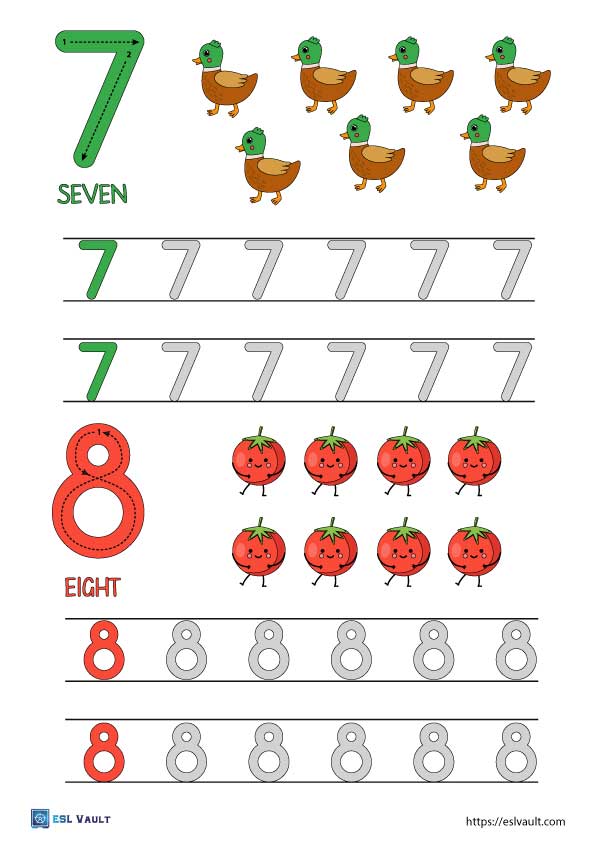 Number tracing worksheets 1-10
The next few printables are for slightly older kids. They have the numbers one to ten and are more challenging than the sheets above. The first activity below left requires learners to trace the numbers 1-10 several times over.
The second on the right asks learners to trace all the numbers only once and then color them in afterward. There is a coloring guide in that the circles already have colors. If you print this worksheet in grayscale, you can just suggest the colors to students.
The next 2 number tracing worksheets can be used in several fun ways. First of all, they can be used for simply learning only one number. For example, number 3, ask kids to find the number 3 and trace it. This is very helpful for number recognition.
You can also get preschoolers to trace each number one by one. Once they have finished, they can count the amount of times they appear on the page. 
Finally, you can get students to trace the numbers with colored pencils which not only makes it more interesting but also helps to teach colors. Give them instructions such as 1 is blue, 2 is red, 3 is green, and so on. 
Next we have the numbers one to ten on 2 separate PDF pages. These sheets are yet more advanced. Learners are asked not only to do number tracing but also to identify numbers and then count and then corresponding amount of hearts. There is plenty to do to keep students thinking.
The worksheet below has more numbers yet! In this basic activity learners are asked to trace the numbers from 1 to 15 three times over.
The number tracing worksheets below have the numbers from zero to twenty over 3 separate pages. Learners not only have to trace the digits but also words. They are perfect for learning how to spell numbers and also make for some excellent handwriting practice.
If your students are learning these numbers, you might also want to check out the free number chart 1-20 pages.
Preschool number tracing worksheet with counting
The final page is a very easy tracing activity for young learners. They are to count the number of pears and then trace the according number shape.
You might also like these