Palm tree coloring pages
Here is a collection of free printable palm tree coloring pages for kids, teens, and adults. The pages are in a range of different styles and difficulty levels.
There are over 2600 different known species of these fascinating plants. They can live to over 100 years in age and 1 species even grows up to 200 feet or 60 meters in height!
They are extremely useful to human civilization because every part of the plant has some sort of use. Different species of palm tree produce food such as dates, nuts, coconuts and even be used to produce wine. They also provide oil, syrup, wax, wood, rattan cane and their leaves are often used to build roofing on shelter.
Island palm tree coloring pages
These coloring pages all have palm trees on islands. They are great to tie into with any summer, ocean, or nature activities you may be teaching. Alternatively, you can just chillax coloring one of the pages in while dreaming of your perfect island getaway.
Easy palm tree coloring pages for kids
Below are some easy coloring sheets for younger learners. The simple act of coloring in with crayons or pencils helps develop their motor skills.
Other interesting and detailed palm tree coloring pages
Some of these palm tree coloring sheets are a bit more advanced than the ones above. There are banana palms, coconut palms, beach scenes, a jungle scene, cartoon-style pages and sunsets.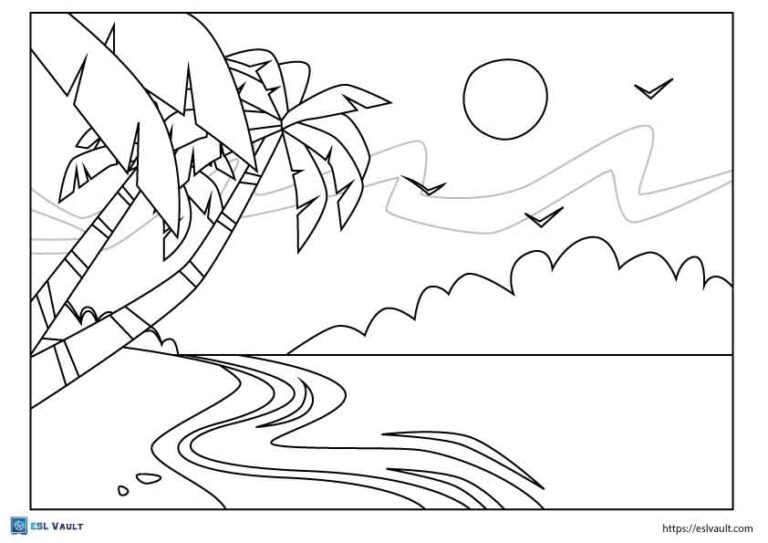 Did you know that palm trees are not actually even trees? They are more closely related to grass than trees in botanical terminology.
You might also like these