Pixel art color by number printables
Here are some more fun coloring activities for the classroom. These free pixel art color by number printables can be used to teach colors and numbers, to supplement related topics, or as fun time killers when all the work has been done.
The coloring pages are very simple, you just need to color in the pixel squares with the color assigned to the numbers in the keys. For example, if the number 5 is blue, all squares with the number 5 should be filled in with a blue color. If there is no number, the square is meant to be white and not to be colored in.
The pictures you see here are of the pages completed. When you download the free PDF pages you will find them blank with numbers. The wonderful thing about these pixel color by number pages is that they are mystery pictures.
Students coloring them in will have no idea what the pictures are of until they are nearly completed. This adds to the excitement and interest of these pages. No names have been written on the pages so as to not give away what the pictures are of. The PDFs have been given numbers however to help you stay organised if you print several different designs.
The first few pixel color by number printables are quite hard with small pixels to color in. You will want to use sharp pencils to complete these. Further down this page, you will find some easier sheets that have larger squares and use fewer colors. They are much better for younger learners.
The first free PDF above features a pirate captain with a patch and a hook for a hand.
A witch holding a broom with a black cat beside her. This is a great coloring page for Halloween-themed classes.
For more activities related to this holiday, have a look at the fun Halloween worksheets!
An angel with wings and a halo above her head.
 A king wearing a cape and a crown and holding a staff.
A red-haired mermaid underwater who is wearing a tiara.
Here is a Christmas-themed coloring sheet. It is a picture of Santa Clause waving and holding a sack that is no doubt full of presents.
Easy pixel color by number printables
The next pixel art coloring pages are much easier. They have larger squares and take much less time to complete. The bigger pixel squares make it easier for younger children to color in and are perfect for teaching numbers and colors.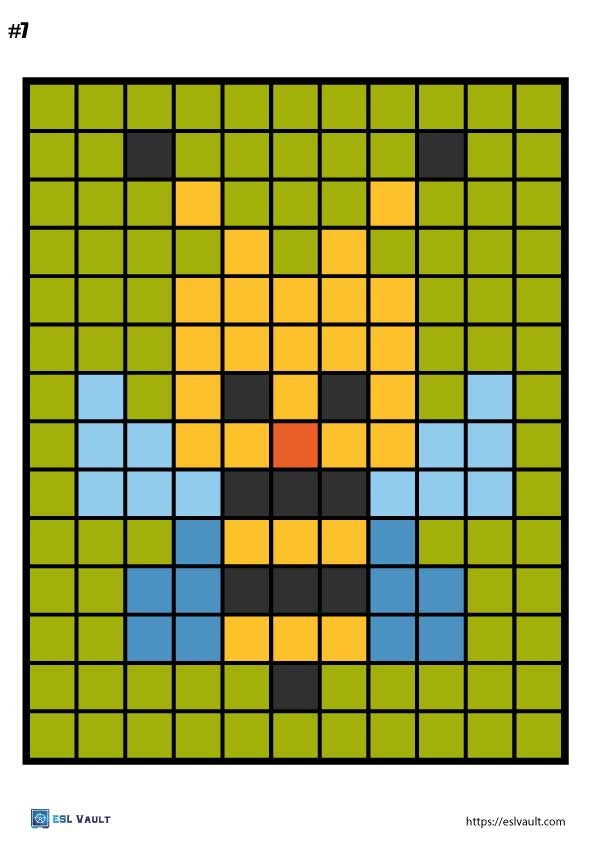 This next pixel art coloring page is of a bumble bee flapping its wings in the air.
A fish swimming underwater. It looks like a tropical angelfish.
This is a good sheet to use with any classes related to winter or the cold. It is of a penguin wearing a beanie and a scarf against a cold looking background.
A simple head of a cat with pointy ears.
The head of a giraffe against a green background.
A snail with a shell on its back slithering across a green leaf.
Finally, we have a simple brown horse with a yellow mane.
More color by number pages
If you like these pixel art coloring pages, you should also check out the PDF color by number pages. They use the same concept but have more traditional style drawings on them.
You might also like these