Halloween worksheets
Here are some free Halloween worksheets to make your classes fun for this holiday. These are all easy worksheets that can be used for all ages. If you don't find something you like on here, check out the links to other Halloween activities at the bottom of the page.
The Halloween scrambled words worksheet above has 18 words to unscramble and pictures to match them with. Note that some of the answers are 2 words, no spaces have been given in the scrambled version. You can either get your class to write the correct words next to each picture or just let them draw lines. Whatever works best for you!
The unscrambled words from top to bottom are – knife, cauldron, gravestone, crystal ball, coffin, scarecrow, mushroom, voodoo doll, haunted house, witch hat, pumpkin, eyeball, full moon, candle, potion, brains, bones, and mask.
Halloween things
This Halloween worksheet has 20 pictures and words to match.
The answers to this printable are –
1 Coffin, 2 Mummy, 3 Skull, 4 Broom, 5 Graveyard, 6 Haunted House, 7 Black Cat, 8 Owl, 9 Skeleton, 10 Bats, 11 Spider, 12 Grim Reaper, 13 Bone, 14 Witch, 15 Monster, 16 Candle, 17 Ghost, 18 Cobweb, 9 Wand, and 20 Candy.
Scary Vocabulary Worksheet
This Halloween worksheet is similar to the one above but only has 16 scary things and is a little easier.
The pictures from left to right going down the page are for the words-
Mummy – Haunted House – Zombie – Owl
Black Cat – Grave – Brains – Knife
Ghost – Witch – Bat – Pirate
Clown – Eyeball – Skeleton – Vampire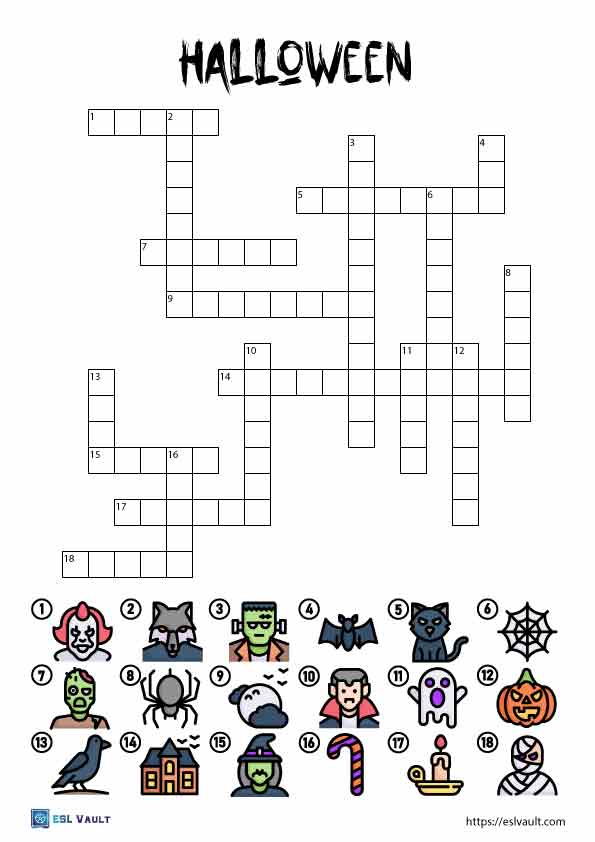 Halloween Crossword Puzzle
A fun Halloween crossword with picture clues. If you use this with a younger class that has difficulty spelling, write the answers on the board in a mixed up order to help them.
The answers here should be –
1 Clown, 2 Werewolf, 3 Frankenstein, 4 Bat, 5 Black Cat, 6 Cobweb, 7 Zombie, 8 Spider, 9 Full Moon, 10 Vampire, 11 Ghost, 12 Pumpkin, 13 Crow, 14 Haunted House, 15 Witch, 16 Candy, 17 Candle, and 18 Mummy.
Halloween Word Search
This word search has 18 Halloween-related words to find.
The words can be found in all directions -up, down and diagonally. Note that some words are also spelt backwards in this puzzle.
Related Halloween Activities
You might also like these