Treasure map coloring pages
This collection of treasure map coloring pages features easy coloring sheets for kids and more detailed coloring pages for teens and older students. Besides being just out and out fun they can also be used to teach English. Check below for a few suggestions on how you can use them.

The easiest and most simple of these pirate treasure maps are at the top of the page with the harder ones being at the bottom. Just scroll down to see them all.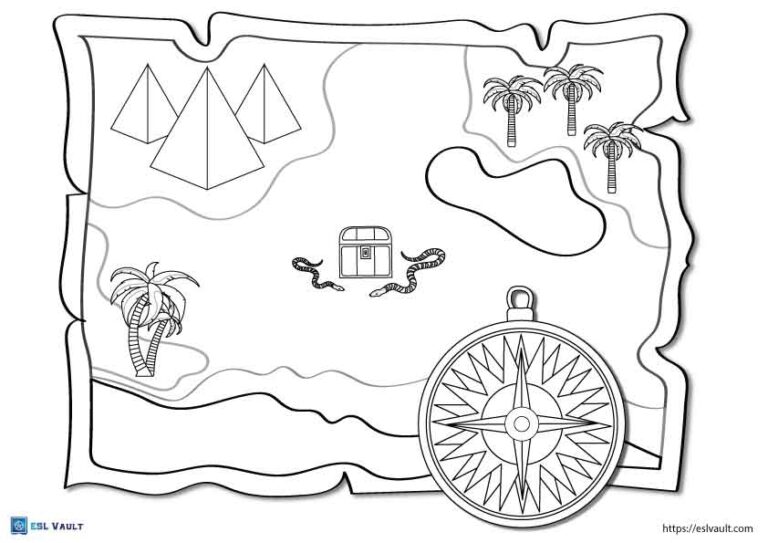 How to use the treasure map coloring pages to teach English
There are several ways that you can use these coloring sheets to help teach the English language. I guarantee your class will love them, Arrr. Here are a few ideas –
Use the maps to teach directions – They can be used to teach prepositions of place, prepositions of movement, and of course cardinal directions. Ask students to describe a path across a map and how to get there. Along the way, they can also describe where things are. Some of the maps don't have paths so students can create their own routes across them.
Use the maps to teach geography and natural landmarks – The coloring pages feature oceans, islands, mountains, volcanoes, forests, villages, caves, and more. Ask students what each part of their map represents as they color it in.
Use the maps as vocabulary and spelling activities – Ask your students to label the maps and write names next to objects they know. They can do this either factually or creatively and give places and things new names that they can imagine by themselves.
Use the treasure map coloring pages as writing activities – colored in or not these maps are great to get the mind stirring for creative writing and make for great writing prompts. Students can write stories about pirates, survival, treasure, seafaring adventures, and jungle treks.
Detailed treasure map coloring pages
These coloring sheets are much more intricate and make for a longer project for teens and adults. They can easily take several hours to complete if you want to complete them in a meticulous way. You can use them as part of class projects and get students to show the maps saying what is on them and where things are as speaking presentations.
The last coloring page is of a board game which can be played by several players with dice once it is completed. To use this in class, it is a good idea to get several students to work on it at the same time as teamwork and to make the process quicker. They can later play it together once it is done.
The general idea of the board game is to have markers and move them corresponding to each dice player's dice roll but you can always make up your own rules of course!
You might also like these